Hear Better Centers Acauisition on Target
Hear Better Centers (HBC), Wilmington, Del, has announced that it is on the way to reaching its first-year goal for acquiring audiology and hearing aid practices.
Established in November 2010, HBC was formed with the intention of acquiring high-quality, leading practices in the United States, east of the Mississippi. Since last year, the company has accumulated 12 locations in New York and Virginia. With the new additions, the company has a total of 100 employees who collectively fit nearly 10,000 hearing aids a year, according to the company.
HBC is attributing the fast growth to its business model, which offers owners financial freedom, while enfranchising their businesses and allowing the new acquisitions to continue to run their practices and still keep the practice's name.
The company reports that it is particularly skilled in integrating successful hearing health care businesses into a cohesive whole.
Once practices join HBC, the company enlists a team of experienced business managers who enhance, facilitate, and support the newly acquired practice's business planning and execution, sales and marketing, training, and customer service. For more information, visit www.hearbettercenters.net.
Vitamin A and E Supplements May Reduce Risk of Hearing Loss
A new study from Vanderbilt University and the University of Sydney shows evidence that Vitamin A and E supplements may reduce the prevalence of age-related hearing loss by up to 47%.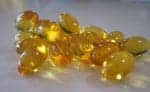 Photo credit: Wikipedia/Adrian Wold
The authors' goal was to examine the link between dietary and supplement intakes of antioxidants, and both the prevalence and 5-year incidence of measured hearing loss. The researchers looked at a total of 2,956 participants in Sydney, aged 50 and above, who were examined during 1997 to 1999 and 2002 to 2004.
Dietiary data was collected in a semi-quantitative food frequency questionnaire, and calculations were made of intakes of a-carotene, beta-carotene, beta-cryptoxanthin, lutein, and zeaxanthin; lycopene; vitamins A, C, and E, and iron and zinc.
After adjusting for age, sex, smoking, education, occupational noise exposure, and other factors, each standard deviation increase in dietary vitamin E intake was associated with a 14% reduced likelihood of prevalent hearing loss.
Those in the highest quintile of dietary vitamin A intake had a 47% reduced risk of having moderate or greater hearing loss, compared to those in the lowest quintile of intake. However, dietary antioxidant intake was not associated with the 5-year incidence of hearing loss.
The authors concluded that "dietary vitamin A and vitamin E intake was significantly associated with the prevalence of hearing loss. However, dietary antioxidant intake did not increase the risk of incident hearing loss."
The study, "Dietary antioxidant intake is associated with the prevalence but not incidence of age-related hearing loss," was published in the July edition of The Journal of Nutrition, Health & Aging.
CDC: Veterans 30% More Likely to Have Severe Hearing Loss Than Nonveterans
A new study from the Centers for Disease Control and Prevention (CDC) shows that military veterans are 30% more likely to suffer from severe hearing loss than nonveterans.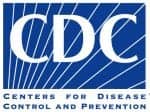 A substantial proportion of hearing loss in the United States is attributable to employment-related exposure to noise. Among military veterans, the most common service-connected disabilities are hearing impairments, suggesting that occupational noise exposure during military service might cause more veterans to have hearing loss than nonveterans.
However, a recent analysis of data from the 1993-1995 Epidemiology of Hearing Loss Study did not find significant differences between the two groups. To further investigate hearing loss among veterans—specifically, the prevalence of severe hearing impairment (SHI)—data from the 2010 Annual Social and Economic Supplement (ASEC) to the Current Population Survey (CPS) were analyzed.
The CDC describes the results of that analysis, which indicated that the prevalence of SHI among veterans was significantly greater than among nonveterans. In fact, veterans were 30% more likely to have SHI than nonveterans after adjusting for age and current occupation, and veterans who served in the United States or overseas during September 2001 to March 2010, the era of overseas contingency operations (including Afghanistan and Iraq), were four times more likely than nonveterans to have SHI.
The researchers conclude that these findings suggest a need for increased emphasis on improving military hearing conservation programs (HCPs) and on hearing loss surveillance in military and veterans' health systems.
For the complete report, visit the CDC Web page: www.cdc.gov/mmwr/preview/mmwrhtml/mm6028a4.htm?s_cid=mm6028a4_w
Motorcycle Helmets Don't Protect Ears From Hearing Damage Caused By Wind Noise
A British study indicates how motorcycle helmets may be contributing to hearing loss for riders, despite the fact that helmets covering ears should protect against high-speed wind noise. The study, "Motorcycle helmets and the frequency dependence of temporary hearing threshold shift," was published in the Journal of the Acoustical Society of America.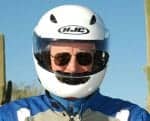 Photo credit: Wikipedia/Notorrad-67
Even at legal speeds, wind noise can exceed safe decibel levels, yet there was no indication for how the wind noise directly affected the motorcyclists' hearing.
Now, researchers from the University of Bath and Bath Spa University have mapped the airflow and noise patterns for motorcyclists by placing helmets on top of mannequin heads, then mounting these in a wind tunnel and turning on the fans.
By placing microphones at different locations around the helmet and at the mannequin's ear, the researchers found that an area underneath the helmet and near the chin bar is a significant source of the noise that reaches riders' eardrums.
The team also investigated how helmet angle and wind speed affected the loudness. Future tests will move beyond the wind tunnel to real-life riders on the open road. The findings may one day be used to design quieter helmets.