TOP NEWS and HEADLINES in February
Aging Brain May Contribute to Some Hearing Loss
Audiology Makes "30 Best Careers for 2009" List
Spectrum Brands, Noteholders Reach Debt Reduction Agreement
Obama Signs $787 Billion Stimulus Package
Rock Star Huey Lewis Learns a New Instrument
Landmark Study to Examine Cochlear Implant Benefits in Chinese Children
Avada Reports Rapid Growth in 2008
Inner Ear Hair Cells Generated Through Gene Therapy
ARO's Midwinter Conference Opens
Audiologist Occupational Class Recommendations Adopted by OMB
James Jerger Writes Audiology's History
Oticon, AAAF Team Up for Multifaceted Campaign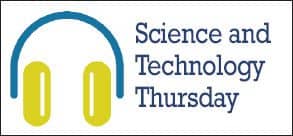 Listen to HR's Science and Technology Thursday Podcast for the field's most exciting research at www.hearingreview.com/sciencetech.
| | |
| --- | --- |
| Mar 5: | Nonlinear Frequency Compression for Children and Adults. Special guest: Marlene Bagatto, AuD |
| Jan 12: | Performing Musicians & Hearing Aids, Part 1: Obstacles for Musicians. Special guests: Marshall Chasin, AuD, and Larry Revit, MS |
| Jan 19: | Performing Musicians & Hearing Aids, Part 2: Listening to Hearing Aids. Special guest: Mead Killion, PhD |
| Jan 26: | Performing Musicians & Hearing Aids, Part 3: Potential Solutions. Special guests: Marshall Chasin, AuD, and Larry Revit, MS |
Leadership changes for Phonak. Sonova Holding AG, Stäfa, Switzerland, has named Mike Orscheln as president and CEO of Phonak US, Warrenville, Ill. Former president and CEO Cathy Jones has been named executive director of corporate relations for Phonak US. Orscheln joined Phonak as COO in October 2007. He has spent more than 25 years in management, sales, and marketing functions in the health care industry, most recently with Cardinal Health Inc, where he was senior VP and general manager for the $500 million ambulatory care division. In her new role, Jones will manage the Hear the World Foundation in the United States, overseeing fundraising and public relations efforts, and continuing to play a key role in representing Phonak US at customer and industry events. Jones joined Phonak in 1996 as director of education and customer services. In 2002, she was promoted to president and CEO. Under her leadership, Phonak US grew into one of the leaders in the US hearing instrument market.
Many children with hearing loss also have eye disorders. About 20% of children with sensorineural hearing loss also have ocular disorders, according to a report in the February issue of Archives of Otolaryngology-Head & Neck Surgery, one of the JAMA/Archives journals. An estimated one to three of every 1,000 children have some degree of sensorineural hearing loss, which occurs as a result of damage to the nerves or the inner ear, according to background information in the article. Half of all cases in children result from environmental causes; one gene, GJB2, accounts for a large proportion of sensorineural hearing loss cases in white patients. The authors conclude that a multidisciplinary approach is important in the evaluation and treatment of children with sensorineural hearing loss to ensure their medical, education, and social needs are met.
---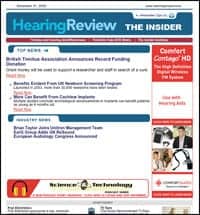 Want the inside scoop?
Every week The Hearing Review sends out THE INSIDER, a weekly FREE e-newsletter devoted to the top hearing-related news, research, product introductions, fitting topics, and marketing research stories that are influencing your business or practice, as well as the industry at large. [register]Sign up for your free subscription[/register].