TOP NEWS and HEADLINES in July
Altor Acquires Pulse from Technitrol; Renames Company Sonion
AAO-HNS Blasts AAA Announcement on Direct Access Legislation
Dave Fabry Joins Starkey as Managing Director of AudioSync
Review: Little Evidence to Support Mandatory Hearing-Loss Prevention Programs at Workplace
Roxann Bonta Named Director of Global Training at Sonic Innovations
American Tinnitus Association Names New Executive Director
Revived Jackson Hole Rendezvous Melds Practical Applications, Science
Speech-Language Pathology Profession Among Highest Paying Jobs for Women
Ida Institute Introduces Reflective Journal Tool
"Invisible" Lyric Hearing Aid Wins Medical Design Excellence Award
Direct Access Bill introduced; AAO-HNS opposes bill, blasts AAA. In July, the American Academy of Audiology (AAA) announced the introduction of HR 3024, the Medicare Hearing Health Care Enhancement Act of 2009 in the 111th Congress. The bill is identical to HR 1665 from last Congress and Congressman Mike Ross (D-Ark), along with the 13 original cosponsors, introduced it. Passage of HR 3024 would eliminate the need for Medicare patients to obtain a physician referral prior to visiting an audiologist for an evaluation. However, American Academy of Otolaryngology-Head and Neck Surgery (AAO-HNS) President David Kennedy, MD—who spoke at the AAA Convention in Dallas in April about possible compromise language between the organizations relative to the bill—blasted a recent announcement by AAA that he said was misleading. "AAA's implied statement regarding AAO-HNS' approval of the introduction of HR 3024 as a 'placeholder' for future negotiations is a disappointing, gross misrepresentation of the truth," Kennedy said in a press release. "Acceptable language containing appropriate and necessary patient safeguards was approved several months ago by both the AAO-HNS and AAA boards of directors, and we continue to support that compromise … The AAO-HNS remains committed to the introduction of federal legislation that will ensure patient access to the highest quality hearing health care. However, HR 3024 is not the fruit of any collaboration, and does not contain the appropriate patient safeguards. Our members will vigorously oppose the adoption of this legislation." AAA President Kris English provided The Hearing Review with a statement that began by pointing out the legislative language that the AAO-HNS was referring to was in draft form—crafted by individuals with no legal expertise. "The US House Legislative Counsel reviewed the draft language and raised significant ideological questions that were never satisfactorily answered through further negotiations between the two organizations," wrote English. "In the spirit of collaboration, the Academy choose to hold off introducing [HR 3024] during these negotiations." But when it became clear that an impasse could not be resolved, English added, "The Academy decided to move forward with the same language from last Congress, while keeping the door open for further discussion on this and other relevant issues." In the 110th Congress, HR 1665 garnered 108 cosponsors.
Starkey Hearing Foundation raises $5 million. At the annual fundraiser held in St Paul, Minn, by Starkey Hearing Foundation, Eden Prairie, Minn, performances by Elton John, Billy Crystal, Tony Bennett, and Gladys Knight helped raise more than $5 million, which will be used in part to distribute 50,000 hearing aids to children in need worldwide, according to the Foundation. John capped off the evening with a 1-hour performance featuring hits such as Rocket Man, Your Song, Daniel, and Circle of Life. A live auction included a hearing mission trip to Kenya to fit 5,000 people with hearing aids, which earned the evening's top bid of $250,000.
---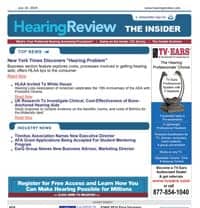 Want the inside scoop?
Every week The Hearing Review sends out THE INSIDER, a weekly FREE e-newsletter devoted to the top hearing-related news, research, product introductions, fitting topics, and marketing research stories that are influencing your business or practice, as well as the industry at large. [register]Sign up for your free subscription[/register].