Oticon
Oticon Inc is expanding its pediatric sales and training force with the addition of four new pediatric account managers and a new in-house pediatric audiologist.
Christine Labenski, MA, has been appointed pediatric account manager for Delaware, New Jersey, Metropolitan New York, and Long Island.
Ericca Hardee, MS, has been appointed pediatric account manager for the Southeast region, covering Ala­bama, Florida, Georgia, Louisiana, North and South Carolina, and Mississippi.
Robin Donham, AuD, joins Oticon Inc as a pediatric account manager serving the Southern region, including Arkansas, Kan­sas, Missouri, Okla­homa, and Texas.
Lavinia Fowler, MA, is the new pediatric account manager for the Northwest, serving Colorado, Idaho, Montana, North and South Dakota, Nebraska, Oregon, Utah, Washington, and Wyoming.
Jennifer J. Caldwell, MS, joins the Oticon Pediatrics team as the in-house support audiologist following a year as an Oticon customer service audiologist.
Beltone
Beltone presented its President's Cup Award to Hal and Linda Hames, and their daughter Michelle Hames, of Florence, Ala, at its 2006 National Meeting in Tucson, Ariz. The President's Cup is awarded annually to hearing care practitioners who demonstrate exceptional patient care, community involvement, and professional business practices.
The Hames became Beltone business owners in 1988. Since then, their practice has grown to include four offices in the Florence area. The Hames have been active in the International Hearing Society (IHS), and remain enthusiastic contributors to the Beltone community, often volunteering their time to serve on councils, test new marketing programs, and help with the release of newly introduced products.

Obituary
Westone President and CEO Randy Morgan
Randy Morgan, president and CEO of Westone Laboratories Inc, Colorado Springs, Colo, died at home with his family surrounding him Tuesday, June 6. In recent months, he struggled valiantly against an aggressive form of brain cancer, after being diagnosed with a tumor last winter.
Morgan was born October 5, 1953, in Austin, Tex, the middle child of five sons. The family moved to the Pike's Peak Region in 1955, where he grew up with his four brothers. He graduated from Widefield High School in 1971 and went to work for the family business shortly thereafter. He learned the business from the ground up.
Morgan was a key force in making Westone a world leader in custom earmold products, communications systems, and hearing care accessories. The company—which was literally founded in the kitchen of the Morgan family's log cabin by his parents, Ronald and Mickey, in 1959—quickly became one of the world's largest manufacturers of custom-made products for the ear. Randy Morgan, who was known for his intelligent and forward-thinking approach to developing and marketing hearing care products, helped introduce many earmold products for people with hearing impairment. In addition to quality custom-made ear products for the hearing care and recreational markets, Westone's offerings have grown to encompass a complete line of products for dispensing professionals.
"Randy will be missed by not only his family and immediate friends, but the hearing aid industry, as well," says Ron Slager, a longtime associate of the Morgan family and the CEO of HARC Mercantile, Portage, Mich. "We have lost a dynamic and positive force that has helped the industry stay abreast of changing trends as he guided Westone, the Morgan family business, for the past 25 plus years… If you ever had the privilege to meet and talk with Randy, you could not help but to be charmed by his ever-present smile, dry and vivid wit, and sincere concern for the welfare of all he met."
Morgan married Nannette Marie Henault in June 1980, and the couple moved to Divide, Colo, in 1986 with their daughter Pamela, then to Woodland Park in 1990. They shared many adventures, and Morgan left behind many cherished memories for his beloved family and friends. He was an avid outdoorsman, and loved spending every free moment pursuing those adventures.
He is survived by both his parents, Ronald and Mickey Morgan, of Tomball, Tex; and his four brothers: Ronald "Rusty" and Karen (Smith) Morgan Jr. of Allegan, Mich, Richard and Virginia (McElhany) Morgan, of Woodland Park, Colo, Rodney and Kathy (Estes) Morgan of Walnut Creek, Calif, and Robin and Tracy (Salt) Morgan of Renton, Wash. He is also survived by his wife Nannette of Woodland Park, and children and grandchildren, Gregory Daniel (Andrew and Stacia) Morgan, Christopher "Chip" Todd (Samantha) Morgan, Amanda Michelle (Aaron Daily and Abigayle) Morgan, and Pamela Ann (husband Dave) Anderson, granddaughter, Hallie Morgan, all of Colorado Springs; 11 nephews and nieces; his in-laws, Kenneth and Marilyn Henault, four siblings and their 11 children.
A Celebration of life service was held June 13 at New Life Church. In lieu of flowers, the family requests that memorial contributions be made to The Penrose Cancer Center in Colorado Springs or Prospect Homecare Hospice in Woodland Park, Colo.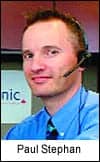 Their daughter, Michelle, joined the practice in 2001 after earning her AuD.
"We plan to grow with Beltone as a family both personally and professionally," says Hal Hames. "We believe in the Beltone philosophy: Building respect, confidence, and integrity in our products, and offering the best possible service to our patients.
Vivosonic Inc
Vivosonic Inc, Toronto, has appointed Paul Stephan as customer service manager. He has extensive experience in managerial responsibilities and customer support in high-tech industries in Germany, Switzer­land, and Canada. Stephan has been with Vivosonic as a customer care specialist since 2005, where he implemented Web-based customer relationship management services.
Obituary
Kenneth O. Johnson, ASHA's first executive secretary, ASHA fellow, and the person credited with introducing audiology services to the Veterans Administration (VA), died April 3, 2006, from a fall that followed an apparent heart attack at his San Diego home. He was 86.
For 22 years—from 1958 until his retirement in 1980—Johnson directed ASHA's National Office, overseeing the rapid growth of speech-language, audiology, and communication sciences, and laying a solid professional and financial foundation for the Association that contributed to its growth and success.
Johnson was born January 20, 1920, in St. Paul, Minn, and joined the Air Force during World War II, flying missions in the China-Burma-India Theater from 1942 to 1945. After the war, he earned a BA (Macalester College, 1946), an MA in speech (University of Minnesota, 1948), and a PhD in speech pathology, audiology, and psychology (Stanford University, 1952).
As a clinician, scholar, and veteran, Johnson served in a variety of positions at the VA: chief of the Audiology and Speech Correction Clinic at the VA Hospital in San Francisco (1951-1954); chief of audiology and speech correction at the VA in Washington, DC (1954-1956); and consultant to the VA in acoustical audiology. In 1956-1957, he directed the San Francisco Hearing and Speech Center, and was an assistant clinical professor at Stanford University Medical School.
On January 1, 1958, Johnson began work as the first paid, full-time executive for the organization then known as the American Speech and Hearing Association. His hiring coincided with the opening of a small office—two rented homes—in Washington, DC.
Johnson focused on building the visibility and autonomy of communication disorders and the national organization, and set in place the pillars that would define the value of both: a clinical certificate based on a master's degree; effective governance structures including the Legislative Council; a governmental relations department; ASHA Magazine; the National Student Speech-Language Hearing Association; and enhancement of the science base of the discipline.
With his knowledge of federal agencies, he pushed for autonomy for the professions.
A disciplined and strong-minded executive, Johnson never shied from controversy, especially when he believed it to be in the best interests of the professions or ASHA. One position that paid off handsomely for ASHA members was his belief that owning—not renting—a national headquarters building would be a wise financial move as well as good public relations.
In the office Johnson was a stickler for rules: arrival 20 minutes late brought a loss of four hours' pay; no sick leave until completion of five years' service; no facial hair or leisure suits (this was the 1970s) for men, and no slacks for women. But he did usher in a fair salary administration system and laughed at himself with wry humor.
Johnson retired in 1980, leaving an ASHA membership that had grown nearly tenfold—to 37,000—and a staff of 75 ready to move into spacious new headquarters.
Johnson is survived by his son, Juan (Dominga and Catalina) of San Diego; nephews Dale Johnson of Denver, and Steve Johnson of Union City, Calif; and sister-in-law Lilian Johnson of Mesa, Ariz. He was preceded in death by his wife Dorothy.
Memorial contributions may be sent to the ASHFoundation, 10801 Rockville Pike, Rockville, MD 20852, made payable to the ASHFoundation with correspondence noting the donation is in memory of Johnson.
Reprinted with permission from the American Speech-Language-Hearing Association.