Amplicom USA Partners with HNN to Educate Customers in Waiting Rooms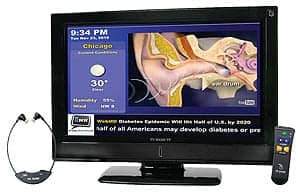 Amplicom USA, Los Angeles, a manufacturer and distributor of hearing telecommunication products and accessories, will stream digital video content about its products via the Hearing News Network (HNN), a patient waiting room information service.
HNN installs flat-screen digital panels (shown, right) at the offices of hearing health care professionals throughout the United States. Each panel displays the weather, RSS news feeds, and educational information on products geared for the hard of hearing.
The Amplicom products to be displayed include amplified telephones that feature custom tone and volume control, wireless wrist shakers, and alarm clocks with wireless under-the-pillow vibration pads.
Michael Abramowitz, Amplicom USA's president, commented in a press statement, "What better way to educate the hard of hearing community on our products than to connect with them in their hearing professional's waiting room?"
HLAA Joins AARP's Hearing Education Advisory Group
The Hearing Loss Association of America (HLAA), Bethesda, Md, and AARP are participating in a new hearing education and awareness effort for those over 50 who are at risk of hearing loss. HLAA will serve as an adviser to AARP along with other hearing associations.
The AARP educational initiative will offer new research and resources on hearing loss and hearing health, as well as bring increased attention to the health, social, economic, and emotional impact of hearing loss.
Researchers estimate that 18% of American adults 45 to 64 years old suffer from some type of hearing loss. For adults 65 to 74 years old, that figure increases to 30%, and for adults 75 years old or older, 47% may have some hearing loss, according to HLAA.
HLAA will be working with other organizations to advise AARP on their hearing loss awareness effort, including the American Academy of Audiology Foundation (AAAF), the American Speech-Language-Hearing Association, the Deafness Research Foundation, and the International Hearing Society.
The joint initiative will start with HLAA sponsoring its National Walk4Hearing, which is held in multiple cities across the country in the spring and fall. Since 2006, more than 18,000 walkers have stepped up and helped raise money for programs and services for people with hearing loss and their families.
More information about HLAA and the National Walk4Hearing is available at www.hearingloss.org.
Unitron Launches "Favorite Sound" Social Media Initiative
Hearing aid manufacturer Unitron, Plymouth, Minn, is engaging hearing health care professionals to spread the word that "hearing matters" with a social media initiative that asks hearing professionals to share their favorite sounds.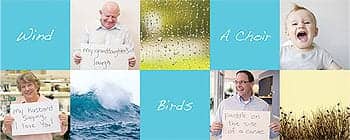 The "Favorite Sound" Web site (mysound.unitron.com) invites hearing health care professionals to contribute to the program by uploading to the Favorite Sound Web site either a picture of themselves with a sign; a short written message; or a photo showcasing their favorite sound, for example, their baby's laugh, or waves crashing.
"Unitron is not just a company that makes hearing instruments. We are a company inspired by the real life issues facing people with hearing loss, and united by the belief that hearing matters," says Rodney Schutt, president and CEO, Unitron US, in a press release. "The 'Favorite Sound' program is a way for us to feature our partners, the everyday heroes who share our mission to address the concerns and aspirations of people facing hearing loss, and truly make a difference in their lives."
Submissions will be compiled into a short impact movie for launch during May's Speech and Hearing Month. For every submission of sound received, Unitron will give a financial contribution to the NEADS, a nationally recognized nonprofit organization established to provide guide dogs for deaf and disabled Americans. Read the submission guidelines at mysound.unitron.com/rules.
Oticon Forms Alliance with Hearing Instrument Consultants
Oticon, Somerset, NJ, has announced an alliance with Hearing Instrument Consultants (HIC). The agreement is intended to expand and strengthen Oticon's business support network.
HIC, based in Costa Mesa, Calif, has more than 30 years of sales, training, and customer service experience. Oticon President Peer Lauritsen stated in the press release, "We will all benefit from access to HIC's expertise and experience, as we develop new sales and business support initiatives going forward."
HIC will continue its focus on support for the company's customers in the western region of the United States, where it has a strong customer base. HIC's 15-member staff includes sales representatives, inside audiologists, customer service representatives, and marketing and training specialists, who will continue to work out of the company's Costa Mesa offices and continue to focus on the western area.
Oticon said that the HIC alliance will not impact existing Oticon business partners, whose current sales and support teams will remain unchanged.