Otonomy Names Gerald Wroblewski as COO
Otonomy Inc, San Diego, a clinical stage biopharmaceutical company developing medications for diseases and disorders of the inner and middle ear, has announced the appointment of Gerald Wroblewski as the company's chief operations officer.

Wroblewski brings the company broad operational expertise in the areas of manufacturing, product supply chain management, packaging, and quality assurance. At Otonomy, he will be responsible for overseeing activities in these areas to support the advancement of the company's product candidates through clinical development and into commercialization.
Prior to joining Otonomy, Wroblewski served as vice president of operations at MacuSight, a developer of therapeutics for the treatment of severe ocular diseases and conditions.
Otonomy's lead product candidate, OTO-104, is a sustained release formulation of the steroid dexamethasone. A Phase 1b clinical trial in Meniere's disease patients has recently been completed, and future studies are being planned in Meniere's disease and other inner ear disorders.
"The positive clinical results we recently announced for OTO-104 in Meniere's disease, combined with our rapid progress advancing OTO-201 through IND enabling studies, signal an important transition for the company that requires additional operational expertise and focus," said David A. Weber, PhD, president and chief executive officer of Otonomy. "I welcome the opportunity to work with Jerry again and know that his depth and breadth of manufacturing expertise will successfully support the company through clinical development."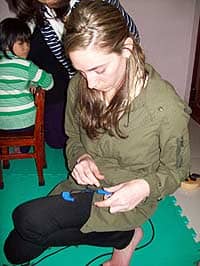 Paige Stringer
Ear Gear Helps Global Charity
In January 2011, Ear Gear, Lake Country, British Columbia, donated its hearing aid protection products to Vietnamese children receiving donated hearing aids from The Global Foundation For Children With Hearing Loss. The company is now extending the offer to other charitable organizations.
The Foundation visited Dalat, Danang, and Saigon in January 2011 to mentor teachers of the deaf and parents about how to help young children with hearing loss develop listening and spoken language.
In addition, the Foundation's team trained audiology staff and fit hearing aids on children. In support of their work, Ear Gear donated products for the children.
"It was wonderful to have the Ear Gear with us!" said Paige Stringer, executive director and founder of the Foundation. "We fit 95 hearing aids on children from low-income families and gave them the Ear Gear accessories to ensure they would be protected."
Ear Gear will continue to support the Foundation and will be participating in the second teacher training program in July 2011, as well as the Foundation's next mobile mission, scheduled for February 2012.
Ear Gear also said in a press statement that it would extend the same offer to other organizations doing charitable work with the poor and underprivileged. Contact Ear Gear via its Web site at www.gearforears.com for more information.
Early Intervention, ASL, and Parent Interaction Are Keys to Improving Deaf Children's Literacy Skills
Early findings from a Ryerson University study show that children with hearing loss may benefit greatly when parents read to them using American Sign Language (ASL).
"One more story" is a common refrain in families with young children who love to read. But children who are deaf or have some form of hearing loss often miss out on this activity because their parents may not know how to use ASL when they read to them.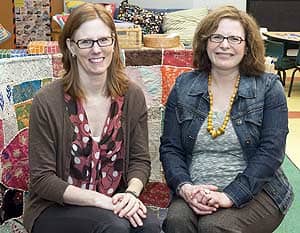 Kathryn Underwood and Kristin Snoddon
Kristin Snoddon, a postdoctoral fellow in Ryerson University's School of Early Childhood Education (ECE), Toronto, is leading a 10-month research project to teach hearing parents of deaf children how to read children's classics using ASL.
"Shared reading and parent-child interaction are critical supports for improving literacy skills," said Snoddon, who is deaf. "This recognizes that reading, writing, and ASL development can happen concurrently. Through this process, children's literacy skills can improve by being simultaneously exposed to ASL storytelling and reading with their parents."
Supervised by ECE professor Kathryn Underwood, Snoddon is running a series of workshops for parents and preschool-age children taught by deaf instructors who are proficient in both ASL and English.
Ryerson's Early Learning Centre workshops teach strategies for shared reading to hearing parents and their children. Some of these reading strategies include:
Teaching parents how to use ASL to retain their children's visual attention;
Encouraging parents to ask questions;
Eliciting parent contributions to the reading process; and
Discussing the illustrations to expand the child's vocabulary and world knowledge.
As a result of these strategies, noted Snoddon, "children who have books read to them using sign language are exposed to a greater range of vocabulary than is available through conversation only."
She adds that research shows that ASL has a positive relationship to spoken language development in deaf children.
Participating in an early intervention program, however, may do more than improve deaf children's literacy skills. For example, families in Snoddon's study are becoming more involved in the deaf ASL community and are meeting other parents who wish to learn ASL to support their deaf children.
"Parents also meet with several deaf adults who have expertise in bilingual (ASL and English) education, and learn about ASL and ASL literacy," said Snoddon. "Regularly meeting with deaf adults provides parents and children with first-language and cultural models. They benefit from enhanced communication and social development."
Snoddon also said that deaf professionals, such as educators, administrators, and psychologists, are key to the success of early intervention programs, and should be involved at every stage of the process, a level of involvement that's currently missing in Ontario.