US Hearing Aid Sales Fall by 1.3% in 2002; DSP Now Half of Market
Alexandria, VA — US net unit hearing instrument sales fell by 1.32% in 2002, according to statistics compiled by the Hearing Industries Association (HIA). Total net hearing instrument sales volume was 1.90 million units compared to 1.93 million in 2001. Total net hearing instrument sales, when including exports, witnessed a similar decline (-2.27% to 1.98 million units). The new 2002 statistics follow three years of nominal industry sales growth (-0.07%-2.05% from 1999-2001) in the US; outside the US, industry analysts estimate that unit sales rose by about 2% during 2002.
The popularity of digital signal processing (DSP) hearing instrument continues to soar. In total, 44.7% of all hearing instruments sold during 2002 were DSP, and in the Fourth Quarter, DSP instrument usage equalled 52.9% compared to 45.6% in the Third Quarter. Programmable instrument usage in 2002 was reported by HIA to be at 26.2%, while analog instruments made up 29.1% of the market. A detailed report on the HIA 2002 statistics and a market analysis will appear in the March issue of HR.

Phonak Technology Assists America's Cup Crew
Stafa, Switzerland — Team Alinghi, challenger of Team New Zealand in the America's Cup race which lasts from February 12 -March 1, is using inductive loop technology developed by Phonak to link crew-members directly to the skipper so his individual commands can be communicated clearly and instantly. Each crew member wears a wireless Phonak device tucked behind the ear, and the instruments are reportedly waterproof and robust enough to handle the harsh conditions aboard the sailing ship.
"Getting through the America's Cup has been a big step," says Skipper and Executive Director of Team Alinghi Russell Coutts. "Rotating crew has reaped rewards, as has our specially developed wireless communication system which has played a key role in successfully communicating instructions in tough weather conditions."
Seewald Procures Grant for Early Intervention Research
London, Ontario — Richard Seewald, PhD, Canada Research Chair in Childhood Hearing at the University of Western Ontario, was granted funds to aid his study on effective intervention through the amplification for hearing loss in early infancy. The grant, sponsored by Joe Fontana, MP for London North Centre, was awarded through the Canadian Language and Literary Research Network, which brings leading scientists, clinicians, students, and educators together with public and private partners to develop, improve, and sustain children's language and literacy development in Canada.
GN ReSound and Akustica Sign Joint Development Agreement
Pittsburgh — GN ReSound and Akustica, a developer of "system on chip" solutions, have entered into a joint agreement for the development of a prototype for GN ReSound's next-generation of hearing aid products. Akustica's sound capture and sound reproduction chips are based on patented micro-electromechanical (MEMS) technology. The chips are designed to eliminate the need for conventional microphones and receivers by combining the functionality of these components with microelectronics and software onto a single, standard CMOS semiconductor chip. These chips are said to substantially improve the performance of communications and electronic devices, including hearing aids, mobile phones, and other products, while facilitating features such as directionality, noise reduction, voice recognition, and voice encryption.
---
Siemens Opens New California Facility

Siemens new manufacturing facility in La Mirada, Calif.
La Mirada, Calif — Siemens Hearing Instruments, Piscataway, NJ, opened its new high-tech manufacturing facility in La Mirada, Calif, in February with a ribbon-cutting ceremony and guided tour of the 28,000-sq.-ft. plant.
The ceremony—which included food and entertainment in addition to tours of their "Factory of the Future" for Siemens customers—featured addresses by Siemens officials, including: William Lankenau, president and CEO; Roger Radke, PhD, managing director, Siemens Audiologische Technik GmbH, Erlangen, Germany; John Krauter, senior vice president and CFO; and Joseph Lugara, vice president of sales.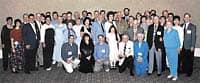 Siemens President and CEO William Lankenau spoke at the grand opening of the facility.
"This facility represents one more strategic step in fostering partnership, interaction, and communication with our hearing care partners," said Lankenau. "We are committed to building the most advanced facilities and to employing progressive technologies, enabling us to develop the products vital to advancing the quality of life of the hearing impaired."
Also during the ribbon-cutting, Siemens' Vice President of Marketing David Sawyer presented a donation of infrared assistive listening devices to the La Mirada Theatre for the Performing Arts.

Siemens technicians on their first official day of work at the new facility.
The La Mirada laboratory, whose 120 employees include an audiology team, customer service, sales, manufacturing, and repair departments, will specialize in the manufacturing of Siemens' Laser Accurate Scan Replication (LasR™) shell-making process. LasR™ utilizes digital mechanical assembly technology, precision laser scanning, and cutting-edge computer software to create more accurate and comfortably fitting hearing instruments. The technology captures the physical impression of the ear, using laser scans to produce a 3-D image. Guided by data rendered from the image, a laser then constructs the shell from a bed of polymer material by fusing that material into a shell.
The facility is Siemens' fourth such lab in the country, and its largest satellite serving the western US. The site is only 3 miles from the company's former plant in Cerritos, Calif, and is 40% larger than that facility, according to the company.
---
States Begin Hearing Care Coverage Legislation
Alexandria, VA — As predicted last year by the Hearing Industries Association (HIA), state legislatures across the country are beginning to introduce legislation that would require health insurance coverage for hearing aids and related services. Connecticut, Hawaii, Illinois and New York have recently introduced legislation which typically requires that health insurance and/or managed care policies that are amended, delivered, issued, or renewed after a specific date provide coverage for the practice of fitting, servicing, or sale of hearing aids by a hearing care professional. To date, legislation introduced has placed no limitations on coverage other than exempting specified policies such as hospital indemnity and Medicare supplement insurance.
In 2002, several states introduced legislation that mandated hearing care coverage targeted at minors. Louisiana legislators provided funding of hearing aids for lower-income residents through the states TTY/relay surcharge, and it is widely expected more legislatures will soon introduce similar legislation.
Ultrasound Tinnitus Device Introduced
Farmington, NY — Hearing Innovations Inc announced the availability of a new tinnitus relief device, the HiSonic-TRD, that uses low-level bone-conducted ultrasound for tinnitus habituation therapy and tinnitus masking. The company states that the device is the first and only to use such a technology to relieve tinnitus symptoms. Hearing Innovations reportedly received a US patent for the exclusive and protected right for the use of ultrasound to treat individuals with tinnitus, and it received 510(k) marketing clearance for the device in 2002 from the US Food and Drug Administration (FDA) based on positive results from its clinical safety and efficacy study.
The HiSonic-TRD is intended to be used for tinnitus habituation therapy and tinnitus masking therapy. The device is said to provide immediate, effective, and safe relief from the severe symptoms of tinnitus through bone-conducted ultrasound, and it is being made available to consumers through licensed ENT physicians and hearing care professionals. "Tinnitus is a debilitating condition for millions of sufferers," says Ken Coviello, company CEO. "We believe that the HiSonic-TRD will provide many patients with significant relief from their severe symptoms."
The manufacturer for the HiSonic-TRD is Misonix, Inc, a minority equity holder in Hearing Innovations Inc. Since 2000, Hearing Innovations has been marketing a similarly-named product, the HiSonic, a non-invasive ultrasonic bone conduction hearing device for the profoundly deaf (for background on this product, see Staab et al. in the February 1998 HR). For more information on the tinnitus device, see the company's Web site at www.hearinginnovations.com or call (631) 927-9100.
AuDNet Signs 10 Manufacturer Support Contracts
Burnsville, MN — AuDNet Inc, an independent buying and support services network for dispensing audiologists who are members of the Academy of Dispensing Audiologists™ (ADA), announced that it has concluded negotiations and has signed supplier-partner agreements with 10 US-based hearing aid manufacturers. Through these supplier agreements, AuDNet will provide participating members of ADA with discount access to over 450 digital, programmable, and conventional hearing aids, while generating revenue to help fund ADA's efforts to promote clinical audiology and the AuD degree to hearing-impaired consumers and physicians nationwide, according to the company. The suppliers include Audina Hearing Instruments, AVR Sonovation, General Hearing Instruments, GN ReSound North America, Interton (AHS), Micro-Tech Hearing Instruments, Qualitone Hearing Instruments, Sonic Innovations, Starkey Laboratories, and Unitron Hearing Instruments.
"These generous hearing instrument manufacturers appreciate the role autonomous audiological practices play in quality hearing health care delivery," says AuDNet President David Smriga. "And, they recognize the importance of bringing the doctoring care message to millions of hearing impaired Americans throughout the country." AuDNet will be fully operational this month. For information, visit the company's Web site at www.aud-net.com.
---
Sonic Innovations Takes iF Design Award 2003

The adesso hearing aid offers the option between a customized shell or a replaceable soft shell, thus serving as both a traditionally fit custom hearing aid or as an instant-fit or loaner/demonstration aid.
Salt Lake City — SONIC innovations has been honored with the iF design award 2003 for its adesso hearing instrument. The iF design contest, which was first held in 1954, is reportedly regarded as one of the major design competitions worldwide, attracting over 1,800 entries from 30 different countries each year. The judges, who are made up of top international designers, critically examine and select the award-winning entries, and guarantee iF's high quality credential.
The adesso was developed as a convenient alternative to custom-molded hearing aids: a DSP core with signal processing in nine channels and a choice between replaceable soft shells (in four different sizes) or a customized shell. The hearing instrument is designed as an attractive option to the segment of potential hearing-impaired consumers that would otherwise not choose to purchase traditional aids. adesso can also be used as tool in traditional dispensing practices as a loaner device; instant-fit upgrade option; for demonstration of digital benefit; and is an affordable digital solution for mild-to-severe hearing loss. The product, like the company's Natura 2 SE, Altair, and Tribute, is fitted using EXPRESSfit for NOAH or the EXPRESSfit standalone.