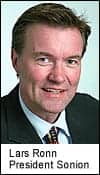 Lars Ronn, President of Sonion, Roskilde, Denmark, Tells hr why his Company Utilizes new Technology Independent of Product Development.
What is your company's niche within the hearing industry?
a Sonion is a full range manufacturer of sub-miniature components for the hearing industry. We continue to grow by designing and manufacturing smaller hearing aid components that perform as well as or better than their larger predecessors. A high level of product and process quality is extremely important to our customers. Consequently quality is a crucial factor in all aspect of our business. One important industry trend among our customers is an increased number of product launches with shorter product life cycles. The hearing instrument manufacturers can gain competitive advantages by sourcing components with Sonion for their product development.
How do you utilize new technology in your product development?
a We consider new technologies to be both in materials and processes, but also enabling better ways to work together with customers and internally. Prior to adoption, new technologies are matured through experiments and qualification testing. We prefer to utilize new technology independent of product development, since there is a risk associated with new technology, and we do not want our customers to suffer from failed experiments.
How do you see the market evolving in the next few years?
a The hearing instrument market is getting more competitive hence size, functionality, and cost will play an even bigger role going forward. At Sonion, we adapt to this by focusing on development of even smaller components with better functionality and by getting involved in our customers design phase at an early stage. Often the result is that we not only deliver components but also solutions such as sub-modules. Finally, we do see an increase in demand for capacity and lower cost, and as a direct consequence have established a manufacturing activity in Vietnam, which will start deliveries in 2006.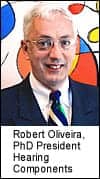 Robert Oliveira, PhD, president of Hearing Comp­onents, Oakdale, Minn, discusses with HR his company's new products that reach out into new markets.
What's new at your company?
a We've expanded our Comply™ Snap Tip Family of sound delivery solutions. Hearing professionals now have more options for their patients' needs. The NEW Soft Foam Snap Tip earmold may be the first true open mold with excellent cerumen management.
We have introduced the Comply Noise Reduction-1 Earphones, designed to be used with all personal audio players. The NR-1 Earphones use our Comply Canal Tip technology to provide the best value in-the-ear earphone on the market today. These earphones allow the user to listen to their music at reduced volume levels especially in noisy environments.
Our insert passive noise reduction technology also provides great benefit in challenging military applications, like communications in the 115 dB noise environments of helicopters. Our technology won over active noise cancellation and has become the standard on US Army helicopters.
This technology is applied to general aviation in the Clarity Aloft™ headset—the best available high-performing lightweight headset.
Finally, I am pleased to announce we recently appointed Tim Hedlund as vice president of sales to support these efforts. Tim and his team are significantly increasing our effectiveness.
Which of your products are you most enthusiastic about?
a We are passionate about the valuable benefits our products provide to the hearing industry and with the recent introduction of the NR-1 Earphones, the consumer electronics market.
How do you stay on top of industry trends?
a Our applied research enables us to interface with industry practitioners, other companies in hearing and hearing-related industries, and end-users. We participate in major tradeshows to share our technologies and learn of customer needs. As a result of our NIH supported research and development, I am a sought-after speaker by key associations and companies. We work to be a very visible and proactive participant in the markets we serve.