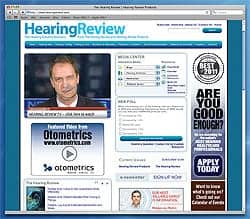 TOP NEWS and HEADLINES in March
NHCA Responds to OSHA's Withdrawal of Proposed Noise Control Interpretation
Untreated Hearing Loss Costs Both Taxpayers and Individual Income
Phonak Introduces Interactive Patient Counseling Tool
Sonus Creates First Audiology-Based Franchise Model
Otometrics: Happy 30th Anniversary to ICS Balance Testing
New Fully Automated ASSR from Vivosonic
Auris Medical Enrolling 24 Patients for Tinnitus Medication Clinical Trial
Sycle.net Announces HIMSA Certification
GN ReSound Parent Company Reports 10% Organic Revenue Growth in Q4
Eli Electronics Introduces MP3 Player-like Hearing Aid
Sonova Agrees to One-off Payment of $94 Million
HR Walking Guide to the 2011 AAA Convention

AAA convention held in Chicago. The American Academy of Audiology (AAA) AudiologyNOW! convention will be held April 6 to 10 in Chicago. As in past years, the annual conference offers one of the world's best selections of educational seminars and feature sessions on hearing-related issues, and this year's special "SuperTracks" include Neuro-Audiology, Pediatrics, Practice-Related Issues, Treatment, Vestibular, and Hot Topics.

"Our focus this year is captured well by the theme 'Innovation to Implementation,'" writes Convention Chair Richard A. Roberts, PhD, of Alabama Hearing & Balance Associates, Foley, Ala. "AudiologyNOW! is the place for practitioners, researchers, and exhibitors to gather for sharing the latest in clinical concepts, technology, and practice development. An overall goal we have kept in mind while ramping up for AudiologyNOW! is the experience of all of the participants. We want you to become so engaged during your time in Chicago that you return and implement your knowledge on Monday morning. That is how our patients will be helped and that is how our profession will continue to grow."

For more information on AudiologyNOW! 2011, visit the convention Web site at www.audiologynow.org. HR published its annual pullout supplement to the conference in our March edition that includes a schedule of events and preview of the exhibit floor, and this can be downloaded from the HR Web site here. Additionally, this month's edition of Hearing Review Products carries information on the new products and services being offered at this year's convention.

Scott Davis

Scott Davis named acting CEO of Siemens Hearing Instruments. Siemens Hearing Instruments Inc announced that Scott Davis, formerly the vice president of global sales and marketing for Siemens Audiology Group, has assumed the role of acting CEO of the company in the United States and will be based at the company's headquarters in Piscataway, NJ. He replaces Brian Kinnerk, who was appointed CEO in January 2010.

Davis recently joined Siemens from the Boston Consulting Group (BCG), where he was a vice president and managing director. At BCG, Davis developed and executed growth strategies for a variety of medical device and biopharmaceutical companies. For the past year, he worked with the Siemens Audiology Group on several strategic initiatives to enhance Siemens customer service offerings and improve operational performance.

Prior to Siemens, Davis held various sales and operational leadership roles with leading advanced material technology companies. He received an MBA with honors from the University of Pennsylvania Wharton School and a BS from Auburn University's School of Engineering.

Michael Tease appointed Unitron's new president and CEO. Unitron, Kitchener, Ontario, a member of the Sonova Group, has announced the appointment of Michael Tease as its new president and CEO. Tease will lead Unitron's global operations from the company's headquarters in Kitchener.

Tease arrives at Unitron with 25 years in the pharmaceutical industry. The company believes that his past growth management experiences in pharmaceuticals will facilitate Unitron's global brand development and increase sales in both consumer and business-to-business sectors.

Prior to Unitron, Tease served as general manager at Merck Consumer Care Canada, where he reportedly achieved industry-leading growth and extended Merck's leadership in all key product categories. Tease has also held senior leadership positions at Pfizer and Johnson & Johnson.

"As a core brand of the Sonova Group, Unitron is an important growth driver in our global business strategy," says Valentin Chapero, CEO of the Sonova Group. "Michael Tease brings to Unitron a significant track record for performance, a depth of leadership expertise, and a passion for the customer that will allow us to further build and extend Unitron's brand reputation around the globe."

Hearing loss associated with development of dementia. Older adults with hearing loss appear more likely to develop dementia, and their risk increases as hearing loss becomes more severe, according to a report in the February issue of Archives of Neurology, one of the JAMA/Archives journals (68[2]:214-220).

By the year 2050, an estimated 100 million people or nearly 1 in 85 individuals worldwide will be affected by dementia, according to background information in the article. Interventions that could delay the onset of dementia by even 1 year could lead to a more than 10% decrease in the prevalence of dementia in 2050, the authors note. "Unfortunately, there are no known interventions that currently have such effectiveness," they write.

Candidate risk factors for dementia include low involvement in leisure activities and social interactions, sedentary state, diabetes mellitus, and hypertension, and another potential risk factor is hearing loss.

To assess whether hearing loss is another risk factor, Frank R. Lin, MD, PhD, of Johns Hopkins Medical Institutions, Baltimore, and colleagues studied 639 individuals ages 36 to 90 without dementia. Participants initially underwent cognitive and hearing testing between 1990 and 1994 and were followed for the development of dementia and Alzheimer's disease through May 31, 2008.

Of the participants, 125 had mild hearing loss (25 to 40 dB), 53 had moderate hearing loss (41 to 70 dB), and six had severe hearing loss (more than 70 dB). During a median (midpoint) follow-up of 11.9 years, 58 individuals were diagnosed with dementia, including 37 who had Alzheimer's disease.

The risk of dementia was increased among those with hearing loss of greater than 25 dB, with further increases in risk observed among those with moderate or severe hearing loss as compared with mild hearing loss. For participants age 60 and older, more than one-third (36.4%) of the risk of dementia was associated with hearing loss.

The risk of developing Alzheimer's disease specifically also increased with hearing loss, such that, for every 10 dB of hearing loss, the extra risk increased by 20%. There was no association between self-reported use of hearing aids and a reduction in dementia or Alzheimer's disease risk.

"A number of mechanisms may be theoretically implicated in the observed association between hearing loss and incident dementia," the authors write. Dementia may be overdiagnosed in individuals with hearing loss, or those with cognitive impairment may be overdiagnosed with hearing loss. The two conditions may share an underlying neuropathologic process. The authors continue, "Finally, hearing loss may be causally related to dementia, possibly through exhaustion of cognitive reserve, social isolation, environmental deafferentation [elimination of sensory nerve fibers], or a combination of these pathways."

If confirmed in other independent cohorts, the findings of the study could have substantial implications for individuals and public health. The authors conclude, "With the increasing number of people with hearing loss, research into the mechanistic pathways linking hearing loss with dementia and the potential of rehabilitative strategies to moderate this association is critically needed."

For related information on these findings see the article by Beck and Flexer in February's HR, and the letter by Arthur Podwall, PhD, and David Podwall, MD in this issue.

P2i reports 3 million hearing aids protected and new product. According to P2i, Savannah, Ga, there are now 3 million hearing aid users worldwide who are protected by Aridion, P2i's liquid repellent nanocoating. The company also announced that it will unveil its new compact Aridion 8 processing machine at the AAA 2011 conference in Chicago. The new machine is designed to address the needs of smaller hearing aid manufacturers and dispensers.

Aridion reportedly coats every aspect of a finished product at the nanoscopic level, not just individual product components treated prior to assembly. As a result, the application is said to dramatically lower the entire hearing aid's surface energy, so that when humidity or sweat comes into contact with any part of the hearing aid, it forms beads that simply roll off. For more information on the technology, see the April 2010 HR article "Hearing Aid Component Protection" by Stephen Coulson, PhD.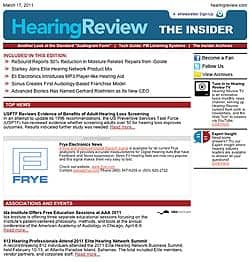 Get Your Weekly Edition of THE INSIDER
Every week The Hearing Review sends out THE INSIDER, a weekly FREE e-newsletter devoted to the top hearing-related news, research, product introductions, fitting topics, and marketing research stories that are influencing your business or practice, as well as the industry at large. [register]Sign up for your free subscription[/register].