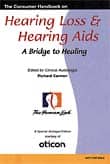 Tinnitus Device
A new full-color brochure about the Aurex-3® non-invasive tinnitus treatment and control device is available from its manufacturer, ADM-Tronics Unlimited, Inc., Northvale, NJ. The literature describes the device which consists of a table-top control unit and a hand-held applicator. A photo of the overall unit is shown in the brochure, along with an illustration showing a patient using the device.
The Aurex-3® probe is designed to be placed behind the ear near the mastoid bone and operated via the control unit. Three sliding controls on the control unit reportedly allow the user to adjust the intensity, frequency and blending of the energy applied by the probe. The device is not worn by the patient and is designed to be used 3-4 times daily for 3-5 min. each time.
---
Frequency Transposition
A programmable ITE with a digital speech analyzer, the ImpaCt DSR-ITE with Dynamic Speech Re-Coding capabilities, has been introduced by AVR Sonovation, Eden Prairie, MN. The DSR-ITE is designed for individuals with normal to moderate hearing loss in the low frequencies and moderately severe to profound hearing loss in the high frequencies. The device is said to take high-frequency information and proportionally compress it into lower frequencies where clients have more residual hearing. The instrument follows the introduction of the company's ImpaCt DSR675.
AVR also announces its programming software, CFE Version 2.0. Initial ImpaCt, has been designed to make fittings quick and easy with a new, high-precision fitting formula and integrated fitting tips. CFE Version 2.0 lets the clinician configure the above mentioned aids as 2-, 3- or 4- program hearing instruments. The Multi-Program Preference module is designed to allow the clinician ask their patient important life style questions, and the system's multiple programs are then automatically set based on the user's needs.
---
Digital Product Line
Beltone Electronics Corp., Chicago, has released three new instruments in its Beltone Digital Series: the Lumina™ 4-channel circuit, Polara™ 2-channel circuit and Silica™ 1-channel circuit. The new Digital Series, an extension of the company's existing digital line, is available in all shell styles, including Invisa (CIC), Petite Plus (MC), Opera Plus (ITC), Optima HS (HS), Optima LP (low profile) and Optima FS (full shell).
The Lumina 4-channel circuit offers four-channel independent wide dynamic range compression (WDRC) with enhanced, multi-channel speech pattern detection, adjustable crossover frequencies, and three independent output compression systems (AGC-O). The Polara 2-channel circuit offers WDRC with selectable crossover frequencies and an output compression system (AGC-O). Both instrument lines feature the Silencer System, overshoot control and push-button multi-memories. The Silica 1-channel circuit offers WDRC, active filtering, loudness boost, overshoot control and a push-button memory.
---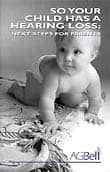 Testing Stethoset
Hal-Hen, Garden City, NY, offers its Stethoset (Cat. No. 787), designed to indicate whether a hearing instrument is weak or distorted within a few seconds. A hearing aid is attached to the Stethoset coupler and the response is received directly by the device, with the entire procedure taking about 30 seconds. The stethoset is reportedly suitable for parents to check their child's aid before school, and invaluable for teachers. The product is designed to operate with all types and makes of hearing instruments, including BTEs, ITEs and CICs.
---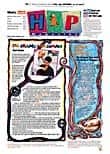 Instant-Fit Earpieces
A new approach to fitting hearing instruments in the ear canal instantly and comfortably is reportedly offered by Hearing Components, St. Paul, MN. The new disposable Comply™ Snap Tips and Comply™ Snap Earpieces are designed to allow patients to walk out of a hearing care professional's office comfortably wearing a hearing instrument. The products may be used on a temporary basis or in place of custom earmolds, says the company. The Snap Tips are attached to the Snap Earpiece or to an adapter built into the end of an ITE hearing instrument. The earpieces are said to be instant fitting and nearly invisible. The new tip design incorporates a built-in layer of filter foam for protection against ear wax, and one 10-pack of tips lasts a patient about six months.
The patented Comply Snap Tip was developed from Hearing Components research which was funded by Small Business Innovative Research grants and the U.S. National Institutes of Health's National Institute on Deafness and Other Communicative Disorders (NIDCD). This research, in part, pointed to significant volume changes that occur in the cartilaginous portion of many ear canals due to jaw movement (e.g., when talking, chewing, laughing). For many hearing devices to operate without feedback, a seal must be maintained in the ear canal. "We have confirmed that a soft seal—one that is merely soft to the touch—is not sufficient," says Robert J. Oliveira, PhD, company founder and president. "The seal must be spongy soft so it can change volume along the ear canal." He predicts that some dispensers will use the Snap Tips with demos, loaners or as trial-period earmolds, while others will use the Snap Earpieces instead of custom earmolds, even if they practice in a region of the world with easy access to custom earmold labs.
---
Newsletter
Hearing HealthCare News®, White Plains, NY, introduces the availability of the newsletter's Universal edition. Developed in response to hearing care professionals who want fewer than 200 copies of a patient newsletter, the Universal edition is available with a minimum order of 50 copies per issue. This edition of the newsletter is not customized, but is delivered with an area available for imprinting or stamping the name of the dispenser and return address. Orders of 100 or more qualify the subscriber for reduced rates to Audiology HealthCare News, the physician newsletter.
---

Consignment Program
Magnatone, Casselberry, FL, introduces its BTE Consignment Program, allowing hearing care professionals to have the company's BTEs on hand for up to 90 days at no charge. Pay for them when they are dispensed or, if they are not dispensed, the products can be returned, according to the company. Products available for consignment are the Quantum Plus 100% Digital BTE, the Supra MDD digitally programmable BTE, the Supra MDD digitally programmable BTE with SEQ memory switch and the Mega-Power high-gain, non-programmable BTE.
---

Magnifier
Edroy Products, Nyack, NY, announces the company's Millennium Magni-Focuser which features a streamlined appearance and lighter lenses and lens plates than the previous model. The product is available with or without a light and a bifocal lens. It features an adjustable, contoured padded vinyl headband that reportedly "guarantees a perfect fit for everyone." The Magni-Focuser is lightweight and washable and can be worn over glasses. Its high-impact, non-corrosive ABS plastic front lens unit is shatter proof and scratch resistant, and its lack of a center post ensures that the user's field of vision is not obstructed. The company also makes the Opticaid and the Spring Clip Opticaid.
---
Fitting Software
United Hearing Systems, Plainfield, CT, announces the release of Edition 2.0 of its Audio Gallery Hi-Pro programming software. New features and updates include: The code for the client database has been revised to produce a more stable record of client data, and a secondary backup feature has been implemented; a print function has been activated for printing of client information and fitting screens; a positive indication is given to confirm that a hearing instrument has been programmed or that variable settings have been changed; and the programming capability and variable displays for the Ultima IV instruments have been substantially enhanced.
UHS reports that the system's Audio Gallery is one of the more "user friendly" programmable software modules. Along with fitting guidelines for the company's entire amplifier line, UHS programmables include EQ 2-Band, K-AMP-e and the Ultima IV AGC-O available in both Class B and Class D.
---

Fitting System
MedRx, Seminole, FL, announces the OtoWizard, a state-of-the-art fitting system that integrates real ear measurements and video otoscopy, while featuring "real time" live speech mapping to verify hearing instrument fittings. The system includes audiometry, loudness scaling, a hearing loss simulator, master hearing aid, articulation index (AI), automatic occlusion effect, speech sounds overlay, fitting rules, hearing instrument selection protocol, hearing aid analyzer and patient database.
The OtoWizard is NOAH compatible and reportedly features user-friendly graphic interfaces and easy-to-use software. The system is designed to fit high-tech hearing instruments.
---
Digital Instrument
Two new features have been added to the Rexton-D digital circuit: an adjustable kneepoint control and new compression choices, according to Rexton Inc., Plymouth, MN. The kneepoint control is now adjustable between 40 dB to "off." Hearing care professionals may now choose between linear or curvilinear and dual or syllabic compression. The updated circuit's new identity is represented in its new name, Rexton-D2. The product utilizes Connexx version 3.3D and Rexfit version 3.3 software. Customers needing the updated software may call their Rexton customer service representative.
---
Amplified Phones
Ultratec, Madison, WI, announces its CrystalTone amplified telephones. In addition to increasing the volume of the conversation, the CrystalTone is designed to give users flexibility to fine tune the sound quality to match each person's individual hearing. Users can adjust the volume, tone control and sound frequency ranges to the level that they hear best. The company's exclusive setting reportedly offers users more control for precise, clear sound with optimal clarity and amplification.
---

Alarm Clock
Ameriphone, Inc., Garden Grove, CA, announces its Wake Assure Alarm Clock, intended to make sure that users awaken on time. It is geared toward people with hearing impairment and those who have a deep sleeping problem. The alarm clock uses a loud buzzer, a lamp flasher and a bed shaker with volume and tone control adjustments to suit their hearing needs. Users can use the buzzer, lamp flasher and the bed shaker individually or all three simultaneously.
The alarm will go on and off every five minutes for one full hour or until it is turned off when set in auto mode. A large, lighted snooze/reset button is top-mounted on the unit for convenience. The clock also features a security setting that can turn on a light at a specified time, oversized control buttons and a bright two-inch tall display for day or night use. Its 9-volt battery backup keeps the time and alarm setting current in case of power outrage, according to the company.
---
Hearing Screener
HAL-HEN, Garden City Park, NY, introduces a hearing screener, Noise Stik II-Universal Hearing Screener, intended to test infants, toddlers and older people who are not able to respond manually to auditory stimulus. Its reflex actions provide a clear indication of a response, according to the company. The sound is provided from 500-4000 Hz in seven sound levels at 10 dB increments for 2-5 seconds. The company reports the instrument provides a useful, inexpensive method to screen out those with suspected hearing problems. It is compact in size and its battery is designed for maximum portability, according to the company.
---

Wireless/Portable VRA
Pehratek Products, Chanhassen, MN, announces its new wireless and portable VRA known as Wireless VRA/COR. The company reports the instrument has light-weight safe boxes and 20 bright lights array, and includes a remote control. It is also designed for easy installation.