Wireless Personal Hearing System
Hal-Hen, Garden City Park, NY, offers the DynaLife II infrared wireless personal hearing system, which reportedly offers gain of up to 115 dB SPL and an operating range of 40 feet. Fully self-contained, the wireless headset incorporates a charge-preserving on/off switch that turns the receiver off when not in use. Input is user-selectable in monaural or stereo with gain and tone individually adjustable for each ear. The Headset is charged by placement in the transmitter cradle, which can charge two additional batteries at the same time. The system includes: headset, cradle, rechargeable battery, hookup cables, and microphone.
---

BTEs
Siemens Hearing Instruments, Piscataway, NJ, introduces the Infiniti™ 3 S2D and S2P BTEs. The S2D model has a single directional microphone with two ports, and is always in directional mode. This feature is intended to provide better intelligibility for patients who are frequently in noisy environments. It is designed to cover a wide range of hearing loss, from mild to severe, and from flat to ski-slope. The S2P model is applicable for severe hearing loss and is reportedly well-suited for pediatric fittings due to its mid-sized case and compatibility with a variety of assistive devices. Both models are multi-memory instruments and have six parameters that can be programmed, including overall gain, high frequency, low frequency and slope controls, MPO and AGC-I. Each uses a size 13 battery and has such standard features as manual volume control, audio input, memory button and programmable telecoil.
---

Digital BTE
Phonak, Warrenville, IL, offers the Claro 111 dAZ digital BTE, designed specifically for those suffering from a mild and steeply sloping hearing loss. The instrument offers: the company's digital perception processing (DPP); the reduction of ambient noise with a fine-scale noise canceler; and a specially developed ski-slope fitting formula. In addition, the instrument reportedly features background noise reduction and an improved signal-to-noise ratio, achieved through adaptive digital AudioZoom. It is designed to be fitted within an open earmold.
---

Straight Plug
Microtronic, Minnetonka, MN, introduces two enhancements to the CS 43/44/45 connector system. A straight plug version is now available, which is designed to be particularly useful when doing in-situ programming of CIC and ITC instruments; and the strain relief of the ø1.4-mm cable may now be chosen in the same color as the plug itself.
---

Non-Programmable Circuit
Magnatone, Casselberry, FL, introduces the AGCo II circuit, the non-programmable version of its DigiPro AGCo circuit. The circuit uses an AGC output compression, which is designed to compress loud sounds without unwanted distortion caused by peak clipping circuits. The circuit is designed to drive Class D receivers, and the frequency response of each hearing instrument is dialed in using the active low cut filter (AFT). Additional features include averaging detector circuitry and a full array of trimmers and options. The circuit includes two trimmers on all aids. The active low cut trimmer provides flat to high frequency response control, and the output control will reduce the OSPL90 up to 15 dB, according to the company. Optional choices include T-coil, low cut switch, on/off switch, screw set VC and feedback trimmer. In addition, the full-shell model has the option of using the Liberty rechargeable system.
---

Ear Wash System
Oaktree Products Inc, Chesterfield, MO, offers the new Welch Allyn Ear Wash System,® which is designed to allow for clean, safe cerumen removal. The system connects to any faucet via a special adapter. Once the water has reached a comfortable temperature—detected by a temperature sensor on the device—its HydroVac Action feature dispenses water with controlled pressure at the same time that it vacuums out the ear canal. According to the company, the procedure is safe for all types of patients, including pediatric patients.
---

Fitting Workstation
Madsen, Bloomington, MN, offers the Aurical fitting workstation. It offers full 2-channel audiometry, a menu-driven real ear measurement module which includes ICRA signals to test digital hearing devices, and a built-in hearing aid test box and HI-PRO™ box. In addition, its Windows®-based software platform is designed to be both easy to use and easy to update.
---

High-Output Receiver
Knowles Electronics, Itasca, IL, offers its high-output HC receiver, which reportedly provides over three times (+5 dB) more acoustic output versus the company's standard EH and FC receiver series while maintaining the same FC-series package size. The company has increased the receiver's output, efficiency, and power handling without increasing size, distortion, or current drain. Maximum sound clarity and fidelity are maintained across the receiver's entire frequency range. Peak sound output levels approach those of existing receivers that are larger than the HC receiver. The receiver's smaller size and high output allow designers to provide maximum SPL levels in mini-BTE or ITE instruments.
---

Specialized Earmolds
Microsonic Inc, Ambridge, PA, announces an expanded line of specialized earmolds for people who use personal listening devices. Most recently, the company added a custom earmold that fits over the standard ear piece of a cell phone, delivering a clear signal and secure fit. Among other specialized custom earmolds manufactured by the company are CD/Mp3 player earmolds, professional broadcast earmolds, musician earmolds, pilot earmolds and medical earmolds, such as stethoscope earmolds.
---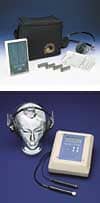 Amplified Cordless Phone
HITEC, Burr Ridge, IL, introduces its new 900 MHz amplified cordless phone with caller ID. Amplified up to 30 dB, the phone also has a headset jack for use with an optional under-the-chin headset, providing hands-free operation. Hearing- aid compatible, the phone provides excellent volume and clarity in noisy situations and long-range communications, according to the company.
---

Hearing Aid Sweat Band
VanB Enterprises, West Valley, NY, offers the hearing aid sweat band, available in four different colors and five different sizes. The band is a soft fabric sleeve that slips over a BTE to eliminate the sudden loss of hearing due to moisture. It is also designed to stop the infiltration of dirt and grime. The band is made from specially designed fabric that reportedly allows moisture to evaporate away.
---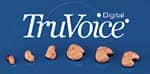 Tinnitus Combination Instrument
General Hearing Instruments, New Orleans, offers the Harmony™ tinnitus combination instrument, designed for patients experiencing both tinnitus and hearing loss. The instrument combines a programmable WDRC amplification circuit with a noise generator in one in-the-ear device. Available in either the company's open-ear design or a full shell, the hearing instrument can be ordered with programmable or manual amplifier volume control.
---

Diagnostic Audiometer
Interacoustics, Eden Prairie, MN, offers the AD229e diagnostic audiometer. The audiometer has all standard clinical test protocols, and features: binaural speech presentation; Stenger; Auto HL function; a master hearing aid; a PC interface; and NOAH compatibility. The DSP-based machine is designed to function as either a stand-alone or portable instrument.