William Demant Holding Celebrates Centennial

Niels Jacobsen, president and CEO of William Demant Holding welcomes attendees at the Oticon Centennial Gala Dinner.
Copenhagen, Denmark – On June 8, 1904, Hans Demant signed an agreement to become Denmark's sole agent for American-produced General Acoustic instruments. As William Demant Holding President and CEO Niels Jacobsen says, "the rest is history." One hundred years later,Oticon and William Demant Holding—which also includes Bernafon and Maico Diagnostics—are among the world leaders in the hearing health care industry with its products distributed in 120 countries and more than 4300 employees. The company has largely succeeded by being people oriented, and understanding the needs of those who have hearing impairment, as well as in attending to the needs of dispensing professionals and employees: "Oticon has always been and always will be a people-first company," said Jacobsen in his address to attendees at the company's Centennial Gala Dinner. Oticon's centennial celebration in Copenhagen was highlighted by a retrospective film of the company's numerous achievements and prominent industry personalities, tours of the Oticon headquarters in Hellerup and its Eriksholm Research Center, as well as a glimpse into what the future may portend. A day-long professional program on the cognitive abilities of the brain included presentations by author Tor Nørretranders, neuropsychologist Hans Borchgrevink, market researcher Lindsay Zaltman, and audiologists Claus Elberling and Harvey Dillon.
As one part of its US celebrations, Oticon provided a pair of hearing aids to 100 centenarians across the country to underscore that hearing care, at any age, can improve a person's quality of life. "In the early 1900s when Oticon and centenarians were born," says Oticon President Mikael Worning, "people with hearing loss had little opportunity to improve the quality of their lives. Today, Oticon offers a full range of quality hearing instruments to suit a broad spectrum of individual needs and preferences." For more information on Oticon's 100th birthday, see the August HR. w
---
ATA Announces Tinnitus Assistance Fund
Portland, Ore – The American Tinnitus Association (ATA) announced the creation of a special financial assistance fund that will help pay costs associated with the treatment of tinnitus. Funds will be available to people in the United States who hear ringing in their ears or unexplained noise in their head and who otherwise would be unable to afford medical evaluation, treatment, travel, or prescribed devices to deal with tinnitus.
ATA Executive Director Cheryl McGinnis explained that the new program is the result of a generous gift by an anonymous donor, who also has tinnitus. "This donor knew firsthand the distress and devastating impact of severe tinnitus," says McGinnis. "Through ATA, they found a healthcare professional who helped them cope and manage their own tinnitus. However, they also witnessed the struggles of others who could not afford help. That experience crystallized a commitment to help tinnitus sufferers who lack the funds to get medical attention and devices that will improve their everyday life experiences."
"This donor's large gift helped make the ATA Tinnitus Assistance Fund possible," continues McGinnis. "It truly represents peace of mind for people who cannot afford some aspects of treatment for this debilitating and usually permanent condition."
Eligible individuals will receive up to $750 to pay for treatment, travel, and prescribed devices. Applicants must complete a confidential form and must be under the care of a health care professional. ATA maintains a free list of qualified tinnitus care providers, and this list and/or an application for the grant can be obtained by visiting www.ata.org or calling 800-643-8978. ATA notes that it does not endorse particular health care providers or procedures, nor does it offer treatment advice. The provider list is maintained for the convenience of people with tinnitus who want help locating a provider in their area. All treatment decisions are confidential and remain between the health care provider and the individual.
McGinnis says that the ATA welcomes additional support of the Tinnitus Assistance Fund. This ongoing program will help ensure tinnitus treatment for everyone who needs it. For more information on supporting this program, contact ATA.
---
Starkey Labs Awarded Best Design Paper at 2004 DVCon
San Jose, Calif – Starkey Laboratories' engineers Bill Dittenhofer and Greg Tumbush, PhD, of the company's IC Design Center in Colorado Springs, Colo, were awarded the "Best Design Paper" at the 2004 Design and Verification Conference (DVCon). The paper was entitled "Design and Verification of a Processor Using VHDL, Verilog, System C and C++."
DVCon is the premier conference on the usage of Hardware Description Languages and Hardware Verification Languages for the design and verification of electronic systems and integrated circuits. The focus of the conference is on specialized computer languages such as VHDL, PSL, Verilog, SystemC, and general purpose languages such as C and C++.
"It's a great honor for Starkey's IC development team to be recognized for their hard work and broad contribution to the company's technology base," says Starkey President Jerry Ruzicka. "Integrated circuits, semiconductor research, and software algorithms utilized in Starkey's current product lines reflect the talent and dedication of our entire engineering staff."
DVCon 2004 was held March 1-3 in San Jose, Calif, and featured 48 submitted papers for review, peer tutorials, and panel discussions. The conference presents awards for the "Best Design" and "Best Verification" papers chosen by attendees.
---
Makeover Leads to Big Things for Hearing Aid User
Salt Lake City – Cynthia Lunceford didn't anticipate that she would become a star or be requested for so many speaking engagements. But after her January appearance on the ABC prime-time television show, Extreme Makeover (see February 2004 HR, p. 74), which featured her transformation after obtaining advanced digital hearing aids, she has gone on to make appearances on The Larry King Show, Fox News, Inside Edition, Living It Up with Allie and Jack, and The Wayne Brady Show.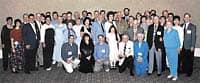 After obtaining hearing help on the television show, Extreme Makeover, Cynthia Lunceford has appeared on shows like The Larry King Show and Inside Edition.
The Extreme Makeover segment largely served as a testimonial on the impact that advanced hearing aids and hearing care services can have on a person's quality of life. Lunceford, a native of Baton Rouge, La, and mother of three, had compensated for her hearing loss by using two older mismatched hearing aids (BTEs that did not have custom earmolds) and by becoming a "master lip reader" as the show reported. However, as she got older, her communication skills deteriorated and she became more withdrawn. In the television show, she was fitted with two Widex Senso Diva power hearing aids which yielded exceptional results.
Interviewed by HR at the Widex exhibit during the AAA convention, it is apparent that Lunceford is anything but withdrawn. She says hearing well has impacted her life on almost every level—and her story has thrust her to center stage in many venues. "What I most enjoy is not having to work so hard to hear," says Lunceford. "I was often so tired at the end of the day from straining to catch what was being said during conversations, and now I enjoy talking with people so much more." Lunceford also said that she feels much more in touch with people: "When you struggle to stay focused on what is being said, you sometimes miss some of the content, particularly when a joke is being made or something is intended to be funny. A joke is not nearly as funny when someone has to repeat it. Since I've started wearing my hearing aids, I don't have to [request to have a joke repeated] only to hear 'Never mind.'"
Lunceford says that she has also had her closest friends comment that they have appreciated her new hearing abilities and that the depth of their conversations have improved immensely.
---
State Legislation on Hearing Aids Still Moving Forward
Alexandria, Va – State mandated health insurance coverage for hearing aids continues to see robust action, according to the Hearing Industries Association (HIA). In Rhode Island, HB 7488 would require all health insurance plans effective January 1, 2005 to provide 20% towards the cost of hearing aids purchased or $400, whichever amount is smaller. The bill would also require insurance companies to provide an optional "rider" clause, allowing for insured persons to purchase additional coverage that would cover the entire amount of the hearing aids. The bill has passed the House and is currently being debated in the Senate.
In California, SB 1158 is a similar but less encompassing piece of legislation that would provide limited coverage for hearing aids, and those insured under the age of 18 would receive up to $1000 for application toward hearing aid costs. This bill had been debated in the California Senate Committee on Insurance during the past month and recently passed in a 23-14 vote. It is now headed to the state's General Assembly for debate.
In Florida, SB 206 was ordered into law, creating the Florida Council on Deafness, according to HIA. The Council will consist of 12 members including audiologists and hearing instrument specialists. It will serve as an advisory and coordinating body and make policy recommendations that address the needs of the hard of hearing, deaf, and late-deafened people. They will look into improving coordination of services, both public and private, for interpreters, real-time captioning and assistive devices.
HIA also reports that Oklahoma is looking at removing sales tax on hearing aids. Oklahoma HB 2390 would exempt from sales tax hearing aids sold to persons 18 years and younger if they are dispensed by a licensed dispensing professional. This bill is now in the state Senate and will debated later this month. Kansas had a similar bill in their house legislature that died in committee earlier this month. w
---
Lexis Honored with I.D. Magazine's Design Distinction Award

The Lexis FM product development and design team at Oticon included (l to r) Heine Anderson, Lexis product manager; Christian Lockenwitz, designer; Anders Koefoed, design engineer; and Peter Anker Nielsen, project manager.
Somerset, NJ — I.D. Magazine has awarded the Design Distinction Award to the Lexis wireless personal communication system. The Lexis is the product of a joint wireless consortium project formed in 2000 between the William Demant Group (Oticon, Bernafon, and Phonic Ear) and the Starkey Group (Starkey Labs, Micro-Tech, Qualitone, NuEar, Omni, and Audibel). Oticon's Copenhagen-based design team was instrumental in developing the Lexis system for optimal user-friendly functionality, testing the handheld digital microphone/transmitter and a small ear level receiver for state-of-the-art ergonomic form and function. The I.D. Magazine Annual Design Review—one of America's largest and most prestigious juried design competition since 1950—chose the Lexis design from an entry pool of more than 2,000 designs from around the world.
"We are honored to be selected by I.D. Magazine for this international award," says Peter Anker Nielsen, project manager of the Lexis development team at Oticon. "In our work on Lexis, our first goal was to provide users with an advanced wireless system with extreme directionality that would help them overcome barriers of noise and distance. We also recognized the importance of making Lexis cosmetically appealing and highly flexible so that it could be used in a classroom, meeting room, or other professional or social situations."
"The idea was to create a highly attractive microphone shape that could comfortably be held with either the left or right hand and also would fit in the pocket," says Design Engineer Anders Koefoed. "Prototypes were tested and developed with experienced FM users from an early stage to ensure that the design provided the aesthetic and functional benefits we were looking for."
The digital algorithm behind the 4-microphone, digital beamforming array in the transmitter was developed by Soren Laugesen from Oticon's Eriksholm research facility. "This gives Lexis an unprecedented directionality level of 8.5 dB Articulation Index-Weighted Directivity Index (AI-DI). The result is a far more effective noise reduction system than either a directional hearing aid or other FM systems," says Laugesen.
For more information on the Lexis system, see the July 2003 HR, p. 12.