Phonak acquires Telex wireless CROS technology
Warrenville, Ill — In January, the Phonak Group, Stäfa, Switzerland, purchased the Telex CROS, BiCROS and MultiCros business from Telex Communications, Inc. Burnsville, Minn. The new business activities will be added to Phonak USA's wireless division, which is under the leadership of Helmut Ermann. The acquisition reportedly adds about $3.5 million to Phonak's consolidated sales.
CROS hearing instruments are designed to benefit individuals with little or no hearing in one ear and some degree of hearing in the other ear. The system consists of two hearing instruments that communicate with each other. The sound from the poorer ear is transmitted via a radio signal to the better ear. This helps individuals who have only one good ear to hear conversation and alerting sounds on their "bad side." The Telex system is reportedly the only wireless CROS design on the market.
The purchase of the Telex wireless CROS system is said to include all intellectual property. While Phonak will support the current customers who rely on the Telex system, there are plans to further develop this technology with the long-term goal of enhancing the current wireless CROS offerings and make them available on a worldwide scale.
"Telex is known throughout the industry as a leader in wireless communication," says Phonak North America President Mike Jones, who sees the CROS system as a complement to the Phonak line of hearing systems and communication devices. "Wireless FM communication systems can be found in schools, public places and homes throughout the world…By offering the wireless CROS line, Phonak can better serve the professional community as well as meet the needs of more individuals with a hearing loss."
---
Unitron opens new facility

Unitron Vice President of Sales and Marketing James Guthier and staff audiologist Mary Leisses.
Plymouth, Minn— Unitron Hearing, Inc. welcomed guests to its new 110,000-sq.-ft. building at the company's open house in late October. The state of the art building features an acoustical dampening effect for sound control. More than 300 employees are employed in the manufacturing facility, which assembles all hearing instruments sold in the U.S.

JHearing Care Professionals took a tour of the new facility during the open house.
Gary Ullman, is CEO, in charge of Unitron Global operations; Doug Brander is COO of U.S. operations; James Guthier is vice president sales and marketing; David Lodge is vice president of operations. Mary Leisses is staff audiologist; and John Pak is director of communications. w
---
William Demant purchases Tremetrics
Eden Prairie, Minn — In late-December, the William Demant Group, the Danish parent company of Oticon, Bernafon and Maico Diagnostics, acquired Tremetrics, the Audiometer Division of ThermoQuest Corp, Austin, Tex. William Demant will add Tremetrics to its Diagnostics Division.
According to Maico Diagnostics Vice President Ron Perlt, the addition of Tremetrics to the William Demant Group of companies will assist in efforts to reach the long-term strategic direction of the group, which is to provide "the most strategic, comprehensive line of products in the audiometric field."
The Tremetrics line of products will be moved to Minneapolis by the end of February, according to the company. Starting March 1, all manufacturing, sales, service, and warranty issues will be handled in Minneapolis. The company says that the Tremetrics name and product line will be maintained.
HIA reports stronger 4th quarter sales; market declined in '01
Alexandria, Va — Statistics from the Hearing Industries Association (HIA), the major US trade organization of hearing instrument manufacturers, indicate that final net units sold in the US decreased by 0.7% in 2001. A total of 1.93 million hearing instruments were sold in 2001, about 1,400 units less than in 2000. When including exports, 2.02 million hearing instruments were sold, a 1.2% decline compared to 2000. The reported numbers were actually slightly better than what was expected by market analysts due to an unexpected fourth quarter sales increase of 2.2% compared to the same period in 2000. The stronger sales are attributed to several new product introductions, particularly in the digital segment, and "spill over" demand from a poor third quarter that was impacted by a lackluster economy and the events of September 11.
When taking into account the 17.6% increase in government sales of hearing instruments (ie, Department of Veterans Affairs), hearing instrument unit volume decreased by 2.1% for the average dispensing office/practice.
HIA reported that, in the fourth quarter, sales for the first time were almost evenly divided amongst the three major technology classes of hearing instruments: 37% of net units sold in the US were analog non-programmable; 31.9% were analog programmable; 31.2% were digital. For the entire year of 2001, analog non-programmable instruments made up two-fifths (40.7%) of all US hearing aids sold, while analog programmable (31.8%) and digital (27.5%) instruments made up the other three-fifths, demonstrating the industry's increasing reliance on computer-driven fittings. The statistics show that the popularity of digital aids are growing at a 44% year-to-year rate. w
Likewise, BTE usage continues to increase, probably in response to the renewed utility and advantages of directional microphone technology. BTEs made up 22.9% of the market, compared to 20.6% one year earlier. Meanwhile, CIC use increased only slightly: 14.9% of all aids dispensed in the fourth quarter were CICs compared to 14.3% a year earlier.
Hearing instrument returns for 2001 totaled 18.4%, down from 19.5% in 2000. A complete review of HIA statistics and hearing instrument dispensing trends will be featured in next month's issue of The Hearing Review.
---
Micro-Tech supports mission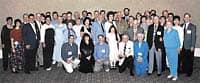 In November, Micro-Tech Senior Vice President Gordon Bye participated with a medical team of audiologists, ENT doctors, and nurses on a humanitarian mission to Guaymas, Mexico. The group treated more than 160 disadvantaged people and fit many with hearing instruments. Micro-Tech has been helping to supply hearing health care to the area by returning annually for the last five years. The company and the other contributors have reportedly become a relied-upon member for the community's hearing health care concerns. For additional information about the program, contact Dave Younk at (800) 510-4196.
---
Plantronics acquires Ameriphone
Los Angeles, Calif — Plantronics Inc. announced that it has acquired privately held Ameriphone Inc. Garden Grove, Calif, a supplier of amplified telephones and other assistive devices. Ameriphone will join Plantronics' Walker Division, which is also a supplier of amplified telephones, and will provide specialty handsets and communication test equipment. The transaction was facilitated by USBX Advisory Services LLC, a Los Angeles-based investment banking firm.
Ameriphone, which was founded in 1977, offers amplified telephones, text telephones (TTY's), notification systems, and emergency response systems. Its products have reportedly been selected by a number of state programs that provide equipment, including the nation's two largest programs, California's Deaf and Disabled Telecommunications Program (DDTP) and Florida's Telecommunications Relay Inc program (FTRI). In its fiscal year ended December 31, 2000, Ameriphone reported net revenues of approximately $11.8 million and operating income of $1.1 million. Walker was founded in 1969 and acquired by Plantronics in 1986. The company delivers telecommunications devices for the hearing impaired, handset and test set markets.
"The combination of Ameriphone and Walker brings together two leaders in products that improve life for those with hearing impairment and other special needs," says Ken Kannappan, president and CEO of Plantronics. "We believe that by joining forces, we will be better able to serve the needs of this growing segment of our population."
"Walker and Plantronics are committed to enhancing personal communications," says Steve Krug, president of Plantronics' Walker Division. He adds that the products will be offered through a broad array of distribution channels, including state programs, audiologists and other health care professionals, retail and specialized distributors," Krug added.
"The Ameriphone team is enthusiastic about joining Plantronics and its Walker Division," says George Cheung, co-founder, president and CEO of Ameriphone. "This will also clearly benefit our customers, who will now have the advantage of Plantronics' service, support and global capabilities."
---
Wireless pagers making impact on hearing impaired community
San Luis Obispo, Calif — Wireless technology is widely thought to be revolutionizing the world, and it is also reportedly making an impact on the ability of people with hearing loss to communicate, according to Wynd Communications which provides the WyndTell Service, a two-way wireless service for hearing-impaired individuals with email, TTY and voice through text-to-speech and speech-to-text.
As Internet and wireless technologies converge, the result is expanding services and devices. Mobile communicators are tapping into Internet-ready cell phones, pagers and Personal Digital Assistants (PDAs). "I see that it's underused by hearing health care professionals because they underestimate the power of mobile communication," says San Francisco audiologist Larry Eng, MS. "Once you use this technology, you become hooked on the convenience and freedom it affords."
Eng, who recently gave a CEU seminar about 21st Century technology at a professional convention in Palm Springs, Calif, said his patients who are professionals with hearing loss would rather be paged than called on a phone. Eng says WyndTell is an example of the advances in communication for people with hearing loss.
Others agree with Eng about the usefulness of these kinds of services. Robert R. Davila, chief executive of the National Technical Institute for the Deaf at the Rochester Institute for Technology, told the LA Times in August that WyndTell had changed his life. "I used to lug around bulky TTY equipment so that I could use public telephones away from home," he told the newspaper for a story that appeared in its technology section. "Now, I can travel independently and remain in contact with my office or loved ones, and seek and get information without the need to resort to third-party assistance."
Eng also says that he communicates with many of his patients using the pager. He can send e-mail to a telephone number and, if somebody picks up the line, an electronic voice will say the message aloud. Wireless technology allows the device to send faxes, be used for email, emergency road side service and even be used to surf the web, according to the company.