EHDI Legislation Makes Progress
Washington, DC—On March 29, Senators Olympia Snowe (R-Me) and Tom Harkin (D-Iowa) introduced S 1069, legislation that reauthorizes the Early Hearing Detection and Intervention (EHDI) grant program and puts a greater emphasis on follow-up diagnosis and treatment—including family support programs and efforts to address the shortage of trained health providers, such as pediatric audiologists.
A month earlier, on February 27, Representatives Lois Capps (D-Calif) and Congressman Jim Walsh (R-NY) were joined by 23 of their House colleagues in introducing HR 1198, legislation to reauthorize the Newborn and Infant Screening and Intervention Program Act. Seven years ago the legislation was incorporated into the Children's Health Act, which created the federal government's landmark EHDI program within the US Department of Health and Human Services (HHS).
"Many of our children have substantial hearing problems that remain undetected and untreated for far too long," says Capps, a registered nurse. "This lack of awareness is devastating for children and their families. This legislation is essential to the comprehensive effort to detect hearing loss in children as soon as possible in order to implement an effective treatment program."
"One in every 1,000 infants born in the United States today has a severe or profound hearing problem," says Walsh. "Undetected, permanent hearing loss negatively affects the social, emotional, cognitive, and academic development that is crucial to a child's first years of life. Delayed identification and management of hearing loss has a lifelong impact. This bill works to change that for every child born in America."
Initial legislation passed in 1999, creating for the first time a comprehensive federal effort to assist states in establishing programs to detect hearing loss in every newborn and to promote appropriate treatment when hearing loss is diagnosed. National EHDI goals are to screen all infants before 1 month of age, identify hearing loss before 3 months of age, and have children with hearing loss enrolled in early intervention services before 6 months of age.
Reauthorization of EHDI will build upon the success of the program by addressing areas that continue to pose a challenge in detecting hearing loss in newborns, including providing critical family-to-family support programs, enabling the National Institutes of Health to establish a post-doctoral research fellowship program to recruit researchers for early hearing detection and intervention, and giving the HHS the authority to address the shortage of trained professionals necessary to make sure all newborns are screened.
When Congress first authorized the EHDI program, only around 3% of all babies in the United States were being screened at birth, and there were fewer than a dozen universal newborn hearing screening programs in the entire country. Today, 93% of all infants in America are screened within one month of birth, and EHDI programs have been established in every state.
The Capps-Walsh and Snowe-Harkins legislation will reauthorize the federal government's landmark EHDI program and approve additional federal funding for release to the states to continue their own EHDI programming.
Capps' and Walsh's efforts on this issue have received praise from the World Council on Hearing Health, National Campaign for Hearing Health, American Academy of Audiology, American Speech-Language-Hearing Association, and American Academy of Pediatrics. The legislation now proceeds to Capps' Subcommittee on Health for consideration.
Congressman Walsh is the cofounder of the Congressional Hearing Health Caucus, a bipartisan effort to sustain the momentum behind advances in hearing healthcare, science, and public policy throughout the United States. Congresswoman Capps, a member of the Energy and Commerce Committee's Subcommittee on Health, is a cochair of the Congressional Hearing Caucus.
Sebotek Files Lawsuit Alleging Patent Infringement
Tulsa, Okla—Sebotek Hearing Systems LLC has announced that a suit has been filed in the US District Court for the Northern District of Oklahoma for infringement of patented speaker-in-the-canal designs and technology, which the company contends is used in its PAC™ digital hearing instrument.
The companies and their parent groups named in the suit include Oticon (William Demant Holding AS), Phonak (Phonak Holding AG), Interton (Interton Horgeerate GmbH), GN ReSound (GN Store Nord), and Vivatone Hearing Systems. The lawsuit alleges that there were infringements on one or more of four patents held by Sebotek, and the company seeks damages and an injunction against the manufacture and distribution of hearing instruments associated with the alleged infringements.
The four patents cited in the lawsuit include a BTE•CIC hybrid device, marketed by Rexton in the mid-1990s and subsequently purchased by Sebotek from Siemens, that combined the processing power of a BTE with the deep-insertion benefits of a CIC (for background, see "What's New? Interview with Daniel I. Anderson" September 1995 HR, p 21), as well as other patents filed by Sebotek as the company pursued its development of the PAC hearing device.
Sebotek President Jim Feeley and Executive Vice President Mike Feeley, who are brothers, say that the lawsuit is an unfortunate but necessary part of doing business. They believe the Sebotek PAC, which was launched in 2003, was at the vanguard of today's speaker-in-the-canal technology and have protected patents concerning facets related to this product area. "We designed, developed, and introduced a unique concept to the hearing industry," says Jim Feeley. "Ultimately, the goal in creation of the PAC was to create a hearing system that would change the traditional fitting process and improve the overall customer experience … And while it is unfortunate that we have had to file this suit, we take matters such as these very seriously, and will not hesitate to pursue all appropriate legal channels to protect our rights."
They point out that PAC-style devices are accounted for by the Hearing Industries Association (HIA) statistics in the BTE category because the PAC style includes a BTE component and a speaker-in-the-canal component. Since 2003, market penetration of BTEs as reported by HIA has increased from about 22% to close to 50%.
The Sebotek patents at issue are US Patents 5,606,621; 7,139,404; 7,016,512; and 7,110,562.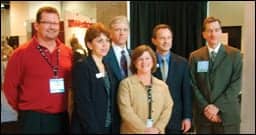 At the April AudiologyNOW! Convention, Siemens Hearing Instruments and Westone Laboratories announced a plan designed to result in extremely fast turnarounds for custom BTE earmolds. Audiologists Dale Lafone, MS, (far left) and Cynthia Schaffer, AuD, (third from right) explained their success using the system in their practices. Also making presentations were (left to right) Siemens Hearing Instruments President and CEO Christi Piedra, Westone Laboratories President and CEO Lynn Kehler, Siemens VP of Marketing David Sawyer, and Director of Software and e-Solutions William Lesiecki, MA.
Siemens and Westone Ally for Rapid Earmolds
Denver—A joint technology development effort between Siemens Hearing Instruments, Piscataway, NJ, and Westone Laboratories, Colorado Springs, Colo, is designed to dramatically cut the turnaround time in the fitting and delivery of Westone earmolds for use with Siemens BTE hearing instruments. Customers using mySiemens e-order system with iScan™, Siemens' in-office digital ear impression scanner, can now electronically order Westone earmolds and receive them for use with Siemens BTEs all within a few days. The alliance was officially announced during a press conference at the American Academy of Audiology (AAA) convention in April.
"This new system completely changes the industry's typical 2-week turnaround time that most professionals experience when ordering earmolds," says Bill Lesiecki, director of software and e-business solutions at Siemens. "In the past, the 'normal' process for ordering earmolds involved sending paper order forms and ear impressions to the earmold lab."
"We are very excited to provide hearing care professionals with the ability to deliver a high-performance BTE with a custom earmold through a single electronic order," says Lynn Kehler, president and CEO of Westone. "The mySiemens/iScan system, coupled with Westone's FIT manufacturing process, results in a quick and accurate hearing instrument fitting, which allows wearers to make a faster return to the world of hearing."
Westone will provide rapid order processing of their FIT™ custom earmold line, manufactured by an SLA process similar to Siemens' LasR™ manufacturing process for hearing instrument shells. One of the important elements of this process, beyond high-quality fittings, is that shipment of Westone FIT earmolds for Siemens iScan customers will occur within 72 hours of Westone receiving the order. "I have to believe that this type of system will become the standard for the rest of the industry," says Kehler.
Under the new system, 3D digital impression images are electronically delivered to Westone from the iScan system at a hearing care professional's office. Upon receipt of the images via the mySiemens eForm, Westone manufactures a highly accurate earmold. The new process eliminates in-bound mail shipping of an order form or ear impression, a process that previously added significantly to the delivery turnaround time of the finished earmold. iScan and mySiemens are designed to eliminate the hassles related to handling, shipping, and paperwork errors that can occur during the ordering process. According to Lesiecki, workflow will also be enhanced because orders can be validated before they are sent to the manufacturer. (For more information, read Lesiecki's article "Does the In-office Scanning of Impressions Really Change Everything?")
About 900 hearing care offices currently employ Siemens' iScan earmold scanners, first introduced during last year's AAA Convention in Minneapolis.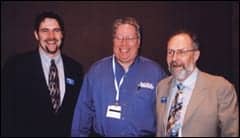 Audioscan returned to Denver, the site of the first Audioscan Distributor's Breakfast, to host its 17th breakfast held in conjunction with the AAA AudiologyNOW! convention. Presenting information and awards were Audioscan's Dave Cole, David Smriga, and William Cole.
Audioscan Holds Annual Breakfast at AAA
Denver—Audioscan, a division of Etymonic Design, Dorchester, Ontario, held its 17th annual distributor breakfast the first morning of the AudiologyNOW! 2007 convention. President and CEO William (Bill) Cole reported that the company has released a number of innovations during 2006, including its software v2.8, a unique Sensory Loss Simulator, which the company believes is the only simulator that truly simulates cochlear hearing loss, the implementation of DSL5, and refinements for the digital fitting evaluation of open-fit hearing aids. Additionally, Cole says the company's new Digital Viewport system for Verifit is designed to allow for the verification and demonstration of audibility, directionality, noise reduction, and feedback suppression on one screen. For more information visit www.audioscan.com.
AHAA Holds Its 11th Annual Convention in Las Vegas
Westchester, Pa—Close to 450 associates and exhibitors attended American Hearing Aid Associates' (AHAA) 11th annual convention, held this year in Las Vegas in February. The theme reflected the high-powered program designed to send attendees home with new ways to improve and increase their practices' services and income: Las Vegas was "just the beginning."
AHAA rolled out several new initiatives at the convention. One was a new Acquisition/Expansion Network designed to help associates grow their practices to multimillion-dollar levels with improvements in organizational design, hiring, training, tracking, operations, and finance. Another presented enhancements to its Strategic Solutions services, which provide more direct help for associates in identifying and buying out other independent practices that are for sale.
More than 50 program topics covered all aspects of managing a practice. The program was presented in five separate tracks for practice owners/CEOs, practice managers, audiologists/dispensers, front office personnel, and marketing. One of the main speakers was George Hedley, owner of a $100 million commercial construction and management company in Southern California. In 1988 he was named "Entrepreneur of the Year" by Venture magazine, and his talk fit perfectly with the convention's theme of growing practices.
Other featured speakers included AHAA CEO Vince Russomagno and President Tina Soika. Many AHAA associates addressed the group, including Cathy Kooser-Fathergill, MSW, LSW, who discussed her program providing education for both the hearing impaired and their loved ones, and Sherri Weiner, AuD, who covered her effective referral program.
Major hearing aid manufacturers and software vendors exhibited at the convention, and 14 of them also gave program presentations. Attendees overwhelmingly praised the program content, saying that it was highly relevant and that they could implement many of its ideas immediately. They cited, in particular, the special courses offered for the various job functions within their practices.
For more information, visit: www.ahaanet.com.
Audiology Direct-Access Bill Introduced in Congress
Reston, Va—Representative Mike Ross (D-Ark) introduced the Medicare Hearing Health Care Enhancement Act of 2007, which would provide direct access for Medicare beneficiaries to audiologists without the now-required physician referral. Senator Tim Johnson (D-SD) intends to introduce the bill in the US Senate when he returns to office. A total of 14 other representatives joined Ross in cosponsoring the bill.
The legislation would provide seniors "direct access" to qualified audiologists for hearing and balance testing. According to American Academy of Audiology President Paul Pessis, "This bill will enhance the choice of Medicare beneficiaries with hearing loss to receive high-quality services from audiologists. The academy thanks the sponsors of this legislation for their leadership and longstanding support of hearing health care."
The Department of Veterans Affairs has allowed veterans to access audiologists directly, and has reported that this policy, adopted in 1992, provides "high-quality, efficient, and cost-effective hearing care." The Office of Personnel Management allows federal employees and members of Congress to access audiologists directly through the Federal Employees Health Benefit Plan. The bill would apply this federal policy to hearing health care services provided in the Medicare program.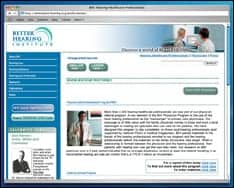 BHI's Web site offers a press kit to help dispensing professionals spread the word about hearing health awareness.
May Is Better Hearing and Speech Month
Alexandria, Va—The Better Hearing Institute (BHI) is offering tools to help with the promotion of Better Hearing and Speech month. This year it is focusing on Baby Boomers. With nearly 15% of Americans between the ages of 41 and 59 already experiencing hearing problems, Boomers and their families are an important audience to reach. BHI's goal is to motivate as many individuals in this age group as possible to get their hearing checked so they can address any hearing health problems early on. The organization will be involved in a number of activities designed to promote hearing health and hearing solutions at both national and local levels.
A local press kit for hearing health professionals was released last month. The kit includes a customizable press release, background on hearing health, fact sheet on Baby Boomers and hearing devices to use when talking to the press, income study fact sheet, downloadable income study in PDF format, and NAPS article titled "Money Matters: Hearing Loss May Mean Income Loss," and a sample advertisement leveraging the income study. For the press kit, visit www.betterhearing.org/professionals/turnkey.cfm.
BHI will also conduct hearing screenings at the National Press Club and the "Hearing on the Hill" event in Washington, DC, in May. Media distribution of video and radio news releases highlighting hearing loss and a CNN Health Alert on hearing loss and its treatment are also planned. For more information, visit: www.betterhearing.org.