Business
Oticon Inc Expands New Jersey Facilities
For the second time in four years, Oticon Inc is expanding its Somerset, NJ, headquarters. Just three months after the successful launch of its newest product line, the company is expanding to a second facility, adjacent to the current Somerset site, to accommodate enhanced customer support services and business growth.
"Our latest expansion represents a 50% growth in square footage since 2002," says Oticon President Peer Lauritsen. "The unprecedented response of hearing care professionals to our newest products, including the Oticon Delta, has necessitated an expansion to increase production capacity and to accommodate additional support staff to maintain the quality, speed, and service levels our customers have come to expect."
"The new space will be configured in the open work space design that has been so successful in Somerset and other Oticon sites around the world," he says. "This design enhances speedy communications between departments, and fosters innovative thinking among the many skilled professionals who make up our Somerset team."
The new facility brings Oticon Inc's total square footage to nearly 60,000 square-feet, including the Custom Lab, which features 15,000 square-feet of state-of-the-art laboratory and testing facilities.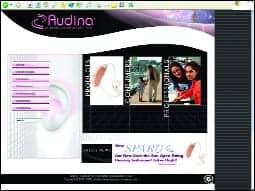 Audina Launches New Web Site
Audina® Hearing Instruments Inc, Longwood, Fla, has launched its new Web site: www.audina.net. The new site was created after asking clients, consumers, and Audina associates for input as to what the new site should offer. The improved content architecture offers quick loading pages, easy access to the "most requested" information, and features the new Audina corporate look.
Clients may now research the latest product information, and download printable forms, brochures, and programming software directly from the site. In the Marketing section, clients will be able to download Audina's graphic standards manual, product logos, and product photos to use in their advertising.
Consumers may learn about hearing loss, available treatments, and advanced technology in today's hearing instruments and how to care for them. The site includes helpful hints for family members and friends of individuals who wear hearing aids, and lists consumer advocacy and education associations.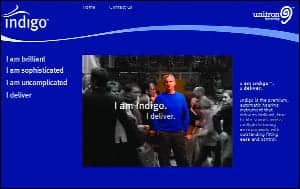 Unitron Hearing Launches Indigo Web Site
Unitron Hearing-US, Plymouth, Minn, announced the launch of a new Web site featuring its premium, automatic hearing instrument Indigo™.
The Indigo Web site (www.indigo.unitronhearing.com), designed for hearing health care professionals, gives detailed technical information about Indigo in an accessible format. The site navigation is designed around Indigo's key branding statements and unique benefits:
"I am brilliant.
I am sophisticated.
I am uncomplicated.
I deliver."
Throughout the Web site, hearing professionals can view explanatory flash demos, and download Indigo marketing materials and resources. The Web site explains the technology behind Indigo's sound across multiple listening environments. Hearing health care professionals can also request additional product information, online training, and more via the site.
Selected features of the Indigo Web site include:
•Technical descriptions of Indigo's autoPro4 and sophisticated adaptive feature set.
•Testimonials from people experiencing the sound of Indigo hearing aids.
•An accessible downloads page putting Indigo resources at the user's fingertips.
Kingwood Moves to New Location
Kingwood Industrial Products Inc has moved to a new location. The company's new address is: 261 Main Street, Unit 1-2, Hackettstown, NJ 07840.
The company's phone numbers remain the same: (908) 852-8655; fax (908) 852-8668.
For more information, visit www.kingwoodindustrial.com
Education
Student Scholarships Keep AFA Busy
The Audiology Foundation of America (AFA), Lafayette, Ind, has been busy this spring with student scholarships. The selection process to choose four Outstanding AuD Student Scholarship winners has begun—with 30 AuD schools submitting nominations. The four student winners will be awarded $4,500 to be applied toward tuition thanks to funding from the Oticon Foundation.
These four awards bring the total scholarship/student support monies awarded by the AFA to over $700,000 since the beginning of the AuD transition. The AFA is also offering five AFA/ReSound Scholarships for practitioners who want to earn the AuD, as well as Student Mentoring Grants for third- and fourth-year AuD students to attend the ADA convention in October. Phonak and the AFA also committed a combined $14,000 for school-based practitioner scholarships to help bring the AuD upgrade to those audiologists working in school settings.
Spring graduations brought the AuD total to 3,671—almost 25% of the profession, according to the AFA.

CareCredit CD Offers Communication Technique Tips
CareCredit®, Costa Mesa, Calif, is offering a free educational CD titled, "Increase Sales by Effectively Connecting with Patients," featuring Von Hansen. A popular consultant, author, communications specialist, and instructor for the American Conference of Audioprosthology, Hansen shares tips and techniques, which practices can use to enhance their patient relationships.
Using real-life examples, Hansen provides effective communication techniques on how to help practices take control of phone inquiries, how to schedule third-party appointments, and how to understand the patient's needs before suggesting care.
For more information, call (800) 300-3046, ext 4125.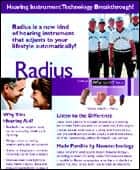 Publications
Micro-Tech Releases Promotional Materials for Radius Hearing Instruments
Micro-Tech Hearing Instruments, Eden Prairie, Minn, has developed a set of newspaper advertisements and a direct mailer to promote its new Radius series of hearing instruments in the consumer marketplace.
This collection of business-to-consumer marketing collateral blends general educational hearing health messages with the benefits of Radius hearing instruments. Available in a range of formats, these newspaper ads and the direct mailer are proven tools for practice building technology promotion and patient education.
The Radius series of hearing instruments includes the Radius 4, 8, and 12, and are available in behind-the-ear, in-the-ear, in-the-canal, and completely-in-the-canal models.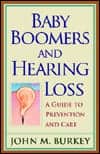 New Book Explains Why Hearing Loss is a Problem for Baby Boomers
A new book published by Rutgers University Press, Baby Boomers and Hearing Loss: A Guide to Prevention and Care by John M. Burkey, explains why hearing loss is a problem and how advancing age, increased longevity, high expectations, and economic forces make this a reality for Baby Boomers. The book also addresses the causes of hearing loss, as well as prevention and treatment options.
Burkey is the director of audiology at the Lippy Group for Ear, Nose, and Throat, in Warren, Ohio. The book is available through Rutgers University Press by calling (800) 848-6224, and through bookstores.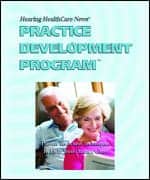 Hearing HealthCare News Celebrates 20 Years
With the release of its summer issue, Hearing HealthCare News®, White Plains, NY, celebrated its 20th year of providing customized patient newsletters and other practice development services to audiologists throughout the United States and Canada.
Hearing HealthCare News was started in 1986 by audiologist Dennis Hampton, PhD. After seeing the success in his own practice, Hampton began publishing customized versions for other audiologists to send to their own patients. Since then, more than 26 million copies have been sent to more than 400,000 hearing aid users.
The publisher developed the Practice Development Program in 2003. The program is a collection of the best audiology marketing tips and techniques collected from several hundred practices over the past 20 years, including a patient retention program, patient and physician referral programs, and patient satisfaction surveys.
According to Hampton, who still serves as editor, "Patient satisfaction and patient retention are vital to the success of any practice. In addition, our current patients and local physicians can be the easiest and most cost effective sources of new patient referrals. Hundreds of our subscribers have proven that over the past 20 years."
Hearing HealthCare News also publishes Audiology HealthCare News®, a customized newsletter for audiologists to send to physicians and other healthcare providers.
For more information, visit www.hearinghealthnews.com.