TOP NEWS and HEADLINES in December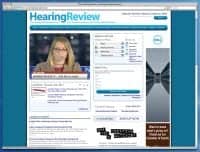 Topical Gel Shows Potential as Treatment for Sudden Hearing Loss
Annual Noisy Toys List Released¦ Advanced Bionics Voluntarily Recalls Cochlear Implant
TSA Issues Guidelines for Screening Hearing-Impaired Travelers
Black Eyed Peas' Will.i.am Admits Suffering from Tinnitus
Phonak Ambra MicroM Wins 2011 iF Product Design Award
Hearing Loss a Common Side Effect of Head, Neck Radiation Therapy
Study Says First Grade Isn't Too Soon To Learn About Hearing Loss
Starkey Hosts Inaugural Innovation Symposium
Device Makes Hearing Aid Battery Removal, Installation Easier
In Memoriam: Jack Vernon (1922-2010), Co-Founder of ATA
YouTube Reinstates Popular Sign-Language Song Interpreter's Account
Sonic Innovations announces new president and headquarters. The late-November acquisition of Otix Global Inc by the William Demant Holding (WDH) Group for $64.2 million signals new beginnings for Sonic Innovations, a hearing systems brand that has built its reputation addressing the needs of a variety of customer segments, particularly in the US market.

Joseph A. Lugara, a 25-year hearing industry veteran, has been appointed president and COO, and a restructuring of the company is now under way that will enable Sonic Innovations to benefit from the considerable resources of the WDH Group. Sonic Innovations reports that it will remain a distinct brand, building upon its established worldwide position.

The company says that maintaining its commitment to uninterrupted support and service is the first order of business, as it undergoes changes designed to strengthen its product portfolio, support, and services even further. "Our business partners are among the most valued 'assets' we carry with us into the next chapter of Sonic Innovations," explains Lugara. "We are committed to ensuring that our customers share in the benefits of a stronger, more competitive Sonic brand from the start."

Sonic Innovations will relocate its corporate offices from Salt Lake City to a new world headquarters in New Jersey. Sonic Innovations Inc Canada sales will be headed by Marco di Manno and the Sonic Innovations International Division will be managed by Marcel Vernik, and both expect to benefit from synergies with the WDH Group.

"We are happy to be part of the William Demant Holding group and look forward to growing the new and invigorated Sonic brand in partnership with established and new customers," adds Lugara. "We intend to vigorously pursue growth opportunities that will build upon our core strengths and expand our ability to meet our customers' needs quickly and effectively. As a US brand, Sonic means a great deal to so many people. Our entire team clearly understands this and is committed to working hard to earn the business of our customers and to secure our share of business."

For more information, see Industry Personalities in this issue of HR.

Hearing Review TV is a bi-weekly news brief offered on this website.

Hearing Review TV debuts. The Hearing Review launched in November the first regular video newscast that focuses on hearing-related issues. Hearing Review TV, which resides on The Hearing Review's home page is designed to cover a wide range of hearing-related news in about 5-minute segments, and is currently updated every 2 weeks (HR's online news content is updated several times each day). The video broadcast covers events, personnel announcements, research, product introductions, and other interesting things related to the world of hearing.

"Hearing Review TV is just one more way that we hope to support hearing care professionals and the hearing industry by providing a quick summary of news, research, new products, and industry events that are important to HR's worldwide audience," says David Galuppo, publisher of HR, Hearing Review Products, and Clinical Lab Products magazines. "Our online readership has grown considerably in the past 3 years, and we hope to continue leveraging the considerable resources that reside within our parent company, Anthem Media."

New Hampshire mandates insurance coverage for hearing aids. The State of New Hampshire wants its residents to "live free or die" with insurance coverage for hearing aids. A New Hampshire law passed in 2010 and effective January 1 of this year requires all New Hampshire insurance companies to cover the cost of a hearing aid, for each ear, up to $1,500, plus the related fitting and dispensing services.

Specifically, the law states that "Each insurer that issues or renews any policy … must provide coverage for the professional services associated with the practice of fitting, dispensing, servicing, or sale of hearing instruments or hearing aids by a hearing instrument dispenser or other hearing care professional."

Furthermore, the new law makes hearing benefits on par with other common medical services. In other words, all hearing benefits cannot be subject to any greater deductible or coinsurance or co-pay than any other benefits provided by the insurer.

The new law, HB 561-FN (www.gencourt.state.nh.us/legislation/2010/HB0561.html), also states that insurers are required to cover the cost of a hearing aid for each ear, as needed, as well as related services necessary to assess, select, and fit the hearing aid with a maximum for the hearing aid and related services of no less than $1,500 per hearing aid every 5 years. Additionally, the law states that the insured has the option to choose a higher-price hearing aid and pay the difference in cost.

Nigerian study suggests that low folate levels may be associated with presbycusis. Age-related hearing loss, one of the four most-prevalent chronic conditions in the elderly, is associated with low serum levels of folic acid, according to new research published in the December issue of Otolaryngology-Head and Neck Surgery.

The findings show that low serum levels of folic acid among elderly people are significantly associated with hearing loss in high frequencies. "Based on our research, age-related hearing loss may be associated with poor micronutrient status. The role of folate in cellular metabolism, the nervous system, and vascular function is important for the auditory system," said study author Akeem Olawale Lasisi, MBChB, FWACS, FMCORL, of the Department of Otorhinolaryngology, College of Medicine at the University of Ibadan, Ibadan, Nigeria.

The study included face-to-face interviews with 126 elderly Nigerian men and women above 60 years old who had no known medical conditions and had been examined by physicians; it excluded those who were found to have a history of diabetes, stroke, hypertension, ear diseases, ear infections, ear trauma, ear surgery, or exposure to noise and ototoxic drugs such as aminoglycosides, antibiotics, and diuretics. The main finding was that low serum levels of folic acid were significantly associated with high-frequency hearing loss in the elderly.

In medically underserved populations, like that in the study, relatively low levels of vitamin intake can be expected. That suggests a need, say the authors, for continuing study into the role of vitamins in auditory function, particularly in developing countries where malnutrition is rife.

A topical gel for SSNHL? Researchers from Kyoto University writing in the open-access journal BMC Medicine describe the positive results of a preliminary trial of insulin-like growth factor 1 (IGF1), applied as a topical gel for treatment of sudden sensorineural hearing loss (SSNHL).

Takayuki Nakagawa, MD, PhD, of the Department of Otolaryngology, Head and Neck Surgery, of Kyoto University Hospital and a team of researchers tested the gel in 25 patients whose SSNHL had not responded to the normal treatment of systemic gluticosteroids. "The results indicated that the topical IGF1 application using gelatin hydrogels was safe, and had equivalent or superior efficiency to the hyperbaric oxygen therapy that was used as a historical control," Nakagawa said. "This suggests that the efficacy of topical IGF1 application should be further evaluated using randomized clinical trials."

At 12 weeks after the test treatment, 48% of patients showed hearing improvement, and the proportion increased to 56% at 24 weeks. No serious adverse events were observed. This is the first time that growth factors have been tested as a hearing remedy.

"Although systemic glucocorticoid application results in hearing recovery in some patients with SSNHL," Nakagawa said, "approximately 20% show no recovery. Topical IGF1 application using gelatin hydrogels is well tolerated and may be efficacious for these patients."

Most acoustic neuroma surgeries have favorable outcomes. Surgery involving acoustic neuromas produces favorable outcomes in the "vast majority" of patients, according to a new study from Loyola University Hospital surgeons Douglas Anderson, MD, and John Leonetti, MD.

An acoustic neuroma, also known as a vestibular schwannoma, is a slow-growing, usually benign, tumor, located behind the ear on the nerve that connects the ear to the brain. The tumor can cause hearing loss in one ear and paralysis on one side of the face. If the tumor grows large enough, it can be fatal. Treatment options include microsurgery (surgery with a microscope), radiation, or simply keeping a watchful eye on the tumor.

For their study, Anderson and Leonetti followed 730 patients whom they had jointly operated on during a 21-year period. Patients ranged in age from 9 to 79, with a median age of 48. The average clinical follow-up was 32 months.

Drs Leonetti and Anderson work as a team, with Leonetti gaining access to the tumor and Anderson removing it. If the patient still retains hearing, Leonetti uses one of two surgical techniques, called the retrosigmoid approach or the middle fossa approach. If the patient has lost all hearing, Leonetti uses a technique called the translabyrinthine approach.

Every patient survived the surgery, and the surgeons were able to completely remove the tumors in 95.1% of the patients. A total of 90% of patients experienced little or no facial paralysis, and among those who still retained hearing in the affected ear before surgery, 44% came out of the surgery with useful hearing in that ear, and 63% had at least some hearing. The average tumor diameter was 2.2 cm, and 89.5% of patients had experienced partial or complete loss of hearing in one ear. Other presurgery symptoms included tinnitus (43.7% of patients), dizziness/imbalance (26.8%), facial numbness (11.1%), headache (10.3%), and facial weakness (2.6%).

The study results were recently presented at the 2010 Congress of Neurological Surgeons, which awarded Anderson the Synthes Skull Base Surgery Award. Other coauthors of the study are Dr Edward Perry, a resident in neurological surgery, and Marc Pisansky, a research assistant.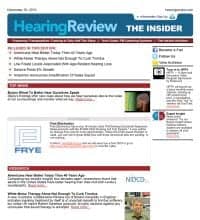 Get Your Weekly Edition of THE INSIDER
Every week The Hearing Review sends out THE INSIDER, a weekly FREE e-newsletter devoted to the top hearing-related news, research, product introductions, fitting topics, and marketing research stories that are influencing your business or practice, as well as the industry at large. Sign up for your free subscription at www.hearingreview.com.