International Conference Reviews New Scientific and Marketing Research
Walking into the lobby of the Marriott Harbor Beach Hotel in Fort Lauderdale and seeing hundreds of people—all wearing name tags that identified the languages they spoke—and then seeing the five soundproof rooms for the interpreters clearly demonstrated that the International Human Link Conference, sponsored by Oticon, would truly have a worldwide perspective. The conference, a three-day symposium that reviewed the latest advances in audiological, rehabilitative and hearing science, was attended by approximately 500 people from 30 different countries.

Henning Falster, marketing manager and a major organizer of the conference, with vice-presidents Steen Bindslev and Peter Mark of Oticon.
"The goal of this conference," said Steen Bindslev, executive vice-president of Oticon A/S, "is to help patients with hearing loss live the lives they want with the hearing they have. We are advocating a user-friendly approach that helps patients hear better, while helping the professional to better understand their ever-changing technological and marketing environments." Bindslev says that the company's Human Link philosophy, which promulgates hearing instruments as merely one part of the hearing care process, has been derived from the experiences of thousands of dispensing professionals in the field, as well as researchers at the company's Eriksholm Research Center in Denmark and many other distinguished facilities throughout the world.
The Human Link Conference featured four general sessions that provided updates on new hearing care research and how the research findings may impact hearing instrument fitting and aural rehabilitation strategies. Two additional general sessions offered perspectives on the marketing requirements of both today and the future.
Hearing Science Research
New Discoveries in Hearing Science and the Future of Hearing Rehabilitation. Claus Elberling, MScD, an electroacoustical and biomedical engineer and general manager of research at the Eriksholm Research Center, Denmark, covered a wide array of research topics and how each relates to aural rehabilitation and successful outcomes. Discoveries in functional physiology, genetics, pharmacology, molecular biology, psychology and biotechnology were related to how hearing care professionals can use the information to best serve diverse patient populations. "We shouldn't treat the audiogram; we need to treat the patient," says Elberling. "Likewise, we cannot just address what is taking place in the cochlea, but also what is taking place inside the brain."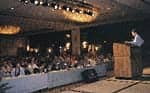 Harvey Dillon of the National Acoustics Laboratory (NAL) provided information on the Client Oriented Scale of Improvement (COSI) and the NAL-NL1 prescriptive fitting formula for nonlinear hearing instruments.
For example, on the subject of high frequency hearing losses, Elberling cited a number of research studies (e.g., Moore) that looked at masked and unmasked thresholds. Results suggest that there may be "dead zones" within the impaired cochlea, and these regions may be most apparent in severe high-frequency losses, but can also be present in "cookie bite" and low-frequency losses as well. Adding amplification in these dead zone regions may actually lead to a decrease in speech perception, an increase in distortion and contribute to feedback problems. As these studies become better understood, hearing instruments are taking advantage of this knowledge, and applying amplification more appropriately to the high frequency regions.
Auditory Ecology and Its Influence on the Benefits of Non-Linear Signal-Processing Hearing Aids. Stuart Gatehouse, PhD, scientist-in-charge of the MRC Institute of Hearing Research in Glasgow, Scotland, presented a review of research in the area of applying specific amplification strategies for individual needs.
Gatehouse's team has been analyzing how people's "auditory ecology"—the listening environments, the kinds of listening tasks required by an individual and the importance of these tasks to his/her everyday life—affects the success of amplification strategies. One facet the team has studied is the preference of individuals for hearing instruments that use various attack and release times (as well as linear instruments), and how these combinations of attack and release times (e.g., slow/slow, fast/fast, fast/slow, etc.) may influence factors such as listening comfort, satisfaction with the instrument, reported speech intelligibility and speech test scores.
Not surprisingly, the overall results of the study showed that no combination of attack/release times came out on top for everyone. However, several general observations have been postulated from the MRC research and are intriguing items for future study.
For example, good performance with linear instruments in the study was associated with people who had flatter audiograms, wider dynamic ranges and smaller differences in dynamic range across frequencies. The people who did well with linear instruments also tended to experience less variable listening environments. In contrast, slow/slow, fast/fast and fast/slow instruments were best suited for those patients with sloping audiograms, narrower dynamic ranges and greater differences in dynamic range across frequencies. The people who did best with these instruments also tended to experience more varied acoustic environments in their daily lives (interestingly, those with high cognitive function did best with fast/fast instruments, and these aids were also the instrument-of-choice for those relatively immune to the effects of spectral smearing). People doing well with fast/slow instruments tended to have more susceptibility to the upward spread of masking in which weaker high-frequency cues were degraded by stronger low-frequency sounds.
Gatehouse believes that future hearing instrument fitting protocols may rely on concise questionnaires that measure the auditory ecology of clients as well as assess clients' cognitive abilities. Armed with information like the above and an increased understanding of psychoacoustics, the hearing care professional of the future will be able to make more accurate and scientifically based fittings in response to clients' individual needs, abilities and lifestyles.
A Systematic Approach to Fitting Non-Linear Hearing Aids. Harvey Dillon, PhD, deputy research director of the National Acoustic Laboratory (NAL) Hearing Aid Research Center in Sydney, Australia, described the Client Oriented Scale of Improvement (COSI) and how it can be used effectively in daily practice both to measure and improve customer satisfaction with hearing instruments. The COSI is an outcome measurement system in which the client identifies 3-5 goals for hearing improvement in specific situations (e.g., "understand my daughter on the telephone," "hear the sermon in church," etc.). The hearing care professional and patient then work together to improve hearing in these situations.
Dillon says that the use of the COSI assists in the patient's motivation, expectations and adjustment to amplification. He reviewed results from a survey of Australian hearing care professionals who use the COSI. While several mentioned that the COSI often duplicates clinical records, the majority (62%) of survey respondents said it was very useful in determining outcomes and establishing requirements for further action. As one survey respondent pointed out, the COSI provides "better compliance with what we do to get to the end, expectations are more realistic and [there is] greater satisfaction with the service."
The NAL-NL1 fitting rationale was also explained by Dillon along with new data generated by NAL's Gitte Keidser and Frances Grant relative to how different fitting procedures/rationales (i.e., loudness equalization vs. normalization strategies) can produce differing satisfaction results.
Dynamics of the Fitting Session. Donald Schum, PhD, vice-president of audiology for Oticon Inc., provided information on how hearing care professionals can increase the client-professional bond. He says that dispensing professionals often think of the initial fitting as the time in which a professional bond with the patient is established, but in fact, the bond-forming continues throughout the history of the patient.

David Adlin and Ron Perlt of Maico Diagnostics show attendees examples of their new technology.
There is also an important distinction that needs to be recognized between the fitting and the fitting session, says Schum. The purpose of the fitting is to deal with client issues, ensuring that they receive maximum possible benefit from amplification and ensuring that the areas of hearing improvement being addressed actually have a value to them. The purpose of the fitting session, in contrast, is to ensure that the patient is prepared to accept the amplification, without thinking that there will be complete success during or immediately following the initial fitting session.
Schum also spoke on the topic of "side-effects management." He says that a number of hearing instruments end up "in the drawer" because patients aren't prepared for problems that are too often marginalized by hearing care professionals. In general, patients are surprised at the time of fitting when things like occlusion, loudness discomfort or physical discomfort occur. "At that point, they don't particularly care if they have good intelligibility or speech-in-noise scores," says Schum, "their focus instead becomes the side effect and they want to get the hearing aid out of their ear." Schum says this underscores the need for setting proper expectations and preparing the patient for many of the potential side-effects a person can experience once a hearing instrument is inserted in the ear.
Marketing Research
Building Customer Relationships Using "Old" and New Media. Peter Mark, MD, vice-president of marketing for Oticon Inc., believes that a new era of "Relationship Marketing" has begun in which the unique needs of the individual client are paramount to gaining new prospects and retaining established customers. He presented current trends in "old" media such as television and direct mail, as well as new trends in health care websites what can be expected in the future, such as "constant Internet" devices and "24-7" customer service.
As the race for advertisers to gain the attention of the consumer continues, and as the number of information sources and media outlets grow, viewers' relationships with the businesses they patronize (including those in health care) will change. New marketing strategies will require the use of conventional mass media techniques (e.g., direct mail) along with relationship marketing techniques (e.g., email, newsletters and birthday cards) to establish client loyalty. (For more information on this topic, see Mark's article, "Entering the Internet Surf: A Professional Perspective," in the Dec. 2000 HR.)
Enhancing Patient Satisfaction and Loyalty with Your Practice. Stephen Brown, PhD, professor and director of the Center for Services Marketing and Management at Arizona State Univ. in Tempe, AZ, discussed factors influencing customer loyalty. According to Brown, the four things that influence customer loyalty are reliability, responsiveness, value and empathy: reliability is performing as promised; responsiveness is the ability of the hearing care professional to act quickly and effectively on the client's behalf; value is when the client sees that the business relationship provides him/her with substantial benefit relative to the cost of the goods and services; and empathy is the mutual recognition that the professional and the patient are human beings who have deep-seated human needs.
Brown reiterated several of the points from Peter Mark's presentation on the need for "constantly courting your customers." Brown believes that merely satisfying your clients is not enough in today's vast world of consumer options. He says that satisfaction and loyalty are two completely different things that should not be confused: satisfaction is a consumer perception while loyalty is a consumer behavior. Strong evidence indicates that loyalty is possible only with totally satisfied or delighted clients. To achieve customer delight, hearing care professionals need to understand that "what you sell is physical, emotional and social well-being" that can help overcome isolation, depression and overall withdrawal, says Brown.
Workshops and Special Events
The International Human Link Conference also featured numerous seminars, social events and activities. Workshops concentrated on practical aspects of hearing instrument fitting, marketing and counseling, including topics such as "Build Your Own Webpage," "Non-Linear Fitting Rationales" and "Special Fitting Populations."
Attendees were treated to several special events, including a paddleboat cruise of Ft. Lauderdale's inter-coastal waterway, a cajun-style dinner with live entertainment, as well as an elegant dinner that featured an inspirational speech by Tom Whittaker, the first disabled person (he is a double-amputee) to summit Mount Everest.
Additionally, an optional one-day Practice Management Workshop followed the conference that had as its topics the creation of the right image for a hearing care practice, personnel management techniques and hiring strategies, consultative selling and the Internet as it relates to hearing health care.