Digital Hearing Instruments
Rexton, Plymouth, Minn, introduces the Calibra family of digital hearing instruments. All Calibra instruments feature a Sound Profile Management System that allows for automation or personalization of microphone and environment functions. Calibra offers up to five listening environments, and four programmable memories. A Natural Loudness Compensation System and Extended High Frequency capabilities are offered. Calibra FREE hearing instruments are for customers looking for a comfortable, non-occluding, natural sounding hearing instrument with cosmetic appeal. The Calibra FREE Mirco BTE features round edges and compact housing. Patients have a choice between thin, clear instant fit tubing, and a standard earhook. (800) 876-1141; www.rexton-online.com.
---

LED Spot Curing System
Lightning Enterprises, Limington, Me, introduces SpotCure-B, an ultra-high output LED spot curing system for hand-held and automated UV curing applications. At 200 mw/cm2, SpotCure-B achieves more UV power output than traditional halogen lamps, and provides significantly longer life, lowering lamp replacement costs. SpotCure-B is activated by sensor when removed from the base, or can be used with remote foot switch. Also included is an incremental timing cycle of 10 seconds. (877) 546-1797; www.lightningenterprises.com.
---

Open Fit Hearing Instrument
Beltone, Chicago, offers the Beltone EDGE™, designed for high frequency hearing loss. The device incorporates an open hearing instrument design that amplifies hard-to-hear-pitched sounds. EDGE is designed with a thin transparent tube that follows the contour of the user's ear. Features include a Rapid Compression System™, Active Feedback Cancellation™, Speech Pattern Detection™, Silencer System™, and Delayed Start-Up to eliminate whistling or feedback. (800) 621-1275; www.beltone.com.
---

Digital Transmission Platform
Opticomm, San Diego, introduces the Optiva™ digital fiber optic transmission platform. Features include a customizable multi-oriented video, audio, and data input configuration; daisy-chained time division multiplexing; intelligent bandwidth allocation; path and modularity upgrade; 10-bit digitally encoded broadcast transmission; network management with remote access; and a 10-year warranty. (513) 754-2219; www.opticomm.com.
---

Multi-Range Hearing System
Phonak, Warrenville, Ill, introduces Eleva, a Digital Bionics-based hearing system. This product family—ranging from a tiny CIC, a microBTE, and a powerful BTE—features TriPilot automatic programs; adaptive digital AudioZoom; and a comprehensive SoundCleaning package that includes a Fine-scale Noise Canceler, and a digital Feedback Phase Inverter. Each product is tailored for a discreet fit, and comes in myriad colors to match the user's hair color. (800) 777-7333; www.phonak.com.
---

RITE Hearing Instrument
Oticon, Somerset, NJ, introduces Oticon Delta, a receiver-in-the-ear solution for hearing instruments. Delta's triangular design features sleek lines, hot colors, and a brushed metallic surface aimed at changing Baby Boomers' view of hearing instruments. Delta, powered by Artificial Intelligence, features a dual-mode directional microphone system that works in unison with the TriState Noise Management system; a speaker connected to the amplifier by an ultra-thin transparent tube placed in the ear canal, and positioned with a dome for wax protection; and an ear grip that holds the device onto the ear and can be removed by the user. (800) 526-3921; www.my-delta.com.
---

Wireless Communication Device
Sound ID, Palo Alto, Calif, offers the Personal Sound System wireless communication solution. Using the digital Bluetooth link, the PSS delivers optimized sound, clarity, and improved speech intelligibility. The PSS provides three modes to improve communication: phone mode, to provide mobility of wireless communication; conversation mode, to amplify surrounding sounds; and companion mode, to hear conversation clearer. (866) 768-6343.
---

Touchless Battery Dispenser
Energizer, St. Louis, offers the audioPRO™ battery line. The EZ Change® dispenser makes it easy for patients to manipulate small batteries, going from dispenser to hearing aid for precise placement in a touchless movement. The packaging can also be personalized with a practice's information. FreshPak™ batteries are kept in a foil sealing for security. The push-through foil feature allows batteries to be easily removed. (866) 907-1776; www.energizer.com.
---

Flexible Digital Instruments
Interton, Plymouth, Minn, offers BIONIC with ADRO technology. Using fuzzy-logic signal processing as a way to compensate for impaired hearing, BIONIC with ADRO (Adaptive Dynamic Range Optimization) allows for a flexible, digital hearing system. In addition to ADRO, BIONIC also combines speech intelligibility and hearing comfort. The BIONIC Nano-Twin offers BTE users a compact device with two microphones for optimal sound. (800) 247-4741; www.interton-usa.com.
---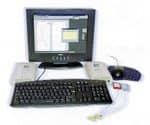 Open-Ear BTE
Micro-Tech Hearing Instruments, Eden Prairie, Minn, offers the Seneca Plus open-ear BTE. The device offers 40 dB peak gain, and advanced features like Dynamic Noise Reduction, Adaptive Feedback Cancellation, and new earbuds. Seneca Plus is available in a wide range of colors, and can be fit with either an open or closed earmold. Other features include four-channel, 10-band digital processor; full-time directionality; tubing available in multiple sizes and lengths; microphone hood; and an ergonomically designed finger tab and case design for easy battery changes. (800) 745-4327; www.hearing-aid.com.
---

Cochlear Implant
Cochlear Americas, Englewood, Colo, offers the Nucleus Freedom™ Implant with Contour Advance™ electrode. Freedom is designed to fit the cochlea in the most natural way possible. Features include ultra-fine timing; Magnetic Resonance Imaging safe; and a small size. The Contour Advance™ electrode offers 22 channels, Softip to protect the cochlea during surgery, and a thin, self-curling array. (800) 523-5798; www.cochlear.com.
---

Discreet Hearing Instrument
SeboTek Hearing Systems, Tulsa, Okla, offers the PAC hearing instrument. With PAC, discreet, same day fitting is available. The device offers superior acoustic performance across a huge fitting range, including losses up to 90 dB. Its patented design is engineered to eliminate occlusion effect and feedback, and its proprietary High Fidelity Acoustic Coupling system delivers extended frequency response up to 14,000 Hz. (800) 388-9041; www.sebotek.com.