Phonak to Purchase GN ReSound
Stäfa, Switzerland—On October 2, GN Store Nord and Phonak AG announced a share purchase agreement in which Phonak would buy the ReSound Group for $2.65 billion (15.5 billion DKK). The combined group—which would include Phonak, Unitron, GN ReSound, Beltone, Interton, and GN Otometrics—would have reported pro forma revenues of more than $1.2 billion based on 2005-2006 results. The transaction is expected to be completed in the first half of 2007.
The announcement ends months of speculation about a transaction involving GN after that company's board of directors announced on July 5 that it would explore options involving a sale, merger, or additional purchases of smaller companies (see August HR News, p 8). The board appointed JP Morgan to review its business units to see if it would be better to sell of its group of companies or if they "could create similar value to GN's shareholders by continuing its current strategy based mainly on organic growth supported by minor acquisitions and investments in distribution and retail."
GN President and CEO Jørn Kildegaard and company CEO Jesper Mailind will both be retiring from the executive management team. Toon Bouten has been appointed the new president and CEO, along with Executive Vice President and CFO Jens Due Olsen, will comprise GN's executive management.
According to Phonak, the key benefits of the purchase include the creation of a large, global hearing instrument company that has a broadly diversified customer base; a portfolio of hearing instrument brands enjoying strong, long-lasting customer relationships worldwide; a commitment to leadership in innovation with one of the broadest and deepest R&D capabilities in the industry, and new growth opportunities. The company also expects that dispensing professionals and end-users will benefit from a greater array of marketing and branding capabilities.
"The combined Group will become the global hearing health care powerhouse with the most comprehensive portfolio of highly valued hearing brands," says Phonak Group CEO Valentin Chapero. "We will create a world-class team that will deliver the best of both companies to customers around the world. They will benefit from improvements at all levels while keeping the established relationships and brands they value so much. Along with our marketing and branding capabilities, we anticipate becoming the most attractive supplier to [dispensing professionals] and end-users alike. Being a global hearing health care powerhouse will help us invest in raising public awareness on the importance of the sense of hearing."
According to HR estimates, Phonak and GN ReSound are the third and fourth largest hearing aid groups in the world with an estimated market share of 17% and 14%, respectively, following closely behind William Demant Holding (18%) and Siemens Hearing Instruments Group (25%).
The ReSound Group, based in Copenhagen, has a network of subsidiaries and distibutors in 60 countries, including GN ReSound, Interton, and GN Otometrics in the United States. It has 3,400 employees and annual sales of $560 million for the year ended March 31, 2006. The hearing instruments division makes up 90% of the Group's sales.
GN ReSound has reportedly doubled its US sales during the last seven years, the period following ReSound Corp's purchase by and merger with GN Danavox in 1999. The company positioned itself on the forefront of the open-fit mini-BTE trend with the 2003 introduction of ReSoundAIR, arguably the first commercially successful open-fit hearing aid of the new century. Although industry data suggests the company's sales have declined during the last two years, sources from within GN ReSound report that it has rebounded in recent months as its Metrix, Pixel, and Plus5 mini-BTEs have experienced strong sales. This month, the company is introducing its latest premium hearing instrument, a rechargeable next-generation open-fit hearing aid called Pulse (a promotional brochure is inserted in this issue of HR).
The Phonak Group distributes its products in 70 countries and, like GN ReSound, also has 3,400 employees worldwide. The company has experienced rapid growth in the last year, particularly within the US, fueled by the popularity of its Savia line of products. In addition to Phonak, the Group is also composed of Unitron, which launched its new Element hearing instrument at the end of last month, and Phonak Communication Systems, which markets MyLink and other special communication devices.
GN has developed and manufactured products for both the hearing health care market (GN ReSound, Interton, Beltone, and GN Otometrics) and the headset/telecommunications markets (GN Netcom and Jabra). Although the company has experienced considerable success in the hearing industry, it says the hearing aid group has not attained the same global leadership position achieved with its headsets, and "the need for critical mass in the [hearing] industry is constantly intensifying because the demand for more frequent and faster product launches in all price categories is constantly increasing, necessitating ever-greater investments in development, marketing, and sales," according to a company statement.
"We have had a lot of contact with the ReSound Group over the last few months, and there is no doubt that they have very smart people, excellent technology, and bright ideas," says Phonak's Chapero. "This situation reminds me very much of the time when I started at Phonak four years ago. I am looking forward to working closely with the ReSound Group's management to unlock the company's potential."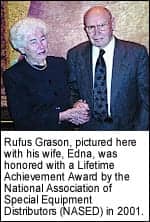 Rufus Grason, industry pioneer, dies at 88
Rufus L. Grason, a pioneer in the development of hearing testing equipment and the co-founder of Grason-Stadler Inc (GSI), died August 31 at age 88.
In the 1940's, Grason worked at the Psychoacoustic Laboratory at Harvard University where scientists undertook research on the psychology and physiology of hearing and communications. When these research scientists left Harvard, they needed instruments to continue their research and contacted Grason to provide them. In 1949, he co-founded Grason-Stadler Inc and was president from 1949 to 1989. GSI manufactured electronic medical instruments which were used for research and clinical measurement in the field of hearing. Its early products were instruments for behavioral research. These instruments were used in university psychology departments, the pharmaceutical industry for drug research, and by NASA's Project Mercury for training Ham and Able, the first space chimps.
Grason secured four patents for audiometers and acoustic immittance instruments, including "Audiometer employing narrow-band masking noise," "Audiometer attenuator," "Rate of amplitude change control for audiometer of the Von Bekesy type," and "Acoustic admittance testing apparatus." In 1987, his company was acquired by Lucas Industries where he remained as the chief technical officer until his retirement in 1990.
Grason was a valued member of the American National Standards Institute (ANSI) where he served as chairman on the working group S3-35 on Audiometers until 1997. He also served on several standard committees and was also a member of the International Electrotechnical Commission working groups.
He was a member since 1948 of the Acoustical Society of America, and was elected fellow in 1979 for contributions to the technology and standardization of hearing diagnostic instrumentation. In 1975, he served on the Sensory Aids Review Panel for the National Research Council. He was a member of the American Speech-Hearing Language Association (ASHA) Foundation where he served on the Board of Directors from 1985 to 1987, and the Advisory and Development Board from 1987 to 1990. From 1991 to 2005, he served as a Trustee at the Massachusetts Eye and Ear Infirmary.
He was married to Edna Brown Grason for 65 years. He is survived by his wife, two daughters, Doris G. Shaw and her husband David of Jaffrey, NH, Kathryn J.G. Ramon of Lincoln; and one son, Rufus Leroy (Lee) Grason and his wife Sharon of Rindge, NH, as well as four sisters and several grandchildren and great-grandchildren.
BHI Survey Looks at Thin-Tube/Open-Fit BTEs
Alexandria, Va—A recent survey conducted by Sergei Kochkin, PhD, executive director of the Better Hearing Institute (BHI), looked at the reasons for purchasing "thin-tube" BTEs and sought to determine if this relatively new product class is causing more people to seek a hearing solution via hearing aids. The study analyzed the use of "thin-tube" BTEs—including open-fit, receiver in the ear (RITE), on-the-ear (OTE), and post auricular canal (PAC) devices—in 116 dispensing offices that were members of the BHI Referral Development Network (see Feb 2002, HR p 26). Each office/practice was asked questions about their last 2 customers fit with thin-tube BTEs (eg, a sample of 232 customers).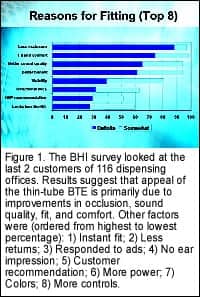 Of these 232 customers in the survey, 68% were new users, and the average age was 60 years. When compared to MarkeTrak VII data (see July 2005 HR), this represents a 29% increase in new users and a more youthful customer base (by an average of 9 years).
Patient involvement in the decision to purchase a thin-tube device was deemed as "major" in 16% of the fittings, "minor" in 66% of the fittings, and "none" in 17% of the fittings, suggesting that the dispensing professional's recommendation was the key factor in the purchase. The top-five reasons for choosing the aids were less occlusion, fit and comfort issues, better sound quality, greater patient benefit, and cosmetics (Figure 1). A total of 1-in-5 (22%) consumers would have otherwise rejected all other hearing aid technology in the absense of the thin-tube device, according to the dispensing professionals surveyed. Compared to traditional products, the hearing care professionals reported that 55% of their patients were "significantly more satisfied" with the thin-tube devices, while 36% were "more satisfied," 8% experienced "equal" satisfaction, and 1% were "less satisfied."
Cosmetics obviously play a large role in the appeal of the devices. If the patients who had not opted for thin-tube devices, the dispensing professionals said they would otherwise have chosen an ITC or CIC in 46% of cases, followed by mini-BTE (14%), BTE (12%), or ITE (7%) devices. New users were more likely to be motivated to choose the device based on visibility/cosmetics (45% cited this as a definite purchase reason vs 25% for experienced users), and 32% of new users (versus 17% for experienced users) were definitely motivated to choose the thin-tube device because it looks "less like a hearing aid." When considering the new users, survey respondents said that 24% would have rejected a traditional hearing aid (versus 17% for experienced users).
A more in-depth look at the survey results will be offered by Kochkin in a future publication. For more information on BHI, visit www.betterhearing.org