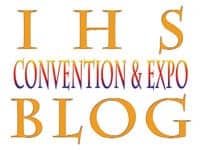 Take an insider's tour of the IHS Convention with Will Campbell's online blog.
Phantom tinnitus. A Brazilian study consisting of 66 people with normal hearing and no tinnitus found that, among subjects placed in a quiet environment where they were asked to focus on their hearing senses, 68% experienced phantom ringing noises similar to that of tinnitus. This is compared to only 45.5% of participants who heard phantom ringing when asked to focus on visual stimuli and not on their hearing, and 19.7% of those asked to focus on a task in a quiet environment. The authors believe that these findings show that, with regard to tinnitus, the role of attention to symptoms, as well as silence, plays a large role in experience and severity.
ADA urges focus on private practice. The Academy of Doctors of Audiology (ADA) has announced the release of its position paper, "Ensuring Audiology's Future in Healthcare: Owning the Profession through a Culture of Practice Ownership." This paper, developed over the past 2 years with extensive peer review, will help advance the mission of ADA. "The premise of the paper is that the future of the audiology profession and the provision of comprehensive and effective patient care will be best served by audiologists securing ownership of the audiology profession," says ADA Past President and Practice Model Task Force Chair Larry Engelmann, AuD. According to the position paper, audiology and health care are continually impacted by internal and external forces, including government regulations, industry consolidation, corporate buyouts, educational issues, and changing scopes of practice. The paper discusses challenges to the practice of audiology from outside the audiology profession, the importance and benefits of "owning" the profession, and influences that could affect the depth and breadth of ownership of the profession, and it provides recommendations for the future. Coauthors of the paper are ADA President David Berkey, Tabitha Parent Buck, Gretchen Syfert, Melissa Tamres, and Susan Williamson.

IHS Holds 57th Annual Convention in Savannah

On behalf of IHS, its president, Jim Ogurek, accepts a $10,000 contribution to aid IHS advocacy against companies utilizing unscrupulous marketing practices from Greg Nedelec of National Board for Certification in Hearing Instrument Sciences (NBC-HIS).

Savannah, Ga—The International Hearing Society (IHS) held its 57th annual convention in Savannah, Ga, on September 24-27. The convention featured over a dozen concurrent seminars ranging in topics from realear measurement to ethics in dispensing, as well as exhibits from industry-leading companies. This year's keynote address, "Lessons in Leadership," was presented by Richard "Pitch" Picciotto, a New York City Fire Department battalion commander who was between the sixth and seventh floors of the World Trade Center's North Tower when it collapsed. For convention coverage, visit www.hearingreview.com or read the The Hearing Review's The Insider e-newsletter, which comes out each Thursday. Additionally, Hearing Products Report Editor Will Campbell kept a blog at the convention, and it can be accessed at the HR Website's Media Center.

AAO-HNSF issues national guidelines for earwax removal. Clinical Practice Guideline on Cerumen Impaction appears as a supplement to the September 2008 issue of Otolaryngology–Head and Neck Surgery, the peer-reviewed scientific journal of the American Academy of Otolaryngology–Head and Neck Surgery Foundation (AAO-HNSF) and the American Academy of Otolaryngic Allergy. Key features of the new guidelines include: 1) Cerumen is a beneficial, self-cleaning agent, with protective, lubricating (emollient), and antibacterial properties; 2) Clinicians should examine patients with hearing aids for cerumen impaction because it may cause feedback, reduce sound intensity, or damage the hearing aid; 3) Cerumen may cause reversible hearing loss when it blocks 80% or more of the ear canal diameter; 4) Appropriate options for cerumen impaction are (a) cerumenolytic (wax-dissolving) agents, which include water, saline, and other agents of comparable efficacy, (b) irrigation or ear syringing, which is most effective when a cerumenolytic is instilled 15-30 minutes prior, and (c) manual removal with special instruments or a suction device, which is preferred for patients with narrow ear canals, eardrum perforation or tube, or immune deficiency; 5) Inappropriate or harmful interventions are cotton-tipped swabs, oral jet irrigators, and ear candling; 6) Clinicians should assess patients at the conclusion of in-office treatment for cerumen impaction and document resolution of the impaction; 7) There are no proven ways to prevent cerumen impaction, but not inserting cotton-tipped swabs or other objects in the ear canal is strongly advised; individuals at high risk (eg, hearing aid users) should consider seeing a clinician every 6-12 months for routine cleaning. The guidelines—which were created by a multidisciplinary panel of clinicians that included audiology—were presented in a seminar during the 2008 AAO-HNSF Annual Meeting & OTO EXPO in Chicago, September 21-24.
New leadership appointments at Oticon. Oticon A/S in Smørum, Denmark, named Søren Nielsen its new president and Mikael Worning its new executive VP. Niels Jacobsen, who has been president and CEO of Oticon since 1998, has been named chairman of Oticon and remains president and CEO of William Demant Holding, Oticon's parent company.
Vivatone obtains broad patent claims for its open-fit RITE. Vivatone Hearing Systems was issued a patent by the US Patent and Trademark Office that includes 81 claims encompassing unique features of open-fit receiver-in-the-ear (RITE) hearing aids, and the company plans to protect its intellectual property by vigorously enforcing its patent, according to Vivatone Chairman Leon C. Hirsh.
Youngsters with hearing impairment more likely to be bullied. Youngsters with hearing loss are more likely to be the victims of bullying in school than their schoolmates with normal hearing, according to a Swedish study reported at www.hear-it.org. The rate of bullying victims among youngsters with normal hearing is one in 10. Among hearing-impaired teenagers with no other disability, bullying is part of everyday life for one in five; one in three of those suffering from hearing loss in addition to other disabilities reports being bullied.
AAA dedicates October to hearing awareness. Starting this October, the American Academy of Audiology (AAA) will establish the annual National Audiology Awareness Month and National Protect Your Hearing Month to raise public awareness of hearing loss and related issues. "This initiative will expand the Academy's efforts to educate the public about audiology, hearing loss, noise-induced hearing loss, and the importance of hearing screenings," says President M. Patrick Feeney, PhD.
More evidence that kids are at risk from portable music players. Researchers from the University Medical Center Rotterdam and the Department of Prevention and Healthcare in The Netherlands conducted a qualitative analysis of focus-group discussions with adolescents aged 12 to 18 years from two large secondary schools (one urban and one rural) for prevocational and preuniversity education. The researchers recommend that parents be aware of their children possibly experiencing symptoms, such as ringing in the ears. They should also be aware of the volume at which their children listen to their personal stereos. The researchers believe that manufacturers of personal stereos should take greater responsibility and provide features, such as clear warning signals on the players. The study showed that teenagers were unaware of when the noise levels became excessive. The study by Ineke Vogel and colleagues appears in the March 2008 edition of the Journal of Pediatrics.
International Adult AR Conference scheduled for March. The Hearing Rehabilitation Foundation (HRF) and University of South Florida (USF) will co-host the Fifth Inter­national Adult Aural Rehabilitation Conference in Tampa, Fla, on March 16-18, 2009. Invited speakers include Arthur Boothroyd, Harvey Dillon, Mary-Beth Jennings, and Sophia Kramer. For more information, contact HRF at (617) 628-4537; hearf.org.
---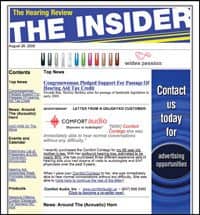 Get Your Weekly Edition of THE INSIDER
Every week The Hearing Review sends out THE INSIDER, a weekly FREE e-newsletter devoted to the top hearing-related news, research, product introductions, fitting topics, and marketing research stories that are influencing your business or practice, as well as the industry at large. [register]Sign up for your free subscription[/register].