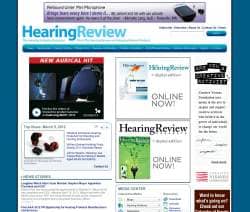 TOP NEWS and HEADLINES
Johns Hopkins: Hearing Loss Triples Risk for Falling in Middle-aged Adults and Elderly
AAO-HNSF Releases Clinical Practice Guideline for Sudden Hearing Loss
Infographic: A Visual Guide to Tinnitus
William Shatner Talks About His Tinnitus on NPR
iHear Medical Completes Second Round Financing
William Demant Holding Posts Strong 2011 Earnings Report
Unitron Releases New Products in Advance of AAA
Cochlear Americas Launches Smartphone App for Baha 3 Recipients
American Market Report for Hearing Aids and Audiology Devices Released
AAO-HNSF Releases Clinical Practice Guideline for Sudden Hearing Loss
The American Academy of Otolaryngology-Head and Neck Surgery Foundation (AAO-HNSF) has just published a new Clinical Practice Guideline on Sudden Hearing Loss (SHL), which appeared as a supplement to the March 1 Otolaryngology–Head and Neck Surgery Journal. Current diagnosis and treatment plans vary greatly, says the AAO-HNSF press statement. The guideline provides evidence-based recommendations for the diagnosis, management, and follow-up of adults who present with SHL.
Prompt, accurate recognition and management of sudden sensorineural hearing loss (SSNHL), a subset of SHL, may improve hearing recovery and patient quality of life. AAO-HNSF also estimates that SSNHL affects five to 20 per 100,000 population, with about 4,000 new cases per year in the United States.
"The purpose of a new published guideline is to provide all clinicians who may encounter patients with SHL with evidence-based recommendations for diagnosis, counseling, treatment, and follow-up," the press release stated. "By focusing on opportunities for quality improvement, the guideline should improve diagnostic accuracy, facilitate prompt intervention, decrease variations in management, reduce unnecessary tests and imaging procedures, and improve hearing and rehabilitative outcomes for affected patients."
Numerous prominent ENTs and audiologists participated in authoring the SHL guideline including Joseph J. Montano, EdD; James E. Saunders, MD; Debara L. Tucci, MD, MS; and Michael Valente, PhD. HR published a special overview of SHL in December 2003 that was guest edited by Maurice Miller, PhD, and it can be accessed at: tinyurl.com/8ybjc9m
Lantos Debuts Ear Canal Scanning Technology at AAA Convention
Boston Device and Lantos Technologies will be debuting its handheld digital ear canal scanner at the 2012 AudiologyNow! convention in Boston (this edition of HR was printed just prior to the convention).
The Lantos scanner is a small, handheld device composed of a fiberscope enclosed in a conforming membrane, which is then inserted into the patient's ear canal. The conforming membrane is subsequently filled with an "absorbing medium," causing the membrane to expand and conform to the shape of the ear canal. Next, the fiberscope retracts and generates a dynamic 3-D image of the ear canal in real time. The entire scan takes less than 60 seconds, according to the company.
The scanning data are then processed and sent electronically to the hearing aid manufacturer anywhere in the world. Lantos says that the advantages include a no-mess detailed 3-dimensional representation of the ear for better communication with hearing aid manufacturers and a better fit for patients.
The Summer edition of Hearing Review Products, HR's sister product publication, which will be published in May, is scheduled to carry an article about the new system by Lantos President Shahid Azim.
Another related technology, Shapestart Measurement (3DM) Systems, Atlanta, also was listed as having a booth at the AAA convention.
iHear Completes Second Round of Funding
Hearing device start-up iHear® Medical has completed a second round of financing, totaling $1.8 million, which will reportedly enable the company to complete the development of its proprietary devices to treat hearing loss.
iHear Medical is a venture-backed firm incubated by the Center for Medical Device Innovations Inc (CMDI), and founded by Adnan Shennib, the founder of InSound Medical in 1998, where he invented and developed the Lyric® hearing device. Shennib also has over 100 issued and pending patents to date, and early backers of iHear Medical include Aphelion Capital and Highlight Capital.
iHear Medical reports that it is focusing on developing novel platform technologies to create paradigm shifts in health care delivery. "The new hearing aid technology and distribution strategy are designed to break existing barriers for millions of potential consumers with hearing loss," says Shennib in the press announcement.
The company also announced that Jonathan Leong has been appointed to its board of directors. Leong is the founder of several Bay Area businesses, including commercial insurance firms that serve Pacific Gas & Electricity and the City of San Francisco.

Board members of the Hearing Industries Association (HIA) include (l to r) Randy Raymond, Rayovac; Peer Lauritsen, Oticon; HIA Executive Director Carole Rogin; Jake Haycock, Widex; Jeff Taylor, Sonion; Todd Murray, GN ReSound; Robert Tong, ON Semiconductor; Jerry Ruzicka, Starkey Technologies; Scott Davis, Siemens Hearing Instruments; and Mike Orscheln, Phonak.
HIA Holds Annual Meeting and Announces New Board Members
The Hearing Industries Association (HIA) 2012 meeting held in Delray Beach, Fla, on March 1 to 3 featured presentations by the Better Hearing Institute, government officials, marketing experts, and representatives of allied hearing health organizations. In addition, HIA members elected two new board members and reelected four current members.
The HIA meeting opened with a presentation by Amy Lynch, BridgeWorks, a company that specializes in generational communication. Lynch discussed the various challenges related to encouraging people with hearing loss to obtain amplification at an earlier age, especially as similar messages resonate differently from generation to generation. In addition, representatives from major hearing industry organizations made presentations to review their regulatory efforts and/or programming plans.
The meeting also included a presentation from Srinivas "Nandu" Nandkumar, PhD, chief of the ENT Devices Branch at the US Food and Drug Administration (FDA). He reviewed the current status of the FDA's regulation of hearing aids, including the classification of wireless hearing aids, mail-order and Internet sales of hearing aids, and the FDA's regulatory concerns related to the unrestricted direct-to-consumer (DTC) marketing model for selling hearing aids.
Dr Nandkumar also discussed the agency's position in relation to the regulation and marketing of hearing aids versus personal sound amplification products (PSAPs), and fielded numerous questions from attendees regarding the FDA's view of the DTC online hearing aid model and increasingly aggressive marketing efforts by sellers of PSAPs.
Also during the meeting, Lucille Beck, PhD, chief consultant for Rehabilitation Services and director of Audiology and Speech Pathology Services at the US Veterans Administration, provided a comprehensive update of the VA's hearing aid program, with a focus on the continued growth and expansion of that program, as well as the VA's emphasis on top-quality technology and forward-looking, innovative, and veteran-focused service. Dr Beck noted that the VA audiology program handled 134,000 veterans per month, and treated over 756,000 unique veterans in FY2011, which represented a 10% increase from FY2010. The program also employed 920 clinical audiologists in FY2011 a 6% increase over FY2010. She also reviewed the VA's expanding efforts related to telerehabilitation and teleaudiology. According to HIA 2011 year-end hearing aid sales statistics, the VA now accounts for one in five of all hearing aids dispensed in the United States.
Which Ear Do You Use on the Phone?
Henry Ford Hospital researchers have found a strong correlation between brain dominance and the ear used to listen to a cell phone, with more than 70% of participants holding their cell phone up to the ear on the same side as their dominant hand.
Left-brain dominant people are individuals with speech and language centers on the left side of the brain more likely to use their right hand for writing and other everyday tasks. Likewise, most left-brain dominant people also put their phone handset to the right ear, despite there being no perceived difference in their hearing in the left or right ear. And right-brain dominant people are more likely to use their left hand to hold the phone to their left ear.
"Our findings have several implications, especially for mapping the language center of the brain," says Michael Seidman, MD, FACS, director of the division of Otologic and Neurotologic Surgery at Henry Ford. "By establishing a correlation between cerebral dominance and sidedness of cell phone use, it may be possible to develop a less-invasive, lower-cost option to establish the side of the brain where speech and language occurs, rather than the Wada test, a procedure that injects an anesthetic into the carotid artery to put half of the brain to sleep in order to map activity."
Seidman notes that the study also may offer additional evidence that cell phone use and brain, head, and neck tumors may not be linked. If there was a strong connection, Seidman says there would be far more people diagnosed with cancer on the right side of their brain, head, and neck, the dominate side for cell phone use. But it's likely that there is a time and "dose-dependence" to the development of tumors, he notes. The study also revealed that having a hearing difference can impact ear preference for cell phone use.
The results were presented February 26, 2012, in San Diego at the 25th Mid-Winter Meeting of the Association for Research in Otolaryngology (ARO).
---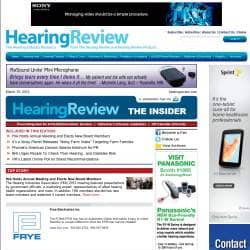 Get Your Weekly Edition of THE INSIDER
Every week The Hearing Review sends out THE INSIDER, a weekly FREE e-newsletter devoted to the top hearing-related news, research, product introductions, fitting topics, and marketing research stories that are influencing your business or practice, as well as the industry at large. [register]Sign up for your free subscription[/register].