BOOKLETS
Acoustics book
Etymotic Research, Elk Grove Village, IL, and Singular Publishing Group, San Diego, have issued the second volume of its "ER Library" series intended to provide information to those who dispense hearing aids. Acoustics For Audiologists by Edgar Villchur deals with the physical principles that underlie the design and fitting of hearing aids. The treatment is almost entirely nonmathematical and engineering jargon is avoided. Where math is used to define a relationship, the matter is also explained in plain English.
Most of the book is about acoustics, but electronics and psychacoustics are also dealt with. Such topics as recruitment and compression, digital operation, Class D amplification and directional microphones are included. The book has 10 chapters: 1) The Sound Wave, 2) The Measurement of Sound: Octaves and Bels, 3) Acoustic Resonators, 4) Horns, 5) The Acoustical Transmission Path of the Ear, 6) Psychacoustics, 7) Music and Speech, 8) Amplification, 9) Signal Processing in Hearing Aids, and 10) Noise and Interference.
The author is the president of the Foundation for Hearing Aid Research and is a visiting scientist at the Massachusetts Institute of Technology.
Books for educators
Making Connections: A Practical Guide for Bringing the World of Voice Output Communication to Students with Severe Disabilities, by Peggy Locke, PhD, and Jackie Levin, MA, is a resource guide that contains practices, ideas for appropriate and effective messages, helpful summaries of current research, how to make data collection easy and strategies for using voice output communication aids to work immediately. Created with the concept that everyone can have a voice and the best way to communicate is by communicating, the Guide is designed as a resource for teachers, therapists and family members who want to know how to introduce voice output. The book is spiral bound and 109 pages.
Play and Learn: A Motor-Based Preschool Curriculum for Children of All Abilities, by Laura Krueger, MA, PT and Mary Coleman, MA, is a 12-month curriculum addressing the key motor, sensory, cognitive, social and communication needs of preschoolers. It details how to incorporate assistive technology products such as voice output communication aids into 264 skill-building activities. The curriculum can be used in its entirety or as a supplement to an existing curriculum. The book is spiral bound and 300 pages.
More information on Making Connections and Play and Learn is available from AbleNet, Inc., 1081 Tenth Ave., SE, Minneapolis, MN 5414-1312; tel: 800-322-0956; e-mail: [email protected].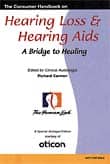 Consumer handbook
Auricle Ink Publishers, Sedona, AZ, announces its release of an abridged edition of The Consumer Handbook on Hearing Loss & Hearing Aids: A Bridge to Healing by audiologist Richard Carmen. The book is intended for inclusion by manufacturers in their hearing instrument delivery packaging designed to inform people with hearing loss and their families about what to expect from the hearing instrument procurement process. The book contains five chapters covering hearing aids, improving listening and hearing skills and emotionally dealing with the loss of hearing. Selection of chapters was based on those included by Sergei Kochkin's study, "Reducing Hearing Instrument Returns with Consumer Education", which was published in the October 1999 Hearing Review.
Auricle Ink reports its first contract with Oticon, Inc., for an undisclosed number of copies, and Carmen says that his group is currently negotiating with other companies for this consumer education effort.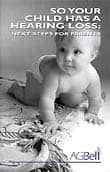 Parent's booklet
Alexander Graham Bell Association for the Deaf and Hard of Hearing (AG Bell), Washington, DC, has released the So Your Child Has a Hearing Loss: Next Steps for Parents booklet designed to provide answers for parents of children who have been newly diagnosed with a hearing loss. The 32-page booklet features issues such as early identification of hearing loss, types of hearing screenings for babies and children, hearing aids, cochlear implants, communication options and communication aids, special education, resources, etc.
More information is available at www.agbell.org.
---
WEBSITES
Website for the Hearing Impaired
A new website, www.HearingPlanet.com , based in Nashville, TN, has been launched to provide information for hearing-impaired individuals. The company, through a network with hearing healthcare providers, reportedly offers hearing instruments for a reduced cost to patients. According to the company, the instruments will be shipped directly from the manufacturer to the network professional. HearingPlanet.com is enrolling additional hearing healthcare providers to become part of its network. Patients are referred to its network affiliate healthcare providers to evaluate the degree of hearing loss and will be advised to use the appropriate hearing instrument, according to the company.
---
MAGAZINES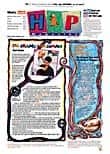 Kid's monthly magazine
Hip Publishing Group, Berkeley, CA, publishes a monthly magazine called Hip intended to serve the educational, entertainment, social and emotional needs of deaf and hard-of-hearing children ages 8 to 14. It is designed to feature easy-to-read literature with colorful pictures, cartoons, games, puzzles, movie and video reviews. Hip is written in simple sentences with complex words highlighted to improve children's vocabulary. Some of the articles are brief and are written by kids. In its "Dear Jane" advice column, children can express their frustrations over their hearing loss and challenges that face them.
Every month, stories about deaf and hard-of-hearing young people and adults, such as dentists, carpenters and FBI agents, are published to encourage and motivate children, with the purpose of showing deaf and hard-of-hearing children that their dreams can be reached. Readers can obtain information on services such as hotels, airlines, schools and other venues for reasonable accomodations.
For more information visit Hip's website: www.hipmag.org.