Oticon Focus on People Awards

From left: Peter Mark, vice president of marketing, Oticon; Paula Bonillas, first-place winner, advocacy; Dr. Jack Vernon, first-place winner, practitioner category; Dr. Tamala S. Bradham, third-place winner, practitioner category; Mikael Worning, president, Oticon.
Sommerset, NJ — Oticon Inc. announced its annual Focus on People Award winners during a special event that coincided with the American Academy of Audiology convention. Celebrating the accomplishments and contributions of hearing-impaired individuals, as well as advocates and practitioners of hearing health care, the Focus on People Awards are designed to call attention to common misconceptions about hearing loss, correct negative stereotypes and motivate people with hearing loss to take advantage of the help that is available to them. This year's awards ceremony celebrated the accomplishments of youths Amanda Goyne, Kimberly Smith and Liam F. McElroy; students Kelly M. Halacka, Boudi El Fouly and Eileen Davis; and adults Matt Cain, Francisco de la Torre and John Pinion IV, as well as practitioners and advocates of hearing health.

Marjorie D. Skafte
Awarded first place in the Practitioner Category was Jack Vernon of Portland, OR. Vernon is a long-time champion of tinnitus patients and his interests led to the formation of the American Tinnitus Assn. (ATA) in 1971. Second-place winner Louise Colodzin of Potomac, MD, has developed programs to provide free audiological testing services. She has advocated hearing conservation measures in schools, and pioneered the passage of the High Risk Hearing Screening Law in Maryland. Tamala Selke Bradham of Charleston, SC, the winner of the third-place award, is assistant professor at the Medical Univ. of South Carolina and is director of its Cochlear Implant Center.
Recognized in the Advocacy Category, Nanci Linke Ellis of Santa Monica, CA, was honored as the first-place winner. Ellis was a driving force behind the Tripod Captioned Film Project, which brings open-captioned films to the general marketplace. Second-place award-winner Marjorie D. Skafte of Duluth, MN, a founder and former editorial director of The Hearing Review, has devoted much of her life to writing hearing-related articles and speaking at events, always taking care to place the hearing-impaired person at the center of hearing care efforts. She has served as chair of HIA's Public Relations Committee, helped pioneer the formation of the Better Hearing Institute and is now the chairperson of the Eddy Foundation, a private foundation that endows hearing-related programs. Third place went to Paula Bonillas of Ingleside, TX, who founded Hearing Health magazine 17 years ago. The consumer magazine for hard-of-hearing people carries information on new developments in hearing technology, and advocates for the rights and needs of those who have hearing loss.
IHS to celebrate 50th Anniversary Convention in Chicago
Livonia, MI — The International Hearing Society (IHS) will convene its 50th Anniversary Convention and Exposition on September 12-16 in Chicago. Convention festivities include an NBC-HIS 20th Anniversary Reception, numerous seminars and workshops, and a special 50th Anniversary Banquet. Additionally, the convention hall will feature the new products and services of manufacturers and suppliers to the hearing industry (for a sneak preview of the offerings, see pgs. 40-46 of this issue of The Hearing Review).
For more information on the convention and how to attend, contact IHS: (734) 522-7200; website: www.ihsinfo.org.
---
Kohl named CEO of Sonus
Portland, OR — Sonus Corp. , the audiology-based retailer of hearing instruments in North America with 782 company-owned and franchised hearing centers, has announced the appointment of Daniel J. Kohl as CEO and a director.
Kohl, 44, assumes the position of CEO from Brandon M. Dawson, who will continue as Sonus' chairman of the board. Most recently, Kohl was president and CEO of 21st Century Jobfinder, Inc., an Internet- and IVR-based employment recruiting company. From 1997 to 1999, he served as president and CEO of Housecall Medical Resources, Inc., a $200 million home health care company with 100 locations that was acquired by Adventist Health System in 1998. Kohl was also senior vice-president/group executive of the Health Information Services Division of Equifax, Inc., from 1993-1997 and president and CEO of HMSS, Inc., a provider of infusion products and services to patients in home, work, and ambulatory center settings from 1991 to 1993. He held numerous executive positions with Apria, Inc. (formerly Abbey Foster/Medical) from 1986-1991 and Baxter International, Inc. (formerly American Hospital Supply Corp.) from 1978-1986. He holds a B.S. in Business Administration from The Citadel and an M.B.A. from New Hampshire College.
"Dan, with his impressive career and strong managerial leadership skills, is a welcome addition and a great complement to an already strong management structure," says Dawson. "I will be focused full-time as chairman working with Dan and other Sonus officers in the continued execution, corporate development and strategic planning side of the company, while Dan will work closely with President Scott Klein and CFO Paul Campbell in managing the day-to-day operations of our expanding organization."
---
Pediatric amplification conference to be held in November
Warrenville, IL — The 2nd International Conference "A Sound Foundation Through Early Amplification" will be held in Chicago on November 8-10. Sponsored by Phonak, the conference follows the 1st International Pediatric Conference held three years ago (see Jan. 1999 HR, pgs. 38-42).
Although the implementation of universal newborn hearing screening programs has increased the number of infants being screening for hearing loss, knowledge about intervention strategies for infants is still relatively scarce, according to Phonak. While procedures exist for the early identification of hearing loss, there is little published material to guide clinicians who provide intervention and habilitation services. Provision of amplification for infants offers unique challenges, and parents are faced with an array of options in technology and communication methods which affect the future of their child. Professionals need the knowledge to help them make the right decision for the child and for the family. This conference is designed as a forum to help professionals obtain up-to-date information together with clear and practical procedural guidelines.
The conference steering committee is chaired by Richard Seewald, PhD (Canada) and includes John Bamford, PhD (UK), Judith Gravel, PhD (USA) and Patricia Stelmachowicz, PhD (USA). The committee reportedly has selected speakers from among the world's most distinguished pediatric audiological experts and have ensured an interesting mix of subject matter and professional expertise. "[The committee] has developed an exceptional program by all international standards," says Seewald. "With this conference, we are bringing together some of the very best scientists and clinicians from throughout the world to discuss current developments and issues in pediatric habilitative audiology."
The program is divided into five main subject areas, with varied presentations in each session: auditory development, audiologic assessment, hearing instrument fitting and verification, general management and candidacy issues.
The first session on auditory development will be moderated by Seewald, and will include the conference's keynote address by Robert Harrison, PhD (Canada) on the development of the auditory system. The session will also include presentations on binaural audition and developmental psychoacoustics. The second session, moderated by Judith Gravel, PhD (USA), will examine current developments and issues in audiologic assessment. Potential pitfalls in audiologic assessment will be discussed, and presentations on electrophysiological measures, cross-modality matching and human auditory steady-state responses will be given.
The third session on pediatric hearing instrument fitting will offer practical protocols for fitting infants, as well as DSP strategies for children with severe-to-profound loss. Electroacoustic verification with high-tech hearing instruments and fitting validation measures will provide the subject material for session four. In addition, there will be two special sessions on high-frequency amplification for children and candidacy issues for hearing instruments and cochlear implants. The final session on service delivery will focus on management issues and family-friendly audiological service provision. The conference end-note address will be given by Agnete Parving, MD (Denmark).
During the conference a separate session is planned to view the submitted posters. Researchers from throughout the world will be presenting their findings relating to the key subject areas presented at the conference. In addition, directly after the conference, there will be four workshops on behavioral assessment, hearing instrument verification, real-ear verification of FM systems and measuring auditory brainstem responses. The workshops will be given by international experts in each area.
"The first conference was a tremendous success and the published Proceedings is proving even more popular than we had ever expected," says Ora Buekli-Halevy, international coordinator for Phonak. "The second conference promises to be as exciting."
Full program information and registration details are available on Phonak's website (www.phonak.com). The company advises that registration should be made soon in order to ensure enrollment.
---
Widex assists in war-torn Bosnia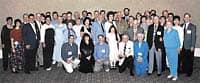 Long Island City, NY — Anna Marie Maagdenberg, a hearing care professional in Pinole, CA, is the founder of Hear My People, a non-profit hearing clinic in Bosnia-Herzegovina. Maagdenberg's odyssey began with an invitation from a Franciscan priest from Bosnia-Herzegovinia whose hearing-impaired brother had been told that no hearing device could help him hear again. Maagdenberg felt a personal obligation to try to help him, as she has been hearing impaired since birth and was successfully fitted with hearing instruments at age 15.
Her visits to Bosnia-Herzegovina multiplied as she was able to provide more hearing healthcare services and fit more hearing devices. A town called Mother's Village, a hamlet only three hours from Sarajevo that is home to children who were orphaned during the war, became the choice for a permanent home for her clinic. Thanks to Maagdenberg, many children and adults living in this region will now finally receive the hearing care and instruments that they require.
Funding and equipment has come from churches and individuals in the U.S., mostly from northern and southern California, and the contributions of Widex Hearing Aid Company. w
---
HEARx and Helix merge; secure funding from Siemens
West Palm Beach, FL — HEARx Ltd. and Helix Hearing Care of America Corp., Montreal, announced that they have signed a definitive merger agreement. After the transaction, HEARx will change its name to HEAR USA, Inc., and the combined company will be the largest hearing health care operator of its kind in North America, according to the companies. The companies expect HEAR USA to have revenues in fiscal year 2002 of more than $100 million.
The transaction is expected to close by the end of the year and is subject to shareholder, Canadian court and regulatory approval. The boards of directors of both companies have unanimously approved the transaction. Helix principal shareholders, who hold approximately 52% of Helix shares, have signed commitment agreements to vote in favor of the transaction.
The proposed merger would create a network of 218 company-owned clinics –reportedly 161 in the U.S. and 57 in Canada (for more information on the proposed merger and recent activities relating to chain retailers, see the June 2001 HR, pgs. 10 and 14). The initial board of directors of the combined company will be composed of five members designated by HEARx and four members designated by Helix. Paul A. Brown, MD, remains chairman of the board and Steve Forget, Helix's current president and CEO, will serve as president and vice-chairman.
The parties expect HEAR USA to leverage its growth as a hearing benefit management company through four channels: 1) corporate owned clinics; 2) e-commerce; 3) an affiliated provider network, and 4) alliances with HMOs, insurance companies, sponsors and affinity groups.
The companies announced in June that they have obtained a financing commitment from Siemens Hearing Instruments. The financing reportedly has several components and could aggregate to as much as $70 million, if HEARx and Helix meet certain business goals. HEARx states that the financing is designed to facilitate the creation of the HEAR USA Advantage Network, a fully integrated network of independent hearing instrument providers in the U.S.
"As previously announced, HEARx and Helix have agreed to merge operations, subject to contingencies," says Brown. "One of these contingencies was obtaining certain financing to reduce a significant portion of Helix's long-term debt and to fund the proposed business plan for the combined company. This can now be accomplished through the Siemens' financing commitment."
The balance of the financing will reportedly contribute to financial leverage for enhancing same-store sales by focusing on strategic roll-in acquisitions around the companies' current retail locations. It will also be used to enhance the combined company's e-commerce activity, network development and strategic alliances with HMO's, insurance companies and affinity groups. In a statement from HEARx, the company detailed two major objectives of the financing agreement:
• Investments to benefit the independent hearing care professional: The total investment by Siemens related to the network development is tied to the number of independent hearing care providers who agree to participate in the HEAR USA Advantage Network and the amount of additional hearing instrument sales for Siemens by those providers. HEARx anticipates that a number of other hearing instrument manufacturers will provide products through the network as well. If the HEARx/Helix combined company reaches all of the business goals, it could receive up to $33 million from Siemens, according to HEARx.
"The new network will benefit independent hearing care providers by giving them access to the buying power, cooperative advertising, Internet presence, marketing opportunities and other services that will be provided by an extensive network infrastructure," says Paul Erickson, president of Siemens Hearing Instruments. "At the same time, the expanded advertising to the general public as a result of the network should increase the overall utilization of hearing instruments by consumers affected by hearing impairment."
• Ensuring future financial flexibility: To provide financial flexibility for the future growth of the merged companies, Siemens reportedly has agreed to fund the repayment of a major part of Helix's current outstanding debt. Within the last few months, Siemens has reportedly invested $3.5 million in Helix and $7.5 million in HEARx (see June 2001 HR, pg. 14). In addition, Siemens has committed up to $25 million for an acquisition line of credit, which also may be liquidated based on future Siemens hearing aid sales. "These investments will allow Helix and HEARx to jointly embark upon a concerted effort to educate the public about the benefits of hearing healthcare," says Forget. "We view this as an exceptional opportunity for independent professionals, the public and our product partners in making hearing healthcare available to an increasing percentage of those who would most benefit from it."
The announcement follows on the heels of several news items pertaining to the new, evolving relationships between chain retailers and hearing instrument manufacturers. In June, Sonus Corp. announce that it had obtained a $20 million line of credit from an affiliate of GN ReSound Corp. in return for the modification of Sonus' non-exclusive hearing instrument supply agreement with manufacturers. Last year, William Demant Holding, parent company of Oticon and Bernafon, announced its purchase of 47% of AVADA Audiology and Hearing Care Centers, which reportedly owns about 150 offices across the U.S. Additionally, GN Great Nordic purchased Beltone in 2000, and Sonus purchased HearPO in 1999.
---
Kansas Hearing Aid Assn. meets

Topeka, KS — The 2001 Educational Seminar sponsored by the Kansas Hearing Aid Assn. was held in late spring. Twelve CEUs were offered and 116 hearing care professionals attended the meeting. Seminar topics ranged from "Tips for Hearing instrument Fittings and Remakes" to "ITE Modification and Cerumen Related Repairs." Presenters included Michele Hurley, MS, of Omni; Michael Poe of AS Electronics; Deborah Stewart, MS, of Bernafon; Barry Williams, MA; and Michael Phillips of Lori/Unitron. Additionally, 19 companies featured their products and services in the exhibition hall.
The 39th Annual Meeting of the Association was held and the organization honored retiring president Daniel Miller (above, second from left) with a plaque of appreciation. The association also elected several new officers and board members, including (with Miller above, l to r): Kevin Albee, MA, secretary-treasurer; Rick Ediger, president; Terry Cathers, BC-HIS, vice-president; Walter Shutt, BC-HIS, board member; and Thomas Gray, PhD, board member.
The 2002 Educational Seminar and Annual Meeting will be held at the Best Western Airport Red Coach Inn in Wichita, KS, on March 22-23. For information, contact M. Day Kaufmann, 3200 SW College Ave., Topeka, KS 66611-2052; tel: (785) 266-4833. w
---
Cochlear Corp. announces support for Cochlear Implant Assn.
Denver — Cochlear Corp. has announced a program that supports the Cochlear Implant Association, Inc. (CIAI), a non-profit organization for cochlear implant recipients and parties interested in cochlear implants. The company will donate $250 to CIAI for every ESPrit™ 22 ear-level speech processor purchased before September 1, 2001. In addition, each recipient will receive $100 worth of gift certificates to be used toward the purchase of future Nucleus® products and accessories.
"Cochlear Corporation is delighted to support CIAI and its endeavor to advocate for the rights of the hearing impaired community," says company president Ron West. "We also commend CIAI for its commitment to providing information to those who are considering cochlear implants."
The Cochlear Implant Assn., formerly Cochlear Implant Club Intl., Inc., is a non-profit organization for cochlear implant recipients, their families, professionals, and other individuals interested in cochlear implants. The association provides information and access to local support groups for adults and children who have cochlear implants or who are interested in learning about cochlear implants. It also advocates for the rights of and services for people with hearing loss.
---
Texas warranty law causing confusion and concerns
Washington, D.C. — A Texas law that requires manufacturers and distributors who offer more than one type of warranty or various extended warranty/service contracts in that state to register with the government has caused confusion within many industries.
The Texas Service Contract Provider Act, also known as the Service Contract Regulatory Act, was designed as a consumer protection statute and was initiated to ensure that service providers fulfill their obligations to the service contract holders. The Act's financial security provisions require those companies offering service warranties to register with and pay an enforcement fee (up to $2000) to the state. It also requires that these providers insure each type of service contract under a reimbursement insurance policy or other specified means.
According to Hearing Industries Assn. (HIA) Director of Government Relations David Woodbury, there may be as many as 17 other states that have passed similar legislation. Similar to what occurred with the assistive devices warranty legislation (often referred to as "Lemon Laws"), the warranty legislation was initiated by these states in response to consumer complaints about electronics warranties (in most cases, stereos and TVs from large electronics retailers); however, the scope of the laws quickly encompassed many products, including hearing instruments. With the Lemon Laws, the state-by-state lobbying efforts led by hearing care professional organizations and HIA proved fruitful and many states ended up modifying their laws to exclude hearing aids.
According to Woodbury, the HIA board will consider its options in terms of the expense of hiring lobbyists in various states in an attempt to modify the laws versus accepting the laws and paying the fees (the cost of which would eventually be passed on to consumers). Ultimately, these laws could have the negative effect of limiting the number and types of warranties, service contracts and extended after-sale options currently available to consumers.
---
CID hosts newborn screening seminar

St. Louis — A one-day seminar sponsored by the Central Institute for the Deaf (CID) and Natus Medical Inc., San Carlos, CA, addressed the need and methods for implementing newborn hearing screening programs at local and state levels. Brad Stach, Director of Audiology and Clinical Services at CID (pictured above with Bridgette Collins, the Missouri Dept. of Health's Newborn Hearing Screening Program Director) moderated the seminar. The program was in response to legislation passed in Missouri in 1999 that requires every baby born after January 1, 2002 to be screened for hearing loss prior to discharge from a birthing facility. w
---
American Ear closes; UHS takes over its warranty services
Plainfield, CT — United Hearing Systems (UHS), Inc., announces that it is assuming the existing warranties of instruments that were manufactured by AmericanEar, which recently closed its operations in Las Vegas. The plan calls for certain conditions and procedures to assure fair, efficient and uninterrupted handling of the thousands of patients and the many practices affected by the recent closure of AmericanEar.
"We welcome former AmericanEar accounts to join our growing family of dynamic professionals," says UHS President Ralph T. Campagna. "We look forward to meeting their needs in the areas of hearing instruments, repairs, batteries, and dispensing supplies."
The company reports the addition of new staff and support to handle the increased business. Dispensing professionals may call UHS customer service at 800-835-2001 to expedite warranty service of AmericanEar instruments.
---
Maxell reports new technology in batteries may have future applications for hearing products


Fair Lawn, NJ — Will hearing aids be powered by a new battery formula in the distant future? According to Steve Washio (left), director of sales and marketing at Maxell Batteries, a new generation of battery chemistry may hold promise for hearing-related products. "There has been more development in batteries and battery chemistry in the past five years than there was in the previous 20 years," says Washio whose company has developed a new rechargeable lithium ion (Li-ion) battery. While this battery is not currently available for hearing aids, he believes there is potential for future hearing aids to employ the technology once safety and engineering obstacles are answered.
Recent rollouts of rechargeable and polymer Li-ion batteries, combined with expanded production of coin-type Li-ion batteries for back-up power have intriguing possibilities for a number of different markets, according to Washio. Maxell's second-generation polymer Li-ion battery features slimness and high capacity, is 3 mm thick and uses a gel polymer instead of a liquid to trap electrolytes in a non-woven fabric. The new battery is said to provide all the benefits in a thin, flat battery design, with enhanced recharging, energy density and load characteristics.
"Lithium has a much higher voltage than zinc air, and the chemistry itself is designed for higher voltage applications than the typical [1 volt] hearing aid," says Washio. He explains that in 100 milliamp applications, a consumer can recharge the battery 400 times and the battery will still retain 80% of its capacity. Current applications of these batteries include portable laptop computers, cell phones and PDAs. "Life expectancy of the battery is very good," says Washio. "We currently have some batteries that are dime-size and run in bluetooth applications. With these batteries, you can eliminate the need for a can. With polymer and aluminum substrate, you can start thinking about a battery of 0.5 mm thickness, and right now we have batteries in the 3 mm range…The possible applications for these new technologies are only now being explored, and you may see some tried-and-true technologies eventually give way to these types of new products in the future."
---
Interacoustics acquires 2D VOG family from SMI
Assens, Denmark — Interacoustics DK, a division of William Demant Holding A/S, Copenhagen, reports that it has acquired the 2D VOG product family from SensoMotoric instruments (SMI) of Berlin, Germany. Distribution of SMI in the U.S. is now being conducted by Interacoustics U.S.
Interacoustics is a manufacturer of hearing testing and fitting equipment that has grown in the clinical market with products such as middle ear analyzers and ABR equipment. SMI is a manufacturer of advanced eye tracking systems used in research, medicine and industrial applications. The 2D VOG technology is designed to define algorithms that underlie the vestibular analysis by sorting good data from bad data based in a Windows environment. The system also features high-speed image processing and analysis.
---
Lions Club sponsors mission for better hearing
Juchipila, Mexico — Four Indiana Lions Club members saw several hearing-impaired children and adults on a March hearing care mission to Mexico. Duane Wass and Mike Baugh of the New Palestine, Indiana Lions Club teamed with John Pickett and Marcy Weber of the Speedway, Indiana Lions Club to lead a Lions Eyeglass and Hearing Aid Mission to Juchipila, Mexico, which is in the southern tip of the state of Zacatecas.
The four Lions Club members were greeted by their hosts and taken to the downtown Howard Johnson Plaza Hotel. The hotel general director, Cecilio Valadez Sanchez, himself also a Lion, met with his visitors, and spoke proudly of the local eyesight clinic for the needy people in his B2 Lions District. The clinic dispenses eyeglasses and performs eye surgery.
By evening, the group had been transported to their home for the next week at the Paraiso Caxcan in Juchipila. While checking in at the hotel, a nice trailer was noticed in the parking lot. It turned out to be an industrial hearing testing trailer with 10 automatic audiometers in mini sound "rooms," allowing 10 people to have their hearing tested at the same time. The owner of the trailer, Ruben Rodriguez, volunteered its use and two staff members to help with the mission for several days. What's more, he promised the same service for all five days of a mission next year.
Other mission helpers also arrived: Jose Morales and Dora Ayala from Matamoros, Mexico; Frederic and Carla Rondeau from El Salvador; and Jin Pak from Foley, AL. Ayala works for Starkey Labs in Matamoros, and her husband, Jose, volunteered to help wherever he could. The Rondeaus are the co-director and director, respectively, of the Starkey Hearing Foundation, and Pak is a member of the Foley, Alabama Lions Club.
In total, 393 recycled behind-the-ear hearing instruments were fit during five days of work. Each adult was fitted with one instrument, while school-age children received two. Over two-thirds of those fitted were children. The 12,000 glasses from the Indiana Lions had not made it to the mission site by the end of the week, but will be put to use later upon clearing customs.
Another person that Duane had met during a 1995 Mission to Rio Verde also came to help. Dr. Ismael Suarez drove four hours to assist the mission for several days and to reacquaint himself with friends, keep abreast of the new materials that were being used, and make an announcement about the opening of a school for the deaf and hard of hearing in nearby Rio Verde. To follow-up on previous mission visits, Pickett and Frederic Rondeau stayed behind three more days to deliver hearing instruments, batteries and instant earmold material at San Luis Potosi, Rio Verde and Guanajuato.
Past District Governor C. L. Aureliano Jauregui Vazquez and his Lions Club in Juchipila were the primary organizers of the mission. For those who would like to get involved in helping support these missions, contact the Starkey Hearing Foundation (952-941-6401) or Duane Wass, Indianapolis (317-899-4511).
---
Quest Technologies completes integration of Metrosonics
Oconomowoc, WI — Quest Technologies announced the successful completion of the company's integration of Metrosonics Inc.'s business, acquired in December 1999. The former Metrosonics headquarters in Rochester, NY (now called Quest Technologies' Rochester Technical Center) received the ISO 9001 registration certificate from National Quality Assurance (NQA) under Quest Technologies' name and license. Doing so required the site to adopt Quest Technologies' business practices, standards and regulations. The combined registration is designed to ensure that all Metrosonics and Quest products use the same quality system regarding design, development, service and calibration.
---
Cochlear Corp. receives MDEA Award

Denver — Cochlear Corp. has been awarded the 2001 Medical Design Excellence Award (MDEA) for the design of its Nucleus® 24 Contour™ cochlear implant. The award draws worldwide competition and seeks to recognize innovations in the design of medical products. Present at the award ceremony were (above, l to r) Noel Cohen, MD, of the New York Univ. School of Medicine; Jim Miller, president of Cochlear Americas; Jack O'Malley, president and CEO of Cochlear Ltd; and Steve Halesy, executive editor of Cannon Communications. w
---
Lobbying efforts to retain 216-217 MHz bands make headway
Washington, D.C. — The lobbying efforts of Self Help for Hard of Hearing People (SHHH), Alexander Graham Bell Assn., the Hearing Industries Assn. (HIA) and several professional organizations to stop the auctioning off of the 216-217 MHz bandwidths—previously reserved for assistive devices and related communication devices—have started to pay off. The bandwidths were put up for sale to commercial interests in response to an interpretation of the Balanced Budget Act of 1997. Due to the lobbying efforts of the above organizations and individuals, a substantial number of legislators, including Senators Christopher Dodd (D-CT), Joseph Lieberman ( D-CT) and James Jeffords (I-VT), have agreed to sign on to a letter currently being drafted to Chairman Michael Powell at the FCC.
The above groups are continuing to solicit legislators to join in signing the letter, which states that moving forward with the auction contradicts the congressional intent of the Balanced Budget Act of 1997.