AHAA Holds 10th Annual Convention;
Unveils Strategic Solutions

Tempe, Ariz––Close to 450 associates and exhibitors attended American Hearing Aid Associates' (AHAA) 10th annual convention earlier this year in Tempe, Ariz, where AHAA associates were provided with numerous informational seminars, and AHAA rolled out several new initiatives.
About 55 program topics covered all aspects of managing a practice. New this year were four designed specifically for front office staff, many of whom attended the convention. Also new this year was a full day of classes presented by manufacturers (both program innovations will be repeated next year). Other topics included counseling fundamentals, business planning, for-sale-by-owner issues, competing against "corporates," tracking and bench-marking, and HIPAA-IT system issues.

The AHAA Performance Network brings small groups of associates together on key practice issues.
One new initiative launched by AHAA was its package of Strategic Solutions, which provides associates support in developing growth initiatives, expansion plans, and exit strategies. Another was its Performance Network, which brings small groups of associates together in their local regions to discuss key practice-owner issues they have in common.
Guest speaker Daniel Laufenberg, vice president and chief economist of American Express, likened the broad economy to an owner managing his or her own practice's "economy" in the local community.
In the ever-popular roundtable sessions, two topics in particular created much buzz: hiring and training staff for success, and advertising strategies and tactics. Attendees gave the overall program content overwhelmingly positive grades. When asked what they wanted next year's program to cover, AHAA associates cited repeating the front office staff series and "maverick" or unusual marketing and sales ideas.
Each year at its convention AHAA recognizes outstanding marketing efforts of its associates. Paul Ashbrook, MS, owner of Ashbrook Audiology, Martinsville, Va, received the top honors for 2004 for his practice's local advertising programs. w
---
Hearing Aid Sales Make Gains; BTEs Grow in Market Share
Alexandria, Va—Net US hearing instrument sales for the first quarter of 2005 showed an increase of 2.5% over the same quarter of the previous year, according to statistics compiled by the Hearing Industries Association (HIA). While this may not outwardly look like a number that will make hearing care professionals jump for joy, it should be remembered that the first two quarters of 2004 witnessed exceptionally strong double-digit growth (13.6% and 11.7% respectively). Thus, the 2.5% growth (531,000 units) actually represents a continuation of the positive gains experienced throughout 2004, when the industry experienced a 7.5% increase in unit sales and broke the 500,000 unit mark in every quarter for the first time in history.
Hearing instrument sales by the Veteran's Administration (VA), which constituted 14.4% of all the hearing instrument sales in Q1 2005, increased by 2.0%. When ignoring VA sales, the market for private dispensing offices/practices grew by 2.8%.
Perhaps the most surprising first-quarter statistic is that behind-the-ear (BTE) hearing instruments grew to constitute 29.3% of the market (31.3% when not counting VA dispensing activity) after having a market share of only 27.8% in the fourth quarter of 2004. BTEs made up 26.4% of the market in 2004, but have been increasing rapidly since the advent of advanced digital signal processing (DSP) and directional microphone hearing systems. DSP aids in the first quarter made up 87.9% of the market, after having a market share of 85.9% in the fourth quarter of 2004.
---
Newsweek Features 'How to Keep Your Hearing'
Washington, DC—The June 6 cover of Newsweek magazine features a man cupping his hand and the headline, "How to Keep Your Hearing" and the words "Why Young People Are at Risk, The Latest Treatments." The eight-page article by medical reporter David Noonan (with Josh Luck, Karen Springen, and Julie Scelfo) entitled "A Little Bit Louder Please" addresses the topic of hearing loss—and specifically noise-induced hearing loss, hearing protection, and devices for remediation of hearing loss.
The article describes the hearing loss of rock-and-roller Kathy Peck, bassist of the 80s female punk band The Contractions and founder of Hearing Education and Awareness for Rockers, and her similarities to other baby boomers who have lost their hearing due to noisy lifestyles. A number of prominent hearing care professionals are featured, including Jennifer Derebery, past-president of the American Academy of Otolaryngology-Head and Neck Surgery; Robert Dobie of the University of California, Davis; Peter Rabinowitz of the Yale School of Medicine, and William Slattery of the House Ear Institute. Importantly, the article features several sidebars that detail how hearing works, as well as describes cochlear implants, the Bone Anchored Hearing Aid (BAHA), the Penetrating Auditory Brainstem Implant (PABI), and hearing aids.
In his "Top of the Week" editorial, Newsweek Editor Mark Whitaker comments, "[Coauthor] Julie Scelfo was amazed by the gap between the magnitude of hearing loss—28 million Americans suffer from it—and how little public knowledge or discussion there is about it. And all our reporters were touched to learn how much new technology has improved the lives of the people they interviewed." Whitaker goes on to observe how digital technology represents good and bad news for hearing health: on one hand, it takes away hearing with increased volume that can "blast music into their ears without any distortion," and on the other hand it has "vastly improved the quality of top-of-the-line hearing aids."
---
Amplifon Expands into Germany
Milano, Italy—In mid-April, Amplifon acquired the German hearing aid dispensing chain Axt-Wendton, representing the company's first entrance into the important German market. Axt-Wendton is estimated to have sales of about 8,000 units per year, a German market share of only 1.3%. However, Amplifon expects to acquire more clinics in Germany over the next year, according to industry analysts. The purchase is in line with Amplifon's aggressive growth and worldwide purchasing strategy: the company has targeted to expand its revenues by $150 million through acquisitions before 2006.
Amplifon, owner of Sonus, Miracle Ear, and National Hearing Centers in the US, is the world's largest hearing aid retailer with 6-7% of the global market.
---
AMI Semiconductor Chip Chosen for SmartLink SX
Pocatello, Idaho—AMI Semiconductor's BelaSigna 200 chip has been selected by Phonak Communications for the SmartLink SX, a communication device designed to offer hearing aid wearers speech clarity in adverse listening situations and enables them to communicate through mobile phones and other Bluetooth-compatible devices.
Phonak developed advanced sound processing algorithms to work alongside the new chip to remove noise and deliver clear speech to hearing aid wearers. The software flexibility and processing power of the chip provides versatility and reportedly creates new standards in clarity.
AMI Semiconductor purchased DSPfactory in November 2004 (see December 2004 HR News, p 67).
---
Starkey Labs Dedicates William F. Austin Center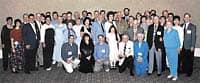 Starkey Laboratories CEO William F. Austin and President Jerry Ruzicka stand in front of the entrance of the new facility.
Eden Prairie, Minn––On April 28, a grand opening was held for the new William F. Austin Center at Starkey Laboratories. The 100,000 sq ft, $12 million complex, which features state-of-the-art educational and audio-visual equipment, serves as an advanced training and development resource for dispensing professionals—including the new Starkey First program. The facility also serves as the new corporate headquarters of Micro-Tech, Qualitone, Audibel, Nu-Ear, and Omni hearing instruments, as well as ProHear and Earborne Headsets.
Named in honor of Starkey Labs Founder and CEO William F. Austin, over 25% of the new facility is dedicated to education. The entrance to the building has a unique curved architecture that displays Austin's huge collection of celebrity photos—all of whom were fit by him—as well as several large, beautiful, black-and-white photos of Austin clowning with the many children that he and the Starkey Foundation have fit with hearing aids.

The William F. Austin Center is home to the Starkey First program, a comprehensive hands-on educational curriculum, modeled on Starkey's innovative internship program, designed to the broaden professional and business skills of practitioners and students.
During the celebration, Austin offered an powerful and candid speech in which he reviewed his career, the course of Starkey Labs, and intimated that he was loosening the reigns on his company even further in order to pursue his and wife Tani's main mission: the Starkey Hearing Foundation and bringing hearing care to those who can least afford it in impoverished nations. Austin says that, as a young man, he never envisioned going into hearing care, but instead thought he would become a doctor after his grandfather died of a painful kidney ailment. However, he quickly realized that "the reason you go into medicine is to help people. What I soon saw was the inspiration of business, which is not about helping only a few people; [business] is about leveraging your resources to help the many…So, this [grand opening] is not about a building, it's about what we can bring to the people of the world."
Austin entered the hearing care field in 1961, purchasing Starkey Labs from Paul Jensen for $13,000. The company currently has an estimated 15% worldwide market share and the Starkey Hearing Foundation has donated more than 100,000 hearing aids to needy people around the world since 2000. Austin coined the phrase, "Hearing is our concern," to describe the mission of Starkey, and the motto, "So the World May Hear," to describe the mission of the Foundation. He says his ultimate goal has been to build a company that lasts through time, and he has arrived at a juncture in which the company has a strong foundation composed of an excellent team under the direction of Starkey President Jerry Ruzicka. It is because of this team and its contribution to his success that Austin announced in January that shares of the company would be offered to employees through an employee stock ownership plan (ESOP). "Since I can't take it with me," Austin says, "long ago I decided I would work on the company until it's correctly directed…If you leave the ship, you can't let the ship wander…Years ago I realized that the most difficult thing to do would be to build a lasting company."