Up-to-the-minute access to hearing-related news, products, marketing stats, access to the HR archives, and much more.
Top Online & Insider Headlines in July
New Study Finds Infant Screening Results May Predict SIDS

Phonak AG Changes Name to Sonova Holding AG; German Appeals Court Hears Phonak-GN Acquisition Appeal
Evidence Suggests Speech Is Processed in Defined Temporal Window
Widex Salutes Its Founders
FDA Approves Med-El Sonata Cochlear Implant
Ability to Listen to Two Things at Once Is Largely Inherited
Siemens Introduces Nitro CIC
Study Has Implications for Children's Eavesdropping
Injected Stem Cells Aid in Hearing Recovery
Cochlear Americas Announces New Products for Pediatrics
---
The Hearing Industries Association (HIA) has notified the US Food and Drug Administration (FDA) that its members will voluntarily include information about hearing aid compatibility (HAC) with digital cellular telephones in the materials that accompany the sale of relevant hearing aid models.
A study published in the July 2007 edition of Early Human Development by researchers at the Children's Hospital and Regional Medical Center in Seattle found that all babies in a Rhode Island study group who died of Sudden Infant Death Syndrome (SIDS) universally shared the same distinctive difference in their TEOAE test results for the right inner ear, when compared to infants who did not have SIDS.
According to HIA statistics, net hearing instrument unit sales increased by 3.47% to 1.22 million units during the first half of 2007. Private practice (non-VA) sales increased by 2.20%. Digital sales accounted for 92.17%, and BTEs constituted 50.18% of all hearing aid sales at the midyear point.
New research suggests that cochlear implants may restore normal auditory pathways in the brain even after many years of deafness. The results, published in the July 18 Journal of Neuroscience, imply that the brain can reorganize sound processing centers or press into service latent ones based on sound stimulation.
According to researchers at Boys Town National Research Hospital, a restricted listening bandwidth (below 6 to 7 kHz) can negatively affect children's perception of /s/ and /z/ sounds when spoken by female talkers. The findings appear in the August edition of Ear & Hearing.
On applying the neurophysiological model (tinnitus retraining therapy, or TRT) at University Hospital of Navarre in Spain, a researcher concluded that getting used to tinnitus and achieving cessation of discomfort occurred in between 80% and 84% of patients—the most successful treatment tried.
Want the inside scoop? [register]Subscribe to HR's FREE weekly newsletter[/register], The HR INSIDER.
---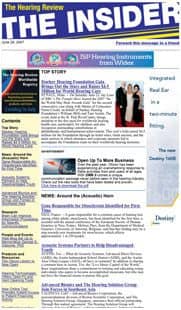 Get Your Weekly Edition of THE INSIDER
Every week The Hearing Review sends out THE INSIDER, a weekly e-newsletter devoted to the top hearing-related news, research, product introductions, fitting topics, and marketing research stories that are influencing your business or practice, as well as the industry at large. Sign up for your free subscription.