RESEARCH
Can People with Partial Hearing Loss Benefit from Hybrid Cochlear Implants?
Northwestern Memorial Hospital is one of nine centers in the United States that is participating in a study investigating the effectiveness of a new cochlear implant device that aims to restore hearing for individuals with high-frequency hearing loss and functional low-frequency hearing.
This group of patients doesn't meet the criteria for conventional cochlear implants because they have near perfect residual hearing in low pitches that allows them to perform well on tests used to determine candidacy for traditional implants. However, their hearing in high pitches is so poor that a hearing aid is not helpful, reportedly making them ideally suited for the hybrid implant that addresses both issues.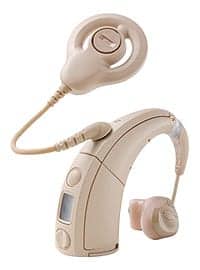 A hybrid cochlear sound processor from cochlear americas.
Principal investigator of the study, Andrew Fishman, MD, of the departments of otolaryngology and neurosurgery at Northwestern University's Feinberg School of Medicine, commented in a press statement, "We are hopeful that the hybrid cochlear implant will provide a subset of people who were previously not candidates for an implantable device the opportunity to test the device to determine if they can experience sound again."
He added that the potential for patients with a significant amount of residual hearing, but a large amount of high-frequency hearing loss, to have an alternative to hearing aids would be a great improvement to what is currently available.
Cochlear implants are designed to stimulate the auditory nerve by bypassing damaged parts of the ear. A small processor and microphone are worn on the outside of the ear and convert sounds into electric signals. The signals are then transmitted to implant electrodes in the cochlea, which stimulate the nerve endings so sound can be perceived by the brain.
The hybrid cochlear implant works in the same way as traditional cochlear implants, stimulating nerve endings in the cochlea so that high-pitched sounds can be heard. In addition, it involves amplification for low-pitched sounds, similar to a hearing aid. Like traditional cochlear implants, the hybrid version is worn outside the ear and converts sounds into acoustic and electric signals.
"The surgical implantation of cochlear devices is typically done on an outpatient basis, and usually with nonserious complications, aside from mild discomfort following surgery," said Northwestern Medicine otolaryngologist Alan Micco, MD, co-investigator of the study and chief of otology/neurotology at the Feinberg School of Medicine. "A few weeks following surgery, the activation process and fine-tuning take place to determine what audio thresholds work best for the individual, and sounds can usually be perceived shortly there-after."
Postactivation evaluations take place at 3, 6, and 12 months following the initial activation process to assess progress of the cochlear implant. An audiologist will also test the implant to determine if participants are able to understand words and sentences in noisy and quiet environments, as well as recognize music.
Northwestern reports that, so far, study patients appear to be very excited and encouraged by their experience with the implant and are hearing better.
HEARING AID FOUNDATIONS
ReSound Becomes Exclusive Provider for Help America Hear
Bloomington, Minn-based ReSound announced that it has partnered with the Foundation for Sight & Sound to provide hearing aids to Americans in need via its Help America Hear program.

In most US states, Medicare and Medicaid do not pay for hearing aids and neither do many insurance companies. Help America Hear was created in 2009 to assist hearing-impaired individuals with limited financial resources to afford the hearing care they need. Since then, 130 patients have reportedly received hearing aids through the program.
Mitch Shapiro, president of the Foundation for Sight & Sound, commented, "There's a lot of great charity work being done abroad, but so little here on American soil. Our partnership with ReSound is really a grassroots initiative to get hearing aids to those people who cannot afford to buy them."
Help America Hear relies on pro bono work from hearing professionals, whether it is participating in mission trips, fitting individuals with donated ReSound hearing aids, or simply nominating eligible patients for assistance.
To receive a hearing aid through Help America Hear, the individual must undergo a thorough screening process to ensure that all financial resources have been explored and exhausted. Shapiro interviews each candidate himself, reviews checkbook statements to determine spending habits, and requires the candidate to sign an affidavit stating that Help America Hear is a last resort.
For more information on how you can support Help America Hear, visit www.gnresound.com/helpamericahear.