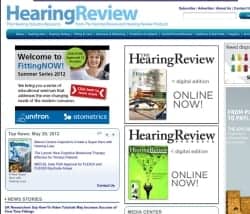 TOP NEWS and HEADLINES
New Imaging Device for Diagnosing Ear Infections
UK Researchers Identify Key Cellular Mechanisms for Onset of Tinnitus
Marvel Comics Inspired to Create a Super Hero with Hearing Loss
BHI Highlights Link Between Hearing Loss and Chronic Diseases During June's National Employee Wellness Month
Attending a Concert Caused 72% of Study's Teenagers to Experience Reduced Hearing Ability
Hearing Tech Patents Awarded to Lenhardt and Richards
SoundCure's Serenade Tinnitus Treatment System Launched
Prevalence of Hearing Loss in Older Adults Lower Than 40 Years Ago
HRI Has Record Attendance for 27th Annual Family Camp
The House Research Institute (HRI) 27th Annual Family Camp for children with hearing loss and their families is filled to capacity, setting an attendance record with families and counselors for the fourth straight year.
Marilee Potthoff, director of community education and outreach at House Research Institute, commented in the press statement, "Our record attendance really shows a growing demand for this type of family program. Our camp has a unique ability to bring families of all economic and cultural backgrounds and philosophies together in a reassuring atmosphere that often results in lifelong friendships and improved communications, both inside and outside the family unit."
Shortly after the first pediatric cochlear implants became available in the early 1980s, Dr Howard House recognized the need for families with children who had hearing loss to get together to learn and share ideas in a relaxed, safe environment. Many families come back year after year because the camp offers a comfortable forum in a supportive atmosphere that helps build self-esteem, friendships, and respect for each other's differences and decisions.
In addition to presentations for caregivers, the children experience a wide variety of group-oriented sports, educational, and creative expression activities throughout the weekend.
For more information and a full description of the events, visit HRI's Web site at www.houseresearchinstitute.org.
Registration Open for Phonak's Advances in Audiology Meeting
Phonak's clinical conference, "Advances in Audiology: Tomorrow's Solutions for Today's Challenges," is now open for early registration.
The 3-day conference will be held on December 2 to 5, 2012, at the M Resort in Las Vegas and will include two back-to-back sessions: "Innovation in Hearing Care for Adults" and "Latest Developments in FM and Soundfield."
The conference sessions will include information about the latest developments in auditory and cognitive functioning, factors in hearing instrument adoption and use, amplification for older adults, connectivity, and more.
Conference speakers will include Nina Kraus, Pam Souza, Jace Wolfe, Larry Humes, Joseph Montano, Sergei Kochkin, Theresa Chisolm, Susan Scollie, Kathy Pichora-Fuller, Harvey Dillon, Chris Lind, Imran Mulla, Debi Vickers, Sophia Kramer, and other international experts.
For information, details on poster submission, and to register, visit http://ow.ly/bnQMk
---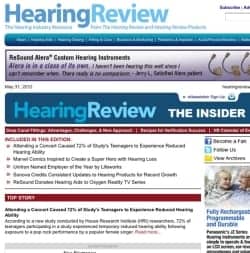 Get Your Weekly Edition of THE INSIDER
Every week The Hearing Review sends out THE INSIDER, a weekly FREE e-newsletter devoted to the top hearing-related news, research, product introductions, fitting topics, and marketing research stories that are influencing your business or practice, as well as the industry at large. [register]Sign up for your free subscription[/register].