Ninth Annual Oticon Audiology Summer Camp
Keystone, Colo—Approximately 80 graduate students from 30 universities attended the Oticon Audiology Summer Camp, which was held high in the Rocky Mountains, in Keystone, Colo, from July 29-August 3. Now in its ninth year, the Oticon Summer Camp has become known by students, and by the university professors who encourage them to attend, for its quality presentations that have a decidedly non-product-oriented focus—and for mixing a lot of Western-style fun into the program.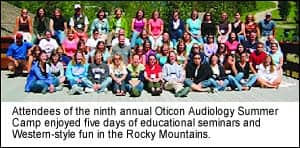 The program curriculum, created each year by Oticon VP of Audiology and Professional Relations Donald Schum and Senior Manager of Professional Programs and Events Henning Falster, deals primarily with "real-world audiology" questions—the many unexpected problems, opportunities, and dilemmas that are typically faced in clinical and private-practice work settings. The Summer Camp also reflects Oticon's Human Link philosophy that hearing instruments are only one part in a comprehensive treatment process for hearing loss. In addition to the many seminars from Oticon staff members, this year's events included two special presentations each from Ruth Bentler, PhD, of the University of Iowa, and Anne-Marie Tharpe, PhD, of Vanderbilt University.
Bentler, who has become known for her unflinching analysis of new hearing aid technology, presented an overview of the factors influencing the performance of directional microphone technology. In her discussion of the directivity index (DI), she noted that theoretical DI values for first-order directional microphones range from 4.8-6.0 dB, but when tested in free-fields the DIs range from 4.0-5.0 dB, and fall to 2.3-3.3 dB when measured on KEMAR. Although it should be made clear that all these values represent tremendous benefit for the patient (eg, >20% better word recognition in noise), it shows that how manufacturers and researchers report these values makes a big difference for clinicians who are trying to make comparisons during the selection of hearing aids and in setting proper expectations for patients. DIs obtained from polar patterns measured on KEMAR more closely approximate the SNR improvement experienced by a patient, Bentler says.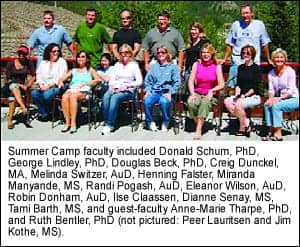 Tharpe, a well known expert in the area of hearing assessment for infants and young children who works at the Bill Wilkerson Center for Otolaryngology and Communication Sciences, presented excellent data on behavioral observation audiometry (BOA), the AAA Pediatric Amplification Guidelines protocol, and the use of ABR, TEOAE, and DPOAE in pediatric hearing screening. She also provided information about research on visual reinforcement audiometry (VRA) and promising work that suggests the use of DVD reinforcers may allow for additional threshold estimation.
Schum presented seminars on health care decision making in the real world, considerations in dealing with special fitting populations, issues and research related to speech perception, and fitting hearing aids on people with severe-to-profound hearing loss. Oticon VP of Sales Jim Kothe, MS, spoke about the hearing health care market and recent focus groups that were conducted to assess patients' perceptions of hearing care providers and hearing aids. Senior Education & Training Specialist Creig Dunckel, MA, offered sage, practical advice on the function and use of compression hearing instruments, and later Dunckel and Clinical Research Manager Randi Pogash, AuD, served as moderators for a lively session on career choices and perspectives for audiologists entering the workforce. A variety of hands-on workshops were also offered throughout the event.
The meeting was not all work. Attendees were treated to a variety of fun social gatherings and outings, including a dinner at a historic Western-style restaurant, a "Keystone Challenge" scavenger hunt and competition, a river rafting trip, a tour and cookout in a real gold mine, as well as free time to enjoy the breathtaking beauty of the Rocky Mountains and Continental Divide.
The 10th annual Oticon Audiology Summer Camp will be held in August 2007. Interested students should contact Donald Schum at (800) 526-3921; e-mail: [email protected]
Editor's Note: The following items were submitted by HR Contributing Writers Sugata Bhattacharjee, who is completing his AuD, and Beth Ann Jacques, who is completing her PhD at the University of Massachusetts at Amherst.
Phonak U 2006
Warrenville, Ill—Phonak-U 2006 was held from August 10-12 at Phonak USA headquarters in Warrenville, Ill. About 300 AuD students represented 54 different programs from around the country.
Students had the opportunity to choose from more than 60 classes. Topics ranged from case history and documentation to marketing high-end digital hearing aids. The program was designed to augment the experience gained in their educational programs and clinical rotations through a series of lectures, workshops, and "hands-on" experience with hearing aids, FM systems, cerumen management, and real-ear measurement equipment.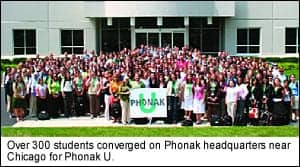 Students were welcomed by Phonak President Cathy Jones, and the educational program began with a keynote address by Robert Glaser, PhD, former president of the American Academy of Audiology (AAA). His foremost points included knowing when to collaborate, when to compromise, and when to stand on your professional ground.
Students were able to customize their experience by creating their own program schedule, with an array of course offerings available. Topics included issues in adult and pediatric amplification, hair cell regeneration, tinnitus diagnosis and treatment, vestibular diagnosis and treatment, aural rehabilitation, forensic audiology, ethics, and practice development. In addition, attendees participated in exercises designed to simulate real-world professional interactions, discussed interviewing skills, professional issues, and had the opportunity to improve their earmold impression and modification, hearing aid programming, and clinical verification skills.
Barry Freeman, PhD, also a former president of AAA, shared data and perspectives on realistic expectations for projected earnings by AuD-managed practices. Gyl Kasewurm, AuD, owner of Professional Hearing Services, St. Joseph, Mich, spoke on a wide variety of topics, including hands-on interactive tools for designing one's own practice, mapping for a successful future in business, and outstanding customer satisfaction and repeat business through "amazing customer service."
Catherine Palmer, PhD, explained why it is important to properly transform threshold and suprathreshold information to correctly fit and analyze the performance of hearing aids. She, along with Dennis Van Vliet, PhD, presented information on evidence based audiology—how to be a good consumer of research even if you are not directly engaged in research.
Is hair cell regeneration just like Rogaine for your ears? Richard Salvi, PhD, discussed the many complexities and specific challenges that he has faced as a researcher. His presentation, "Hair Cell Regeneration and Recovery of Function in Avian and Mammals," also spoke of physiological and psychoacoustical methods of assessment of inner hair cell function.
Flying for over 24 hours and defeating jet lag, Robert Sweetow, PhD, still managed to charge up the students with his lively presentations that covered topics from forensic audiology to LACE, a new aural rehabilitation program that he and his colleagues have created (see the sidebar in Jerry Yanz's article on p 33).
AAA Past-President Gail Whitelaw, PhD, discussed techniques for diagnosis and treatment of pediatric populations with auditory processing disorders. She also talked about her research and clinical experience with minimal hearing loss and educational outcomes of children. "Often minimal hearing loss is referred to as 'little hearing loss' which is the same thing as someone saying that they are a 'little pregnant'," Whitelaw says.
Joseph Smaldino, PhD, offered techniques used to improve classroom acoustics via assistive devices, and Tracy Murphy, PhD, presented a lecture on benign paroxysmal positional vertigo (BPPV) and vestibular rehabilitation. AAA President Paul Pessis, PhD, along with other past presidents, moderated the session "Ghosts of Christmas Past, Present and Future: the AuD and You." Presentations were also made by Drs. Rita Chaiken and Alan Freint.
The person behind the entire program was David Fabry, PhD, vice president of professional relations and education who served as the course director of Phonak U. Besides presenting on the use of real-ear measurements on open and closed fittings, consumer behavior, and cochlear dead regions, Fabry ensured that the students' time included both training and fun. Students also enjoyed time at the Brunswick Zone bowling and the Second City Comedy Theatre.
Next year's Phonak U will be held in August 2007. Interested students should contact David Fabry at (800) 777 7333 or e-mail: [email protected]
Starkey Student Focus Workshop
The 2006 Starkey Student Focus Workshop was held at the William F. Austin Center in Eden Prairie, Minn. Over 150 audiology students from across the country attended this four-day audiology education training event.
Starting off the experience was a hands-on pre-conference workshop in hearing aid modification, cerumen management, and impression taking.
The following days included various guest lecturers who shared their expertise with the students. Among them was Linda M. Thibodeau, PhD, from the University of Texas, Dallas, who spoke on the topic of hearing aid verification. Richard Seewald, PhD, from the University of Western Ontario Canada shared his knowledge on "The DSL Methods for Pediatric Hearing Instrument Fitting." His talk ranged from a historical overview to preferred practice guidelines for pediatric hearing aid fittings. Students enjoyed his in-depth analysis of the fitting process including assessment, selection, verification, and validation.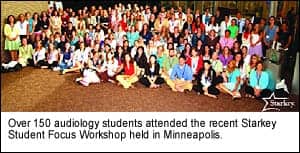 Other speakers included Tim Trine, PhD, chief technical officer of Starkey Labs, who spoke about directional hearing aids and evidence-based hearing aid design, particularly with reference to adaptive directionality. Shilpi Banerjee, PhD, and Debora Cowley of Starkey Laboratories illustrated the topic of feedback management, and private practice was brought to light by Patricia Lashway of Pacific Coast Hearing Center in Brookings, Ore.
From academic to clinical practice and now as a researcher in the hearing aid industry, Jerry Yanz, PhD, provided students with discussions on the future of hearing aid technology and improving patient counseling. In addition to the in-depth learning that took place during the day, the students were treated to a dinner cruise on Lake Minnetonka and an evening of shopping at the Mall of America. Musical entertainment at the residence of Starkey Laboratories CEO William Austin filled an evening in which students were serenaded with the karaoke talent of Steve Richards, regional sales director of the company. The hard work of Sarah Burdak, Laura Woodworth, and Kelly Simpson made the workshop events possible.
Students not only had the opportunity to learn more about audiology, but they were also able to meet many friends and future colleagues. In the words of Starkey VP of Sales and Marketing Brandon Sawalich, "The students are the future of audiology and Starkey is pleased to be a part of the education process."
Acknowledgement: The authors thank Kris Bongard, Heather Sauber, Jackie Larson, and Mark McCarthy for their help at this meeting.