Roger Radke Back at the Helm of Siemens Audiologische Technik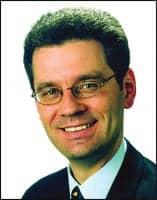 Roger Radke, PhD
Siemens AG has named Roger Radke, PhD, as the new executive in charge of Siemens Audiologische Technik (SAT), Erlangen, Germany, a business unit in Siemens' health care sector. From 2000 to 2004, Radke was head of SAT before being named CEO of Siemens Water Technologies in Warrendale, Pa. Current SAT CEO Stefan Schaller will assume new responsibilities within Siemens.
"The sector expects this appointment to further strengthen its global hearing instrument activities, particularly since Radke boasts wide-ranging experience and an excellent network in the industry due to his previous management position in Siemens' audiology area," Siemens said in a statement.
In February, Siemens hired industry veteran Brian Kinnerk to lead its US headquarters in Piscataway, NJ (see March HR).
Woelffler, Ashwell Named to Posts at Hansaton USA
Mike Woelffler has joined Hansaton USA, Plymouth, Minn, as a sales executive, and Kristen Ashwell has been appointed as professional services representative.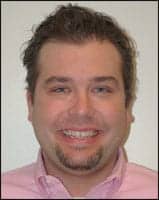 Mike Woelffler
Woelffer is responsible for sales across the United States for Hansaton, and he is charged with incorporating the company vision and mission into its sales strategies nationally as the organization grows. Before beginning his role with Hansaton USA, Woelffler held a variety of sales positions for a major hearing aid manufacturer. He has worked as an account manager and has built a reputation for integrity and work ethic among his peers, says the company.
"Mike is definitely the person I can depend on in this role to take the Hansaton USA message to the US market for the first time," says Bob Eastman, president and CEO of Hansaton USA. "I expect our momentum to continue to accelerate now that Mike is leading the charge."
Kristen Ashwell will be responsible for all aspects of customer service for Hansaton USA, including hearing aid fittings, software training, and order assistance. She has been a dispensing audiologist for the past 10 years, and holds a master's in audiology from the University of South Dakota.
"Kristen brings to the team a great combination of strong technical knowledge and a human touch that resonates with our customers," says Eastman.
| | |
| --- | --- |
| | |
| Kristen Ashwell | Betsy Weaver |
Ashwell's most recent experience prior to joining Hansaton USA was working in a clinical audiology setting performing hearing aid fittings and following up with patients. This is her first position on the manufacturing side of the industry.
House Ear Institute Names Betsy Weaver VP of Development
The House Ear Institute (HEI), Los Angeles, has appointed Betsy Weaver as VP of development, where she will focus full-time on fund-raising, with an emphasis on major-gift solicitation.
"We are pleased to have Betsy Weaver join the institute," said Jim Boswell, House Ear Institute CEO. "Betsy's experience and past success in fund-raising will bring added value to the institute's current development programs."
Weaver has more than 20 years of fund-raising experience. Most recently, she was the senior executive director of development at USC Davis School of Gerontology. Earlier, she held development positions at the Jonathan Club, Methodist Hospital Foundation, and the Los Angeles Children's Museum.
In addition to her fund-raising experience, Weaver has volunteered for numerous professional organizations and community nonprofits, such as the Association of Fundraising Professionals, Haven House, Junior League of Pasadena, and South Pasadena Educational Foundation.
In Passing: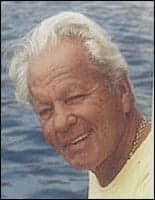 J. Byron Burton
J. Byron Burton
November 3, 1923 – January 30, 2010
By Pat Burton
I am writing to honor my father, J. Byron Burton, a long-time hearing industry professional, who passed January 30. In briefly telling his story, I hope that many people who remember him, and even those who don't, will be inspired to continue in the quest to help individuals with hearing loss—something he truly loved.
Byron Burton spent the beginning of his life commercial fishing. Around 1950, when he married and had children, he entered the hearing aid industry with his father who worked for Beltone as a sales manager. Some years spent with Beltone were followed by his ownership of several franchise offices. His success in the industry led him to becoming the first president of Siemens Hearing Instruments in the United States from 1966 to 1968, before briefly going into manufacturing on his own.
Soon after, he and his wife Marianne bought a small hearing aid office in Santa Ana, Calif, which he grew to become a very successful practice. I had the pleasure of working with him at Burton Associates for many years and being witness to some of his many successes—one of which included being the first person chosen to fit President Ronald Reagan. He was also appointed to the state Board of Medical Quality Assurance in California by Gov George Deukmejian, and was responsible for writing some of the original tests for hearing aid dispensing.
My father also helped bring the audiology and hearing dispensing communities together. Each year for a number of years, he hosted Thanksgiving parties in his rustic cabin in Idyllwild. By hosting these parties, he was able to blend his passion for fishing and the outdoors and would cook huge amounts for a large crowd of industry people. I was just a teenager at the time but got to know many great people in the industry. It was one of the things that enticed me to join the ranks as well. He truly loved the industry and would do anything to promote it.
In retirement he continued to help people as he could by collecting old hearing instruments and donating them to friends and neighbors in his community.
J. Byron Burton is survived by his wife, Marianne, and his sons, John, Dan, and me. He will undoubtedly be missed by many.