Siemens' Smallest RIC
Siemens Hearing Instruments, Piscataway, NJ, offers its latest and smallest RIC aid, the Pure SE. Using a 10A battery, Pure SE comes in a choice of two performance levels, and is enhanced with Siemens' BestSound Technology. It also includes Siemens features, such as FeedbackStopper, SoundLearning 2.0, SpeechFocus, SoundBrillance, Speech and Noise Management, and SoundSmoothing to help wearers hear in challenging listening environments. Pure SE's ergonomically shaped receiver units are available in different sizes for the left and right ear. Users can also choose from two special-edition, metallic-accented colorblocks.
(800) 766-4500
www.usa.siemens.com/hearing
---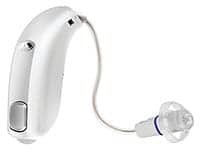 New Entry-Level Oticon Ino
Oticon, Somerset, NJ, introduces the Oticon Ino, a reliable, discreet hearing solution that delivers excellent value. The new entry-level hearing device is designed to meet almost any user's expectations for fast, accurate sound quality, wireless connectivity to communication and entertainment devices, and a wide selection of custom and BTE styles. Powered by Oticon's most advanced signal processing platform, RISE 2, Ino offers excellent sound quality, a rich and detailed sound picture, dynamic feedback cancellation, and an 8 kHz bandwidth.
(800) 526-3921
www.oticonusa.com
---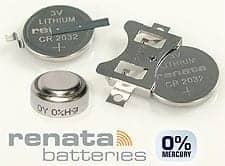 Renata Develops 0% Mercury Button Cells
Renata Batteries, Dallas, has released a new line of 0% mercury silver oxide batteries in advance of new regulations in various states. These batteries are used to power a wide range of devices, including hearing aids. On July 1, 2011, laws enacted by the states of Connecticut, Rhode Island, and Maine will become effective, making it illegal to sell devices powered by battery button cells that contain mercury, including all 1.4V zinc-air and 1.5V alkaline batteries, as well as 1.55V silver oxide batteries. Some 30 other states have also enacted or are proposing regulations addressing the use of mercury in batteries. For a complete description of Renata Batteries' 0% mercury battery product line, visit www.sykessler.com/watch/0-mercury.html.
(800) 527-0719
www.sykessler.com
---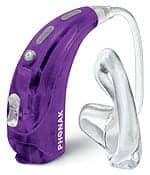 Phonak Completes Spice Generation with Naída S
Phonak, Warrenville, Ill, unveils the new Naída S at AAA, and reports that its new Spice generation is now complete. Phonak's power solutions for people with moderately severe to profound hearing loss have been enhanced with the new Spice technology with the fastest processing power, highest capacity, largest memory, and smallest size chipset in the industry, according to the company. Naída has now been further enhanced with the two signature features: SoundRecover and WhistleBlock. The Naída S is available in three performance and price levels, as well as two models (SP/UP), offering a broad product portfolio for people with significant hearing loss.
(800) 777-7333
www.phonakpro.com
---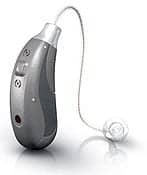 Rechargeable RIC Hearing Aid with 5-Year Battery Life
Hansaton USA, Minneapolis, has announced the AQ X-Mini at AAA 2011. The AQ X-Mini is the first device of its kind to combine a rechargeable system with Hansaton's RIC design and digital processing. The AQ X-Mini provides an operating time of 20 hours per charge with a charge time between 2 and 4 hours and a battery life of 5 years. An easy-to-use charge station uses inductive charging, eliminating electrical contacts, which have the potential to corrode and wear out. Users simply place the aid on the charge station. In addition, AQ X-Mini features a sealed battery compartment to reduce moisture ingress, extending the life of the hearing system, and increasing reliability by eliminating any chance of inserting the wrong battery.
(888) 984-7432
www.hansaton-usa.com
---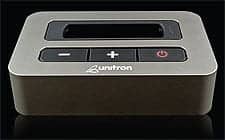 Television Streamer from Unitron
Unitron, Plymouth, Minn, is introducing uTV, a streaming device that makes it easy for clients to enjoy clear stereo sound quality from their TV, while their viewing companions can enjoy TV at a comfortable volume. With uTV, audio from the TV streams directly to hearing instruments via uDirect, another product that acts as a communications interface between the TV and the hearing instruments. uTV is reportedly an ideal value-added offering for clients who are considering, or already have, a wireless hearing instrument from Unitron.
(877) 492-6244
www.unitron.com