Scott Haug Audiology Retreat Celebrates 20th Year
Kerrville, Tex – The 20th anniversary meeting of the Scott Haug Hill Country Audiology Retreat will be held October 7-10 at Inn of the Hills in Kerrville, Tex. A staple of audiologists' educational pursuits for two decades, the event has become well known for its quality presenters, fun events, and laid-back country atmosphere. This year's event will feature talks by Todd Ricketts, PhD—"Adrift in a Sea of Product Specific Terms: What Can I Really Expect from DSP?"; Marlene Bevan, PhD.—"Creating a Marketplace for Tomorrow's Consumers"; Carol Flexer, PhD—"Using Technology to Enhance Listening, Language, and Literacy in the Classroom: That's Our Job!"; and Steven Smith, AuD—"Diagnostic/Innovative Audiology".
The Scott Haug Foundation was started in memory of clinical audiologist and educator Scott Haug who died unexpectedly in 1994. For more information, visit www.scotthaug.org.
---
AHAA Holds Annual Convention
Las Vegas – The American Hearing Aid Associates 9th annual convention drew a record 400 AHAA associates and convention exhibitors. Nearly 40 educational sessions focused on the convention theme: "Making Successful Practices Better." Program topics covered all aspects of managing a practice, including staff motivation and training, avoiding practice burnout, business valuation, dealing with "tested-not-solds," and marketing advanced testing to physicians.

Speakers included Ed Aleo, PhD, who covered effective patient counseling; Paul Pessis, AuD, who discussed insurance reimbursements; and Alan Frient, MD, who presented a process for creating close relationships with ENTs. Associates were very interested in "best practices" of their peers, and several sessions featured AHAA associates sharing their experiences for keeping marketing fresh, creating and running in-office repair centers, and partnering with nursing homes.
AHAA officially introduced its new fitting tool, Life's SoundSuite, which allows patients to "test drive" hearing instruments in simulated environments that give them the most difficulty. Each year at its convention, AHAA recognizes outstanding marketing efforts of its associates. This year, Lyle Johnson, BC-HIS, owner of Sound Advice Hearing Centers, Salisbury, Md, received top honors for 2003 for his practice's local advertising programs. For more information, visit www.ahaa.net.
---
Elton John Headlines Starkey Foundation Gala

Rock legend Sir Elton John and William Austin, CEO of Starkey Laboratories and founder of the Starkey Hearing Foundation.
St. Paul, Minn – An all-star cast of celebrities from many fields were on hand in July as the Starkey Hearing Foundation sponsored their annual awards gala to recognize individuals who have made significant contributions to humanity and who appreciate the importance of helping the world to hear. This year, the "So the World May Hear" 2004 Awards Gala honored international musician, composer, and performer Sir Elton John, talk show host Sharon Osbourne, actor Leslie Nielsen, and Floyd "Red Crow" Westerman. Also on hand were astronauts Scott Carpenter and Gordon Cooper, Lorraine Bracco, Robert Culp, Abby Dalton, Bob Feller, Lou Ferrigno, Peter Graves, Whitey Herzog, Star Jones, George Kennedy, Hal Linden, Marlee Matlin, Sam Moore, Mickey Rooney, Johnny Rutherford, Al Unser, Sr., and the Gold Medal-winning 1980 U.S. Olympic Hockey Team. Comedian Norm Crosby served as Master of Ceremonies for the Gala.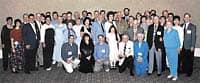 Starkey Laboratories CEO William Austin (r) and wife Tani share a moment at the Starkey Hearing Foundation Gala with Elton John and Sharon Osbourne at the annual Starkey Hearing Aid Foundation Gala.
"We believe strongly in doing our part to make the world a better place—as do this year's honorees," said William Austin, CEO of Starkey laboratories and founder of the Starkey Hearing Foundation. "It's magical to see children's faces light up when they hear again." All of the proceeds from the Gala go to support the Starkey Hearing Foundation and its mission of promoting hearing health awareness, providing hearing aids for the needy, and supporting hearing research and education. The money raised is spent supporting the Foundation's international mission trips and its domestic program, Hear Now, through which the Foundation helps the underprivileged children. Austin created the Foundation in 1978. He and team members travel several times a year on missions to fit children and adults needing hearing aids. Since 2000, the Foundation has donated more than 100,000 hearing aids on nearly every continent of the world.
This year's Gala, which drew more than 1,500 attendees from across the globe, raised a record $2.7 million and featured a special performance by Sir Elton John as well as rousing sets from actress/singer Nita Whitaker and rising star Gavin DeGraw. See the upcoming issue of HR for more information on the Starkey Hearing Foundation and this year's gala.