Education
AG Bell, Los Angeles Organizations to Support Oral Education in LA Unified School District

The Alexander Graham Bell As­sociation for the Deaf and Hard of Hearing, Washing­ton, DC, has launched a program in collaboration with four Los Angeles area nonprofit organizations to support auditory/oral education for children who are deaf or hard of hearing in the Los Angeles Unified School District (LAUSD). The pilot program will provide teacher training and parent education courses, expand auditory and speech-language therapy, and offer comprehensive audiology services at the Saticoy Elementary School oral program for children with hearing loss in North Hollywood, Calif. LAUSD plans to replicate the program at additional schools.
The LAUSD program will enable children who are deaf or hard of hearing from diverse backgrounds to learn to listen, talk, and achieve academic success on par with their hearing peers. John Tracy Clinic, Echo Horizon School, Oralingua School for the Deaf, and No Limits for Deaf Children—Los Angeles organizations specializing in spoken language education—will support the LAUSD program by sharing their resources and professional expertise.
Students Awarded Otoscopes for Being 'Clued in to Audiology' History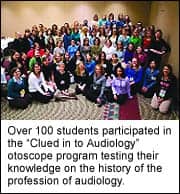 Over 100 AuD students participated in the Audiology Foun­dation of America's new "Clued in to Audiology" otoscope program, which tested the students' knowledge of the history of their profession.
Students were asked to read four articles detailing in­formation on the history of the AuD and audiology's transition to a doctoring profession. They were then required to pass a short quiz on the material before being awarded an otoscope. Nine students at AT Still University/Arizona School of Health Sciences acted as test subjects for this debut program. After incorporating their comments and feedback, the program was opened to all third-year AuD students in four-year AuD programs.
Seventy-eight NAFDA students participated in the program and received their otoscopes from AFA Director/Treasurer Veronica Heide, AuD, during a special presentation at the annual NAFDA luncheon at this year's AAA convention. At the same time, the AFA was presented with a "Friend of NAFDA" award in recognition of its support of students.
In addition to NAFDA participation, 19 other AuD students around the country completed the program requirements, and will receive their otoscopes individually or at such events as AFA-sponsored white coat ceremonies.
Funding for the program was provided by the Hal-Hen division of Widex, which supplied over $11,000 in otoscopes in support of the AFA and AuD education.
Publications
New eGuide Addresses Hearing Aid Information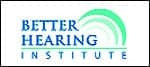 The second in a series of eGuides is available from the Better Hearing Institute, and is titled "Your Guide to Hearing Aids." This Guide, written by Gus Mueller, PhD, Ruth Bentler, PhD, and Sergei Kochkin, PhD, covers the following topics: hearing aids and quality of life, hearing aid technology, the binaural advantage, optimizing the hearing aid experience, expectations, and myths about hearing aids. Also included are images of thin-tube BTEs, and some images from the planned PBS documentary to create a publication highlighting the quality of life aspects of better hearing, and the science and technology of modern hearing aids.
To download and view the eGuide, visit www.better­hearing.org/press/free.
Internet
New Web Site Allows Audiologists to Network

Audiology.com unveiled a new Web site to coincide with the 2006 American Academy of Audiology convention in Minneapolis in April. This new Web site—with more than 600 members already—was developed to serve as a marketplace and meeting place for audiologists and other hearing care professionals. Users can read about the latest technologies available, purchase products directly from vendors, rate those products purchased, post and read messages in professional forums, investigate resources for developing a current business, and search for employment openings. These online services are offered at no charge to hearing care professionals. For more information, visit www.audiology.com.
Web Site Helps Ease Ordering Marketing Materials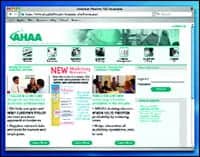 American Hearing Aid Associates (AHAA), West Chester, Pa, launched a new Web-based marketing service for the associates of its nationwide network. As­sociated can now order promotional materials online through the company's Web site, www.ahaabizlink.com.
More than 100 new pieces have been added to the site, and more pieces are added every month.
In addition to ordering materials online, associates can give AHAA's marketing staff instructions for customizing, order a Quark file, or download a PDF. They may also e-mail questions directly to the marketing department.
Awards
Oticon Delta Wins Red Dot Award for Design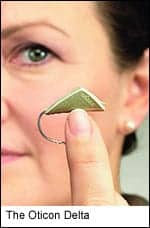 Oticon Inc announces that a distinguished panel of international jurors awarded the Red Dot Award for superior design quality and innovative design to the company's new Oticon Delta hearing instrument, which was among the top designs selected from over 5,000 entries for the award.
The Oticon Delta features a triangular design with sleek lines, "hot" colors, a brushed metallic surface, and houses state-of-the-art digital technology aimed at boosting hearing clarity for a newer, younger generation of hearing aid users with mild to moderate hearing loss.
The Red Dot Awards program was created in 1991 by the Essen Design Zentrum Nordrhein Westfalen to honor outstanding design quality. For more information, contact Oticon, (800) 526-3921; www.my-delta.com.
Events
James Jerger to Present Keynote Address at 6th Biennial Audiology Symposium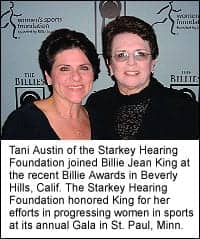 The Cleveland Clinic will be hosting its 6th Biennial Audiology Symposium, Innovations in Hearing, on August 4-5, 2006. The Guest of Honor, James Jerger, will present the keynote address focusing on milestones in audiology. Other featured presenters include Faith Akin, Ruth Bentler, Darla Franz, Michael Gorga, James Henry, Theresa Hnath Chisolm, Gary Jacobson, and James Kaltenbach. For more information, contact (216) 444-5370.
Celebrities Participate in Starkey's 2006 'So the World May Hear' Awards Gala
The Starkey Hearing Foundation, Eden Prairie, Minn, hosted its annual "So the World May Hear" Awards Gala on June 17, 2006, at the RiverCentre in St. Paul, Minn. The star-studded event, which last year raised $4.2 million, serves not only to raise funds to support the Foundation and its international hearing mission trips, but also to recognize individuals who have made significant humanitarian contributions.
Performing at this year's event were Grammy Award-winning musicians John Mellencamp, Petula Clark, and Dionne Warwick. The Foundation also honored eight exemplary individuals: racing legends Richard Petty, Johnny Rutherford, Sir Jackie Stewart, and Al Unser,Sr.; tennis legend Billie Jean King; baseball Hall of Famers Harmon Killebrew and Willie Mays; and Twin Cities businessman and philanthropist Glen Taylor.
All proceeds raised from the Gala support the Starkey Hearing Foundation and its mission of promoting hearing health awareness, providing hearing aids for the underprivileged, and supporting hearing research and education. Since 2000, the Foundation has provided more than 150,000 hearing aids to those in need around the world.
For more information, visit www.sotheworldmayhear.org.
Hearing Healthcare Providers of Utah 2006 Convention

The Hearing Healthcare Providers of Utah will hold its annual convention in Salt Lake City on September 29-30, 2006. The theme of this year's convention is "Professionalism and Integrity." For more information, contact Robert Heygster at (801)485-1441; [email protected]
Financing
Study Shows Financing Influences Patient Purchases
A new market research study conducted by Inquire Research sponsored by CareCredit, Costa Mesa, Calif, has revealed the positive impact offering payment options can have on patient purchase behavior.
Every hearing professional has had a prospective patient leave the office without purchasing a hearing device. The fundamental reason for their failure to buy a device is the lack of purchasing power. Patient payment plans provide patients the additional purchasing power they need to accept the hearing professionals' recommendations.
The study's key findings revealed:
Patients seek a higher level of technology when a patient payment plan is available.
In the absence of a payment plan, patients expect the practice to function as the financing company by billing the patient monthly.
Patients stop shopping when a payment plan is offered. On average, patients who are offered a low monthly payment option visit 1.5 practices before making a purchase decision.
"The fact that 89% of the respondents surveyed stated that financing is of value to them illustrates how beneficial these payment options can be in helping more patients improve their hearing health," says Paul Findly, director of marketing for CareCredit.
For more information on CareCredit, or to obtain a copy of the study results, contact (800) 300-3046, ext 4519; [email protected]