Donation
Miracle-Ear Children's Foundation to Distribute 1,000 Hearing Aids to Needy Children
Miracle-Ear® Children's Foundation, Plymouth, Minn, a 501(c)(3) nonprofit organization, has announced an ambitious plan to distribute approximately 1,000 free hearing aids to children in need across the country—representing up to a 500% increase over the number of hearing aids the Foundation has distributed annually in the past.
The substantial growth in donations is being made possible through the Foundation's partnership with hearing aid manufacturer MEMSI and contributions from Miracle-Ear Center franchises, which were collected during the franchises' June 2006 annual convention.
To help these young people and their families, Miracle-Ear Children's Foundation works in cooperation with local Miracle-Ear Centers nationwide to provide free hearing aids, services, and support materials.
Marketing
Huey Lewis and Oticon DELTA Show Consumers It's 'Hip to Hear'
To help hearing care professionals introduce Oticon Delta to a new generation of users, Oticon Inc, Somer­set, NJ, wanted a marketing campaign that would convey a fresh, hip new attitude about hearing care solutions.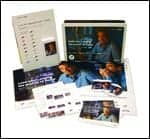 Enter rock icon Huey Lewis, founding member of the Grammy Award-winning Huey Lewis and the News, whose own positive experience with Delta made him a natural and enthusiastic spokesperson for the new hearing instrument. The resulting campaign features a range of practice marketing materials from posters and brochures to postcards and a desktop display, all created to communicate Delta's unique design and state-of-the art technology.
"This is the first time Oticon has enlisted a celebrity spokesperson for our products," says Oticon President Peer Lauritsen. "Early feedback from media coverage tells us that Huey and his Deltas resonate with people of all ages—prompting interest in Delta and re-energizing the hearing solutions market."
Business
MedRx Inc Receives ISO Certification
MedRx Inc, Largo, Fla, has been awarded International Organization for Standardization (ISO) 13485 certification for its corporate manufacturing headquarters. ISO 13485:2003 specifies requirements for a quality management system where an organization needs to demonstrate its ability to provide medical devices and related services that consistently meet customer requirements and regulatory requirements applicable to medical devices and related services. This accomplishment opens the door to international trade for the company and ensures that there are quality manufacturing, assessment, and processing systems in place which ensure consistency regardless of where the products are exported and sold.

Avada Hearing Care Centers Opens Sales and Marketing Office
With nearly 200 offices nationwide, Avada Hearing Care Centers, Louisville, Ky, a subsidiary of Hearing Health­care Management (HHM), has opened its sales and marketing office in Louisville. This office will consolidate all efforts and activities that were previously conducted in various locations nationwide.
The sales and marketing team currently plans, develops, distributes, and supports a variety of marketing programs tailored to promote national growth for the Avada Audiology dispensing group.
"The sales and marketing team, in addition to supporting the nearly 200 company owned locations, is positioned to support the needs of our current venture, the Avada Members Group, which is a business management and support program designed for national independent hearing instrument dispensers," says Steve Barlow, Avada CEO and chairman of the Board of Managers of HHM.
Events
HRF to Host the Intl Adult Aural Rehabilitation and the Intl Sensory Aids Conferences in May
The Hearing Rehabilitation Foundation (HRF) will host the Fourth International Adult Aural Rehabilitation Conference in Portland, Me, from May 14-16, 2007.
Immediately following the conference, the HRF will host the Ninth International Sensory Aids Conference (ISAC) on May 17, 2007. This conference offers participants the opportunity to catch up with the latest trends and advances in sensory aid development and use.
If you wish to present a paper on your work at either conference, submit a brief abstract (maximum of 500 words) for consideration by no later than October 31, 2006. The abstract should the typed (Arial 12 point), double spaced, and include the following information: the title of the paper; author(s) name(s); author(s) affiliations(s), including name and address of institution/facility/company; contact person's information, including postal address, e-mail address, and telephone number; a brief outline of the work to be presented in the paper; length of paper presentation; and conference for which the paper is proposed.
Abstracts should be sent to [email protected] or The Hearing Rehabilitation Foundation, 35 Medford St, Somerville, MA 02143.
For registration information on either conference, contact the Hearing Rehabilitation Foundation at [email protected] or visit www.hearf.org.