TOP NEWS and HEADLINES in May
Sen Harkin Reintroduces Hearing Aid Tax Credit, Expands Coverage
Age-Related Problems in Recognizing Words Forecast by Brain Differences
Unitron Introduces Hearing Test Application for iPhone
Researchers Coax Brain Cells To Mimic Inner Ear Sensory Cells
Backers of Hearing Aid Tax Credit Headline Hearing on the Hill
Avada'fs Quarterly Executive Meeting Focuses on Best Practices
iHear Medical To Develop New Hearing Aid Platforms
Oticon Boosts Support of Marion Downs Lecture in Pediatric Audiology
Mouse Used To Understand Cause of Progressive Hearing Loss
ENTs Say Children, Teens at Risk for Noise-Induced Hearing Loss
Program Improves Language Skills in Deaf, Hard of Hearing Children
Representatives Carolyn McCarthy (D-NY, pictured above) and Vern Ehlers (R-Mich), who cosponsored HR1646, addressed attendees of Hearing on The Hill held in May.

Hearing Aid Tax Credit Expanded; Hearing On The Hill Held in Washington. Senator Tom Harkin (D-Iowa) reintroduced Hearing Aid Tax Credit legislation in the Senate (S1019) that would expand coverage to people of all ages who have hearing loss, according to the Hearing Industries Association (HIA). Hearing Aid Tax Credit legislation in the House (HR1646), introduced in March by Representative Carolyn McCarthy (D-NY), has already attracted 70 cosponsors—11 of whom are members of the House Ways and Means Committee. Medicare expressly excludes coverage of hearing aids, as do most private insurance policies, and as a result, cost is cited as a prohibitive factor by two-thirds of the people who do not treat their hearing loss, according to HIA. The Hearing Aid Tax Credit would provide assistance to many of the 32 million people who need hearing aids to treat their hearing loss. If enacted, S1019 would provide a $500 tax credit per hearing aid every 5 years for all people purchasing a hearing aid. The House legislation would provide a credit for children and people ages 55 and older. "With the reintroduction of the Senate bill, the Hearing Aid Tax Credit coalition has come closer to finally addressing the need for financial assistance for people who need hearing aids," says HIA Chair Jerry Ruzicka. "To gather support for both bills, HIA brought together manufacturers, professionals, and the people and parents who depend on our technology—all of whom agree that a tax credit for hearing aid purchases is the best way to improve access." The hearing health community has formed a coalition to focus Congressional attention on the importance of hearing health and the burdens associated with the lack of financial assistance for treatment. The measure is actively supported by virtually every hearing-related professional and consumer organization. On May 13, HIA held its semi annual Hearing On The Hill event to meet with more than 80 Congressional offices to gather further support for the tax credit. The legislation has attracted grassroots attention, with people nationwide sending more than 25,000 e-mails and letters to their elected Members of Congress in 2008 via www.hearingaidtaxcredit.org, according to the HIA. For more information, see this month's special supplement in HR.
Estrogen controls how brain processes sound. Scientists at the University of Rochester have discovered that the hormone estrogen plays a pivotal role in how the brain processes sounds, according to the university. The findings, published in the May 5 issue of The Journal of Neuroscience, show for the first time that a sex hormone can directly affect auditory function, and point toward the possibility that estrogen controls other types of sensory processing as well. Understanding how estrogen changes the brain's response to sound, say the authors, might open the door to new ways of treating hearing deficiencies. "We've discovered estrogen doing something totally unexpected," says Raphael Pinaud, assistant professor of brain and cognitive sciences at the University of Rochester and lead author of the study. "We show that estrogen plays a central role in how the brain extracts and interprets auditory information. It does this on a scale of milliseconds in neurons, as opposed to days, months, or even years in which estrogen is more commonly known to affect an organism." Previous studies have hinted at a connection between estrogen and hearing in women who have low estrogen, such as often occurs after menopause, says Pinaud. No one understood, however, that estrogen was playing such a direct role in determining auditory functions in the brain, he says. "Now it is clear that estrogen is a key molecule carrying brain signals, and that the right balance of hormone levels in men and women is important for reasons beyond its role as a sex hormone," says Pinaud. The research team demonstrated that increasing estrogen levels in brain regions that process auditory information caused heightened sensitivity of sound-processing neurons, which encoded more complex and subtle features of the sound stimulus. Perhaps more surprising, says Pinaud, is that, by blocking either the actions of estrogen directly or preventing brain cells from producing estrogen within auditory centers, the signaling that is necessary for the brain to process sounds essentially shuts down. Pinaud's team also showed that estrogen is required to activate genes that instruct the brain to lay down memories of those sounds.
---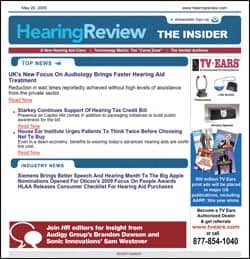 Want the inside scoop?
Every week The Hearing Review sends out THE INSIDER, a weekly FREE e-newsletter devoted to the top hearing-related news, research, product introductions, fitting topics, and marketing research stories that are influencing your business or practice, as well as the industry at large. [register]Sign up for your free subscription[/register].
HIA Meets to Discuss "The Consumer Connection"
| | |
| --- | --- |
| | |
| Brenda Lonsbury Martin, PhD, received the President's Award from AAA President Patrick Feeney, PhD, for her work in organizing the Academy Research Conference on the topic of OAEs. | Richard Miyamoto, MD, (middle) presented the annual AAA Foundation Marion Downs Lecture in Pediatric Audiology sponsored by Oticon. Pictured with Dr Miyamoto is (left to right) AAAF President Brad Stach, PhD; Donald Schum, PhD, Oticon; Marion Downs, DHS; AAAF Director of Development Kathleen Devlin Culver, and Henning Falster, Oticon. |
Dallas, Tex—The 21st annual American Academy of Audiology Convention brought 3,445 audiologists and a total of 6,156 attendees to Dallas for the 4-day event. Among the most surprising announcements at the conference was that the American Academy of Otolaryngology-Head and Neck Surgery had smoothed out differences regarding AAA's key legislative initiative to allow Medicare patients direct access to audiology services without a physician's referral. AAO-HNS had previously opposed the Direct Access Bill. Although details of the new compromise language were not made public, AAO-HNS President David Kennedy, MD, told the General Session audience that an improved level of trust between leadership in the two organizations led to a tentative agreement in the wording on the bill, but it would not change the current scope of practice for the two professions. He said that AAA and AAO-HNS board were also renewing discussions on the topics of audiology assistants, automated audiometry, and the Red Flag system. Among several other developments, AAA President M. Patrick Feeney, PhD, announced the formation of the new Student Academy of Audiology (SAA), which will replace the National Association of Future Doctors of Audiology (NAFDA). For more on AAA Convention highlights and honors, see the June online edition of HR News.