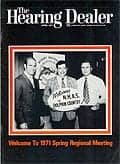 Hearing Dealer,
March '71
40 Years Ago in April 1971. The Hearing Dealer's front cover featured National Hearing Aid Society (now IHS) Spring Regional Meeting Chairman Tom Coursen (in center) with the Miami Dolphins football player Dick Anderson and Coach Don Shula. (The Dolphins posted a 10-3 record in 1971 but lost to the Dallas Cowboys in the Super Bowl; they would go on to have the NFL's only perfect winning season in 1972.) Lawrence (Larry) Posen of Beltone wrote an article that chronicled the industry's quest for miniaturization, transistors, transducers, and batteries. Charles K. Apel of Knowles Electronics detailed the development of microphones used in hearing aids with special emphasis on the ceramic piezo-electric mic. In the news, Maico audiometer pioneer Arne Darbo—who had been responsible for the 1939 introduction of the audiometer in the United States—announced his retirement. Alfred Dunlavy received a special award from Mallory Battery Co for 35 years of exceptional service to people with hearing loss, and James Francis Jerger, PhD, of Baylor University College of Medicine received the Beltone Institute Annual Award for outstanding contributions to the field of hearing research.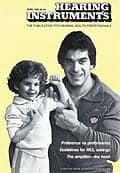 Hearing Instruments, April 1981
30 Years Ago in April 1981. This issue of Hearing Instruments magazine featured a front-cover photo of Better Hearing and Speech Month Spokesperson Lou Ferrigno (The Incredible Hulk) and that year's posterchild. It also featured an article by R.A. Gibbons and W.A. (Bill) Cole of Linear Technology Inc titled "The Amplifier as the Heart of the Hearing Aid" (Cole would go on to establish Etymonic Research/Audioscan, as well as be a co-inventor of the K-Amp). An article by David V. Reynolds addressed guidelines for establishing the most comfortable loudness level (MCL) and noted that Robyn Cox would be presenting an article in HI on this topic based on a 1980 ASHLA (now ASHA) conference. In the news, Electone VP of sales announced that Frank Robilotta was appointed assistant sales manager, and Dahlberg Electronics announced the opening of an in-house custom earmold lab.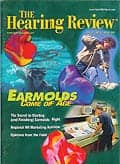 Hearing Review,
April 2001
20 Years Ago in April 1991. The March edition of Hearing Instruments demonstrated that the industry was racing toward greater control of hearing aid response with advertisements about the Widex Quattro, Ensoniq Sound Selector, Argosy Linear Plus and Manhattan II ASP, Otosonic Oto-graph, and Danavox K-Amp System, to name a few. Janet Endo, Teresa Lake, William McFarland, and Robert Sandlin published an article titled "Self-Assessment of a Programmable BTE Hearing Instrument System" and C. Mike Hall and Elise Jacobs presented an article on a digitally programmable full dynamic range hearing device (ReSound Personal Hearing System).
10 Years Ago in April 2001. HR's cover story was by Chester Pirzanski on "Factors in Earmold Style Selection: Starting (and Finishing) Right." The issue also contained articles by Bud Majest and Cynthia Ellison about how to use the new ICRA signals in hearing aid fittings; why events of the 1970s completely reshaped hearing aid marketing by Steve Walsh; and what kind of advantages are posed by pursuing the new Doctoral Degree in Audiology by Linda Remensnyder. In the April 2001 HR News, GN ReSound opened their new headquarters in Bloomington, Minn, and Energizer announced the launch of what it called the first mercury-free battery for the European market.