Programs
Amplifon USA Hosts 22nd Greenhouse Training and Professional Development Program
Amplifon USA recently concluded its 22nd Greenhouse Training and Professional Development program. Twenty-seven hearing professionals took part in the week-long session from May 1-7, 2006.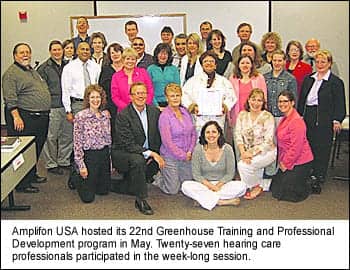 The Greenhouse program seeks to improve the quality of care by hearing professionals by bringing them together and exposing them to all facets of the hearing health care industry. A variety of workshops and courses are offered, educating participants on hearing technology, practice management, and patient care topics.
Financing
CareCredit Offers Help to Reduce Patient Cost Concerns
Since its initial launch into the audiology market 4 years ago, CareCredit® has proven to be an option for many practices when it comes to convenient patient payment plans. Because of CareCredit, practices are helping more patients improve their quality of life by getting better hearing aid technology, reports the company.
Having patients accept optimal hearing is the goal of every practice. By offering CareCredit's wide range of No Interest and Low Interest payment plans, practices are overcoming patient cost concerns by providing a low, monthly payment option. This not only positively influences how patients feel about their hearing care professional, but also encourages the acceptance of the hearing professional's recommendations.
Patients, given the opportunity to pay with CareCredit, reportedly consider the program an important value-added service. CareCredit not only helps increase patient satisfaction and lessen returns, but research shows that, when a payment plan is offered by a practice, many patients stop shopping around. For more information, contact (800) 300-3046.
Events
Cleveland Clinic to Host 6th Biennial Audiology Symposium
The Cleveland Clinic will be hosting its 6th Biennial Audiology Symposium, "Innovations in Hearing", on August 4-5, 2006, in Cleveland. The guest of honor, James Jerger, will present the keynote address focusing on "Milestones in Audiology." Other featured presenters include: Faith Akin, Ruth Bentler, Darla Franz, Michael Gorga, James Henry, Theresa Hnath Chisolm, Gary Jacobson, and James Kaltenbach. For more information, contact (216) 444-5370.
Siemens to Host 2nd International Pediatric Workshop

Siemens Hearing Instruments will be hosting its 2nd International Hands-On Pediatric Workshop on August 2-4, 2006, in Nuremburg, Ger­many. Mar­lene Bagatto from the University of West­ern Ontario, Canada, and Leisha Eitan, from Boys Town National Research Hospital, Omaha, Neb, will be presenting and training on the latest diagnostic and fitting methods for infants and children. Additional topics include diagnostics, RECD, selection and fitting of hearing instrument technology for infants and children, hearing instrument verification and validation, and FM theory and fitting. For more information, contact Carolyn Smaka at (800) 766-4500; [email protected]
Contest
Seventh-Grader Submits Winning Name for Audina's New Mascot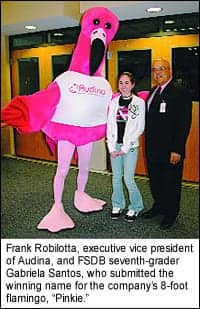 Audina® Hearing Instruments Inc Exe­cutive Vice President Frank Robilotta, along with the company's mascot "Pinkie," visited the Florida School for the Deaf and the Blind (FSDB), St Augustine, Fla, to present seventh-grader Gabriela Santos with an award during a student assembly. Gab­riela submitted the winning name for Audina's new company mascot—an 8-foot flamingo—during a contest sponsored by the company for all students of the school.
The month-long "Name the Flamingo" contest invited students to submit names for the bright pink flamingo that will be traveling around the country, attending hearing industry conventions and conferences to represent the company.
Audina employees voted on the students' entries. Robilotta says Gabriela's entry, "Pinkie," is a name that will represent and identify Audina in its national and international marketing campaigns. In appreciation for her creativity and imagination, Gabriela received an i-Pod Nano with accessories, and a certificate of appreciation from Pinkie during the student assembly.
Also at the assembly, Robilotta presented FSDB with a check for the school to purchase needed items from the school's "Wish List."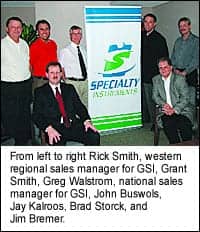 Awards
GSI Working with Specialty Instruments
GSI announces that it has been working with its new Midwest distributor, Specialty Instruments Inc, one of the fastest growing distributors in the United States.
Books
Paperback Details the Affects of Hearing Loss on Children, Families
Auricle Ink Publishers, Sedona, Ariz, has released a new title, Children with Hearing Loss—A Family Guide. It is a 192-page book for patients of practitioners edited by David Luterman, DEd, professor emeritus at Emer­son College, Boston, and dir­ector of the Thayer Lind­sey Family Cen­ter­ed Nur­sery for Hearing Impaired Children.
A complementary abridged edition is available through Oticon Inc, ac­companying high-end hearing aids for children.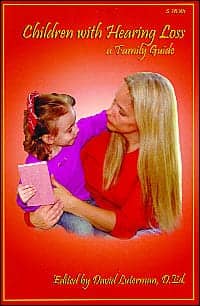 The book was written for parents, siblings, and extended family members who want a better understanding of the impact hearing loss can have in their young loved one. This book is a guide on how to address the most important educational issues and processes through the school years, including legal rights and legislation. It also addresses the profound emotional impact hearing loss can have on a child, how it can affect the entire family dynamic, and what to do about it. For more information, visit www.hearingproblems.com; (928) 284-0860.