Cochlear implants deemed cost-effective in JAMA
A recent article in the Journal of the American Medical Assn. (JAMA, Aug. 16) shows that, in a cost-benefit analysis of cochlear implants in deaf children, the approximate $40,000 expense for the implant devices, surgery and follow-up services are well worth it. While the news should come as little surprise to hearing care professionals, the article may lend more support for the value of implants.
The authors, led by researcher Andre Cheng of Johns Hopkins Univ., considered the cost of the procedure and possible complications against the savings like special education costs. They estimated that the benefits of cochlear implants amounted to a lifetime savings of $53,198 per child. The study was based on surveys of 78 parents who were asked to assess CI benefits for their children.
---
Ultratec wins Research/Science Park Award
Madison, WI — The Assn. of University-Related Research Parks (AURRP) awarded Ultratec Inc. with the Research/Science Park Company of the Year award and recognized the company's growth, technological innovation and commitment to the community. Ultratec reportedly works closely with departments of the Univ. of Wisconsin-Madison to make technologies accessible to people with different types of disabilities. The international award was presented at the AURRP 15th Annual Conference in Boulder, CO.
"Ultratec is one of the great pure examples of technology transfer coming from university research," says Mark Bugher, director of the University Research Park. "The significant public benefit of its products is something we're very proud of."
"Continually researching, developing and applying new technologies has been integral to Ultratec's mission," says Robert M. Engelke, president and founder of the company. "Our long-standing relationship with the Univ. of Wisconsin, a prestigious research university, has proven to be a great asset to Ultratec."
---
Did your state make the grade?
NCHH updates "May Babies" report card
Washington, D.C. —The May 2000 issue of The Hearing Review (pgs. 42-44) reported on the National Campaign for Hearing Health's (NCHH) State Report Card on universal newborn hearing screening (UNHS) programs. In an effort called "May Babies," the NCHH stated as its goal to increase newborn hearing screening by 50%. A lot has changed since the implementation of the program. For example, a recent grant of $3.1 million from the maternal and Child Health Bureau has spurred some states to more UNHS activities, while others have been left behind.

The following represents a summary of the NCHH's new report card on each state's progress, showing the percentage of babies screened in Nov. 1999 versus the percentage screened in May 2000. A rating of excellent means over 95% of babies were screened and a statewide system for coordination, training, quality assurance and follow-up has been established. A rating of good means 50-95% of babies are screened, and systems for the above are being developed. A rating of fair means 25-50% of babies are screened, and statewide efforts exist, but as of yet, no system is in place, while a rating of unsatisfactory indicates that less than 25% of babies are screened and no statewide screening efforts have been coordinated. Those states that have UNHS legislation on the books are in boldface, those with legislation pending are in italics. (Ed. Note: Numbers rounded to the nearest whole number.)

According to the NCHH, 46% of the country's newborns—or 1.6 million babies—are now benefiting from early hearing impairment detection measures. Six states (CA, MO, NV, NY, OH, VT) and Puerto Rico received failing grades in the above report card, while 32 states increased the number of infants screened since April (most notably IL, MA, OK and KS). Seven states have adopted UNHS laws or policies since April (FL, KY, ME, NE, NH, NJ and SC). For more information on the report card and the NCHH "May Babies" initiative, visit the NCHH website at www.hearinghealth.net or call 800-829-5934. u
---
Widex donation honors Leo Doerfler
Long Island City, NY — Widex President Ron Meltsner and Vice President Eric Spar recently presented a donation to Levi Reiter, PhD, professor of audiology at Hofstra Univ., NY, to honor the retirement of Leo Doerfler and his service to the hearing care profession which included playing various roles in the founding of AAA, ADA and AFA.
---
GN Great Nordic/ Beltone acquisition approved
Washington, D.C. — United States and European antitrust authorities have approved GN Great Nordic's plan to acquire Beltone Electronics Corp. The acquisition was reported to total $392.5 million and makes the GN ReSound group the second-largest manufacturer of hearing care products in the world (next to Siemens Audiologische), according to the company. (For more information, see the June 2000 HR, p. 6, 74).
---
Extended-wear hearing device being developed
Newark, CA — InSonus Medical, Inc. has announced its collaborative program with Microsemi Corp. (Nasdaq: MSCC) to develop what the company reports will be among the world's smallest, most inconspicuous hearing devices. The devices are designed to be the industry's first extended-wear hearing technology, operating continuously deep within the ear canal for up to six months. The company reports that the hearing devices, when released, will be fitted by ENT doctors in collaboration with affiliated audiologists.
InSonus Founder and President Adnan Shennib said that the device will be implanted in the bony region of the ear with the receiver terminating very closely to the eardrum, similar to the positioning of peritympanic hearing instruments. Due to the deeper placement, Shennib says that the services of ENT physicians will be necessary, along with those of dispensing professionals.
In fact, the development of the device, to some degree, is in response to a need for increasing the involvement of ENT physicians in the amplification process, says Shennib. He says that there are currently few ways to directly involve physicians in the amplification process, and the market penetration of hearing instruments in general has suffered as a result. "I see this as a win-win for the hearing health care field," says Shennib. "The consumer will benefit from more and, in some cases, better amplification options; hearing care professionals will have a greater number of treatment approaches; the industry will achieve higher market penetration and the company will gain from the manufacture and distribution of a high quality product."
Proof-of-concept work has been performed at the Univ. of California-San Francisco's Dept. of Otolaryngology, says Shennib, who hopes to launch the device in late-2001. He outlined a family of products ranging from devices for mild-to-severe losses that will be developed in the ensuing years, with the first devices addressing mild-to-moderate losses. He believes that the minimally invasive extended wear devices will also pose new solutions for hearing-impaired children, as well as those who are physically or mentally limited relative to operating and/or caring for their hearing instruments.
Shennib says the device relies completely on components that are new to the hearing industry, and draws heavily upon pacemaker, implant and hi-fi audio technology. "We are delighted to collaborate with Microsemi Micropower on the development of our proprietary hearing technology," says Shennib.
Microsemi Corp. will design and manufacture the ultra low-power integrated circuit for the InSonus device at its Micro Power Products Division in Carlsbad, CA. "We're particularly pleased to become part of the InSonus development team as they move their innovative concepts from the clinical research stage into the commercial marketplace," says Ron Courtois, Micro Power Products general manager. "We see InSonus as offering differentiated products for the rapidly growing market of hearing-impaired consumers."
Founded in 1998, InSonus Medical, Inc. is a venture-capital start-up company developing hearing devices by combining low-power implant electronic technology with high-fidelity audio to produce devices weighing less than 1 gram including the battery, according to the company. The ultra-miniature devices are being developed to operate at far less battery power, reportedly 10% of the rates consumed by conventional hearing instruments. The company's proprietary products and distribution channels are designed to provide alternatives for hearing-impaired people who will not, or unable to, utilize conventional hearing instrument products.
InSonus is also developing a proprietary fitting system which allows medical doctors, in collaboration with dispensers, to dispense advanced hearing products in a single visit and under one hour. InSonus has filed key patents covering its designs and procedures.
Microsemi is a designer, manufacturer and marketer of analog, mixed-signal and discrete semiconductors. The company's semiconductors manage and regulate power, protect against transient voltage spikes and transmit, receive and amplify signals.
---
Texas audiologists form TX Academy of Audiology
Austin, TX — A group of Texas audiologists convened in June to form the Texas Academy of Audiology (TAA). The effort was spearheaded by James Jerger, Susan Jerger, Ross Roeser, Deb Carlson, Todd and Jane Porter, Kate Hengstenberg and Steve Miller.

Articles of incorporation were filed establishing TAAA as a 501(C) non-profit organization. Chairperson Carlson led a discussion to set long-term goals for the organization which resulted in targeting three primary areas:

• Promote excellence of audiological services for all Texans;
• Promote the highest ethical standards, and
• Promote audiology as a profession through outstanding educational and informational forums.

An eight-member executive committee with six regional contacts were elected, and TAA will meet on Nov. 11 at the Adams Mark Hotel in Dallas. For more information, contact Deb Carlson at [email protected].

The newly formed Texas Academy of Audiology charter members include (front row, r to l) Matt Lyon, finance administrator; Deb Carlson, chairperson; Bill Beck, educational coordinator; Janet Krueger, secretary; Kathy Saucedo, regional coordinator; Irene Jones and Mani Anguilar, communication & membership coordinators and Todd Porter, legislative coordinator. u
---
Huntington Hearing & Speech Ctr. honored for community work
Long Island, NY — The Huntington Hearing & Speech Center was honored at this year's Annual Awards Gala of the Huntington Township Chamber of Commerce. The center was recognized for its community efforts and 34 years of service to over 20,000 individuals with hearing and speech problems. Some of the Center's efforts included coordinating the Catholic Charities hearing aid program, providing help to indigent parents, in-service training and donation of hearing instruments to Huntington Hospital and the public, provision of free hearing and speech screenings to children, and participation in hearing loss awareness events.
---
ADA presents $15K grant to AFA for promotion of the AuD
West Lafayette, IN – The Audiology Foundation of America (AFA) recently received a $15,000 grant from the Academy of Dispensing Audiologists (ADA) to support the organization's mission to promote the AuD.
Currently the AFA is working on initiatives to promote the AuD degree via distance education to practicing audiologists, as well as beginning to develop methods to help audiologists in various states include the AuD degree in licensure laws.
"This additional funding will help us get the word out to audiologists that there are now reasonable, accessible distance degree programs for practitioners," says AFA Chair Ken Lowder, AuD. "We hope every audiologist is seriously considering participation in the AuD movement so that consumers are finally able to identify them as Doctors of Audiology. Having a unified degree and designator will position audiologists for success in the health care arena."
---
Coretex Electronics Corp. opens doors to national market
Mankato, MN — Coretex Electronics Corp. (CEC) reports that it has been manufacturing hearing instruments since April 1999 and is now launching its products nationwide. The company manufactures a wide range of hearing instruments from custom ITEs through CICs and circuits ranging from Class A to 100% digital, according to the company.
The company's technical team is reportedly composed of well respected, experienced veterans of hearing instrument manufacturing. CEC Owner and President Thomas A. Champon, MS, has actively dispensed hearing instruments for several years and says the goal of the company is "to provide core technology without the fluff."
CEC is located in Mankato, MN, and product information can be obtained by contacting 800-967-1726.
---
Oticon receives International Web Page Award
Somerset, NJ — Oticon Inc. has been awarded the International Web Page Award for its OtiKids.com website. The site was recognized within the Health category for providing a solution that goes beyond traditional e-business and acts as a valuable resource for parents of children with hearing problems.
The site was selected from over 600 entries from 21 different countries. OtiKids.com offers information on identifying and understanding hearing loss, strategies for helping children who have hearing problems and the latest technology concerning hearing deficiencies, frequently asked questions, recommended reading lists and links to other hearing care sites.
International Web Page Awards, based in California, is reportedly the first international forum for web page designers and graphic artists. The awards program was established to recognize graphic design and creativity on the Internet.
---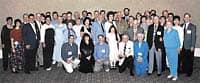 Hearing care mission goes to Guaymas, Mexico
Plymouth, MN — Micro-Tech President Larry Hagen (pictured) and Senior Vice President Gordon Bye participated in a group of company friends and employees on a humanitarian mission to Guaymas, Mexico, where they fit approximately 180 disadvantaged people who had hearing loss. The group, with the assistance of contributors, has returned annually to Guaymas for the past four years. u
---
GN ReSound seeks nominations for Award
Minnetonka, MN — GN ReSound will be announcing the recipient of its Third Annual "Caring for the Profession" Award at the Academy of Dispensing Audiologists Convention in San Diego. The award, designed to recognize outstanding individual or organization contributions toward advancing the profession of audiology and enhancing its ability to effectively care for hearing-impaired individuals, will be presented at the ADA Members Luncheon.
Applications are now being accepted (deadline: Sept. 29) and more information can be obtained by contacting David Smriga, GN ReSound, 5600 Rowland Rd., Minnetonka, MN 55343; email: [email protected].
---
Noise and candy wrappers
New research conducted at Simon's Rock College and the National Institute of Standards and Technology has led to an explanation of why the simple unwrapping of hard candy can sound like a miniature fireworks display (Knight Ridder, June 1, 2000)—a sound that can sometimes be overbearing for hearing aid users. Researchers recorded noise emitted from crushed and wrinkled plastic, and found that the irregular series of extremely brief pops contained unpredictable energies varying by a factor as large as one million. Smooth unwrinkled plastic has only one stable form that will always return to being flat no matter how it is bent. However, crushed and wrinkled plastic has innumerable stable states and retains new shapes whenever it is bent or manipulated—popping and crackling along the way.
So, did the research solve the age-old problem of how to unwrap hard candy in a crowded, silent theater? Well, sort of. Says Eric Kramer of Simon's Rock College: "Unwrap it as quickly as possible and get it over with."
---

Telex relocates to its new World Headquarters
Burnsville, MN — In July, Telex Communications Inc. relocated to its new World Headquarters in Burnsville, MN. The 115,000-sq.-ft. facility is on a 25-acre campus overlooking the Minnesota River Valley with panoramic views of the Twin Cities' skyline. The move completes the consolidation of all Telex and ElectroVoice administrative, engineering, sales and marketing functions into one facility. The new building will also be home to the "Telex Academy" designed to provide extensive training for hearing care professionals. The new corporate address is Telex Communications, Inc., 12000 Portland Ave. S., Burnsville, MN 55337 (phone numbers remain the same).
---

Siemens holds International Symposium
Piscataway, NJ — Nearly 850 people from North America, Japan, Australia, South America and Europe attended the Siemens 12th International Symposium that included continuing education courses along with tours and special events in Paris and Monte Carlo. The symposium's educational program, approved for CE credits by AAA, ASHA and NIHIS, included presentations by Todd Ricketts, PhD (pictured above), Gus Mueller, PhD, Natan Bauman, PhD, and Tom Powers, PhD. Additional classes were conducted by Siemens audiology staff, and workshops were also held to provide hands-on experience with CONNEXX™, Practice Navigator™ and UNITY™ software systems, as well as ALDs and marketing.

The one-week program featured several events, including tours of the Bercy Carousel Museum and a private dinner within the Chateau de Chantilly in Paris where diners completed their evening by watching a musical water and laser show over garden fountains. In Monte Carlo, attendees were treated to a private concert by Grammy-winner Natalie Cole and a fireworks display that was arranged by Siemens over the Bay of Monaco. The trip also included tours of Cannes, Eze, Nice and St. Paul.

In 2002, Siemens has announced two symposiums in Budapest, Hungary and Vienna, Austria during June and Australia during July.