ABA Announces First Specialty Certification for Cochlear Implants
McLean, Va — The American Board of Audiology (ABA), a division of the American Academy of Audiology (AAA), has announced the first specialty certification program in Cochlear Implant (CI) Services. The program, according to the ABA, recognizes that delivery of services to CI patients requires a specialized set of knowledge and skill. The new ABA certification is the result of meetings held between the ABA Board, audiologists currently working with cochlear implants, and representatives from three implant manufacturers: Advanced Bionics, Cochlear Americas, and MedEl.
The purpose of certification is to identify and formally recognize those audiologists whose knowledge base and clinical skills are consistent with professionally established standards and who continue to enhance their knowledge, skills, and abilities through advanced training and other educational activities, according to the ABA. The organization says that, by entering into this voluntary certification program, audiologists demonstrate their commitment to achieving and maintaining the highest professional standards. Board Certification in Audiology will assist consumers in recognizing those individuals who have completed standardized education and training, and who continue their personal and professional development. The certification program is open to all audiologists regardless of membership in any professional organization.
The idea for developing specialty certification arose within the ABA early in 2000 as a method of elevating the status of certification and identifying individuals in areas of specialty practice. The ABA states that the new certification:
• Standardizes training and knowledge of CI audiologists; specialty certification identifies the knowledge required to promote better patient outcomes.
• Verifies professional experience to employers and helps identify individuals who are qualified to fulfill a job description related to the cochlear implant population.
• Provides consumers with a method of identifying audiologists with expertise in CIs and increases confidence in consumer's view of the audiologist's level of expertise.
• Describes a training plan for individuals interested in specializing in cochlear implants.
• Helps individual audiologists identify themselves as experts; increases professional self-esteem.
• Assists the profession in defining our scope of practice.
• Increases the possibility of an heightened standard of living through appropriate salaries, provides a basis of career advancement, and maintains an adequate number of audiologists working with cochlear implants.
For a Q&A about the new certification and exam, see Cheryl DeConde Johnson & Pat Chute's article on p 62 of this issue of HR. Audiologists interested in specialty certification in Cochlear Implant Certification or Board Certification in Audiology should visit the ABA Web site at www.americanboardofaudiology.org.
---
Sonic Innovations Purchases Tympany Inc; Forms Hearing Health Network
Salt Lake City, Utah — Sonic Innovations, Inc. in early December announced the purchase of Tympany Inc, Stafford, Tex, maker of the Otogram™ test device. The company also announced the creation of The Hearing Health Network™, an open-membership network of dispensing offices that help facilitate non-dispensing physician offices who are interested in helping their patients with their hearing problems.
• Hearing Health Network. "The Hearing Health Network is a collaboration between physicians and hearing care professionals designed to significantly improve the identification, diagnosis and treatment of hearing-impaired individuals," says Andy Raguskus, president and CEO of Sonic Innovations. "Physicians are key influencers in the hearing-impaired patient's decision to seek help, but until now most physicians have lacked a referral system for patients requiring specialized hearing services." The company says that no special (eg, exclusivity) agreements are required to join the network.

The Tympany Otogram™ system.
"The formation of the Hearing Health Network is part of our strategy to grow the business," says Victor Bray, PhD. "The Better Hearing Institute, the American Medical Association, and the American Academy of Audiology have well-known public positions about involving the primary care physician, and acknowledge that these caregivers are key to turning the hearing industry around and increasing the penetration of hearing instruments. The Hearing Health Network is committed to improving the identification of hearing loss, providing medical referrals when appropriate, and treating sensorineural hearing loss through qualified hearing care professionals who recommend hearing aids and amplification devices."
The National Council on the Aging (NCOA) has recently endorsed the HHN. According to James Firman, EdD, president of the NCOA, HHN is "a very important initiative, and the fact that people can now go to their family doctor's office and ask for testing is a very valuable step."
The organization notes that a new survey by PKS Research indicates that 49.9% of people have not had their hearing tested in the last decade. The survey also found that 94% of respondents would be "extremely likely," "very likely," or "somewhat likely" to seek treatment if their family doctor diagnosed a hearing problem.
• Tympany Otogram. The Otogram is essentially a four-in-one diagnostic suite that is designed to be used by ENT practices, primary care physicians, audiologists, and hearing instrument specialists. It uses artificial intelligence, touch-screen technology, and proprietary hearing testing equipment to allow patients to self-administer the hearing test following brief instructions from an administrator. The test includes a comprehensive audiogram (pure-tone air and bone conduction, SRT and speech discrimination, all with masking), tympanometry, acoustic reflex, and DPOAE. No sound booth is reportedly required. The test administrator can prepare patients for testing in 5 minutes, and patient results are printed in a standardized easy-to-read report which can be integrated with NOAH v.3. The test can be conducted in multiple languages, including English, Spanish, Italian, Portuguese, Russian, Mandarin, Cantonese, Vietnamese, and Korean. Diagnostic interpretative software is said to make it easy to assess whether a patient's hearing loss is conductive, sensorineural, or mixed. The Otogram is designed to improve practice workflow and allows more time for treatment and dispensing.
As a self-administered diagnostic test, the Otogram has drawn sharp criticism in the past from some audiologists and professional organizations, including AAA, as a "black box" solution to replacing diagnostic audiologists. However, Sonic Innovations contends that the device should rather be seen as a complement to hearing health care practices and to all other health care practices that should be involved in the identification of hearing loss. "Audiologists are clearly the primary point of contact for those people who have hearing loss, but in the real world they are not the exclusive point of contact," says Bray. "There are some 28 million people in the United States with hearing loss, and some 20 million of them have an undiagnosed hearing problem. There are somewhere around 10,000 US audiology practices. It's obvious that the hearing health care profession could use some help in the identification and treatment of hearing loss."
The company also points out that the National Institute of Health (NIH) estimates that, of the 28 million Americans who suffer from some degree of hearing loss, only 6 million (or 1 in 5) are being treated with hearing amplification. According to MarkeTrak – the most widely recognized studies on the hearing aid industry—there are a number of barriers that prevent these patients from seeking the professional help they need, including social stigma, denial and uncertainty about what to do (see December 2001 HR). These same studies show that a hearing-impaired patient becomes 5 to 8 times more likely to seek help when advised to do so by his/her physician. Professional organizations representing hearing care professionals and physicians recognize that primary care physicians need to become a critical resource for identifying hearing loss and recommending appropriate treatment. The Hearing Health Network, says the company, advances these objectives by improving hearing loss identification by physicians and other health care providers and increasing physician referrals to hearing care professionals.
Integral to expanding physician involvement is providing physicians with effective tools to identify hearing loss. "Tympany's proprietary, automated diagnostic hearing testing device, the Otogram, makes it possible for physicians to efficiently and effectively identify patients with hearing loss," says Christopher L. Wasden, president and CEO of Tympany. "The Otogram removes many barriers associated with hearing loss identification and allows the physician to appropriately test and then refer hearing-impaired patients to hearing care professionals in The Hearing Health Network."
"By establishing a relationship with physicians that refer to a network of hearing care professionals," says Raguskus, "we are taking the first steps towards advancing the cause for better hearing and servicing a greatly underserved hearing-impaired population."
Terms and conditions of Sonic Innovations' purchase of Tympany include an upfront payment of $2 million in cash and stock, and a significant earnout over 3 years, depending on combined company results. In addition to the purchase of Tympany, Sonic Innovations is also launching its new digital hearing instrument line, Innova, in February.
---
The Power of Learning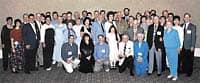 Clinical Supervisor Tomma Henkel (l) and audiology students at the Communication Disorders Department at UMass Amherst performed hearing screenings and speech evaluations at the university's The Power of Learning homecoming event.
Amherst, Mass – The University of Massachusetts at Amherst celebrated homecoming with an event called "The Power of Learning," that included Bill Cosby, one of the most famous alumni of UMass Amherst. The event, which drew over 400 people, showcased areas of study from health to continuing education. The Communication Disorders Department held free hearing screenings and speech evaluations. They also presented information on noise exposure, hearing aids, cochlear implants, demonstrated newly developed language evaluation programs and swallowing assessment. The event also focused on prevention, rehabilitation, and support for all communication disorders.
The event also marked the announcement of the "Cosby Commonwealth Challenge Fund." This special fund establishes a unique program to recruit and encourage students from UMass Amherst partner schools in Springfield and Holyoke to stay on track for college. The initial endowment was for $340,000 from the October 29 performance of Cosby at the University's Mullins Center. Photo and submission by Sugata Bhattacharjee.
---
Audilux Enters European Hearing Instrument Market
The Hague, The Netherlands – Audilux has entered the European hearing aid market as the only independent Dutch hearing instrument manufacturer that develops its own products, including the Microlux hearing aid, according to the company.

The new Audilux hearing aid has a two-part design: a transparent UV sleeve and a module that features the battery being mounted directly on the receiver.
Audilux was started in 1990 by Lourens Bordewijk as a hearing aid supply business. Bordewijk had formerly been the European sales manager for Knowles Electronics, and in 1985 he became the general manager of Philips Hearing Systems. Having been involved with CIC and peritympanic devices, he began to develop a new miniature hearing aid in 1994. The result is the Microlux, a very small CIC with entire hearing instrument being inserted into the canal (fully occluding the canal with no venting) for enhanced cosmetics and reduction of occlusion. The hearing aid uses digital signal processing, multichannel WDRC, and can be programmed using Noah or a stand-alone software version, according to the company.
One of the unique design features of the Microlux is that the battery is mounted on the receiver, and this entire module is then inserted into the sleeve. The absence of a faceplate negates the need for the battery portion found on conventional devices which occlude much of the outer ear canal and concha, according to Audilux's Martin Strijk and Michel Havenith. The Microlux is designed to leave the concha free from obstruction and occlusion, and therefore the device does not need venting. Additionally, the design is said to eliminate problems related to earwax due to a space between the battery and transducers.
The aid is said to be applicable for losses up to 75 dB at 2 kHz. It is currently being distributed via the company's own dispensing office in The Hague, and through the Lindacher and auTec dispensing chains in Germany. For more information, visit the company's Web site at www.audilux.com or contact Martin Strijk at [email protected].
---
AG Bell Wins Court Battle for Educational Provisions
Washington, DC — The Alexander Graham Bell Association for the Deaf and Hard of Hearing (AG Bell) Children's Legal Advocacy Program scored a victory in E.N. vs. St. Johns County School Board (FL), in which the State of Florida Division of Administrative Hearings ordered reimbursement of educational-related expenses for the family of a 3-year old girl born profoundly deaf.
In the October 27 decision, the judge ruled that a varying exceptionalities classroom, which contains children with a variety of special needs, offered by the St. Johns County School Board did not meet the requirements for a child with hearing loss using spoken language communication. The girl uses a cochlear implant to process sound, and learned to listen and talk at the Clarke-Jacksonville Auditory Oral Center for Deaf Children.
In the decision, the judge ruled that, under the Individuals with Disabilities Education Act (IDEA) requirement for free and appropriate education (FAPE), the evidence indicated that none of the County's programs offered an educational setting designed specifically for pre-schoolers with cochlear implants using spoken communication. The evidence also showed that the programs lacked professionals with the necessary knowledge, training, and experience, as well as parent training and on-going mapping services for the cochlear implant. Furthermore, the judge found that the proposed placement would likely cause the child's language skills to regress, acknowledging the "narrow window of opportunity" to acquire language during the pre-school years.
"AG Bell's goal is to ensure that all children who are deaf or hard of hearing and use spoken language as their primary mode of communication have access to appropriate educational placements and related services," says K. Todd Houston, PhD, executive director/CEO of AG Bell. "This ruling sends a clear message about the specific elements that should be in place to support any child with hearing loss who is learning to listen and talk."
Launched in 2001, AG Bell's Children's Legal Advocacy Program has successfully advocated for appropriate spoken language services in several cases, including The Matter of D.D. vs. Foothill Selpa (CA) and Megan C. vs. ECI LifePath Systems (Texas). The program also provides information and resource referrals to families of children with hearing loss through parent advocacy services.
---
Prevention Magazine Touts Hearing Protection
In the October 2004 edition of Prevention, the health magazine lists as its "Rock Concert Must-Haves" a pair of earplugs. "At 100 to 130 decibels, live rock and roll can be louder than a motorcycle engine; constant exposure for several hours puts your hearing at risk."
The article points out that, in San Francisco, large music clubs are legally required to make earplugs available to patrons. In the article, Prevention recommends Etymotic ER-20 High Fidelity Earplugs.
---
SHHH Creates American Academy of Hearing Loss Support Specialists™
Bethesda, Md – Self Help for Hard of Hearing People (SHHH), one of the nation's largest membership and consumer advocacy organizations for individuals with hearing impairment, announced in January the formation of an educational program, The American Academy of Hearing Loss Support Specialists™. This online distance-learning program is said to be the first of its kind in the United States targeted to the thousands of people who provide support for people with hearing loss on a professional or voluntary basis. The Academy will start accepting applications from the public in mid-2005 and will officially launch the program at the SHHH Annual Convention in Washington, DC, June 30-July 3.
The new Academy will help build accurate knowledge about hearing loss, improve services, and enhance the professionalism and credibility of the many people in diverse professions who provide support services to people with hearing loss and their families, according to SHHH. Potential enrollees in the Academy include educators, counselors, state agency personnel, nurses, staff at geriatric care facilities, administrative staff for health care offices, community leaders with hearing loss, and many others. The Academy offers a certificate rather than a credential, and is dedicated to increasing knowledge and understanding rather than establishing a set of standards. Upon successful completion of the program, graduates will be awarded the Certificate in Hearing Loss Support and will become members of the Academy.
"Although there have been impressive advances in the technology and medical care available to people with hearing loss in recent years, there have not been equivalent advances in the core knowledge and understanding about this condition among the public," explains SHHH Executive Director Terry D. Portis, EdD. "It has long been evident to SHHH and other organizations in the field that no comprehensive and easily accessed educational program exists for the many people who could be called 'hearing loss support specialists' assisting people with hearing loss. Through the Academy, SHHH intends to bridge that gap and offer an affordable educational program, developed with realistic parameters for working adults (self-paced, online distance learning) that will help decrease misinformation, build understanding, and improve the services and resources available to people with hearing loss."
"We intend that graduates of the Academy will be in a position to offer better information and support to people with hearing loss, and to provide complementary support to the highly specialized services offered by health care professionals such as otolaryngologists, audiologists, and hearing aid specialists," says SHHH Associate Executive Director Brenda Battat, who also has a profound hearing loss.
SHHH staff, consultants, and other leaders in the field are currently developing the Academy curriculum. The recently formed Academy Advisory Board is overseeing academy program content and integrity. The Advisory Board is composed of some of the most prominent leaders and authors in the field of hearing loss, including: Scott Bally, PhD; Teresa Blankmeyer Burke; Paul E. Hammerschlag, MD; Michael Harvey, PhD; Patricia Kricos, PhD; Rose Aird Minette, MA; Terry D. Portis, EdD; and Sam Trychin, PhD. For more information go to: www.hearingloss.org.
---
AuDNet Realigns Corporate Structure
Bloomington, Minn – AuDNet Inc, a nationwide network of independent audiology-based practices, has announced a significant realignment of its corporate structure, operations, and has modified its partnership with the Academy of Dispensing Audiologists (ADA).
The organization is now managed by a Board of Directors consisting of six industry veterans with significant private practice and network management experience. They include: Kathy Foltner, AuD; Gregory Frazer, AuD, PhD; James McDonald, AuD, ScD; John T. Zeigler, AuD; Grant Smith, BS; and David J. Smriga, president and founder of AuDNet.
"These individuals are all hands-on members of the AuDNet organization," says Smriga. "They will personally be communicating the philosophy, purpose, and value of AuDNet membership to audiologists across the country—continually recruiting new members and making sure that AuDNet remains on track with independent practice values and needs."
AuDNet's previous strategic partnership with ADA has been revised to reflect this new corporate structure, and membership will not be restricted to ADA members only. However, Smriga adds that AuDNet remains committed to helping ADA in their national AuD branding efforts and has pledged a significant percentage of revenues to that organization.
For more information, visit www.aud-net.com.
---
SeboTek PAC to be distributed in South Africa
Tulsa, Okla – SeboTek® Hearing Systems LLC signed a distribution agreement with Southern ENT (Pty), Irene, South Africa to distribute SeboTek Voice-Q™ Post-Auricular Canal (PAC) style hearing instruments. Southern ENT is a member of the Southern Group, market leaders in dental, orthopedic, and cochlear implants.

Managing Director of South Africa's Southern Group, Graham Blackbeard (left) and Henk Wolmorans (right), the general manager of Southern ENT, concluded a distribution agreement with SeboTek International Business Development Manager Brian Hill (middle).
Henk Wolmarans, general manager of Southern ENT remarked, "The SeboTek PAC style fits naturally with our extensive experience in ENT products and cochlear implants and expands our ability to deliver hearing solutions for mild to profound loss patients." Graham Blackbeard, managing director of the Southern Group added, "The new PAC style hearing instrument has the key benefits of discreet appearance, acoustic excellence and unmatched comfort for the patient."
"We are delighted to have Southern ENT join our rapidly growing family of worldwide distributors," says Brian Hill, SeboTek international business development manager. "Southerns' representation extends our ability to bring the benefits of deep canal fittings in a practical, same-session, personalized fit."
---
New Scientist Interviews Brainstem Implant Recipient
In the August 28 edition of New Scientist, a 44-year-old woman named Duncan Graham-Rowe, one of five who have received the new brainstem implant developed by the House Ear Institute is interviewed. Duncan says she was terrified about completely losing her hearing to Neurofibromatosis type II (NF2) which affected hearing in both her ears, and eventually made it impossible for her to use her cochlear implant (CI). As the most successful of the five implant recipients, she compares the device favorably in performance to her previous CI, although sounds are still highly synthesized and she cannot use the phone efectively.
---
In the December HR feature "Looking Back, Moving Forward," companies were provided an opportunity to review their activities in 2004, and provide a preview of what might be seen in 2005. Unfortunately, the entry for AHAA was inadvertently left out. HR regrets the error, and the entry appears below.
American Hearing Aid Associates
Looking Back at 2004…
AHAA's 2004 year began with its 9th annual convention in Las Vegas, which drew more than 400 Associates and exhibitors, a record number. Close to 40 different program sessions covered all aspects of managing a practice.
Soon after, AHAA introduced its new diagnostic tool: Life's SoundSuite™ (LSS), which allows patients to "test drive" hearing instruments in simulated real-world environments that give them the most difficulties.
AHAA Associates who are using LSS say that it delivers a number of important business benefits. Among them are better hearing solutions, increased closing rates, reduced instrument returns, and fewer repeat visits for adjustments.
Another new program from AHAA in 2004 was the Performance Network in which small, noncompeting groups of Associates meet regularly in their local regions to discuss key issues common to their practices. Goals include improving the effectiveness and profitability of all members of the group.
Moving Forward to 2005…
First up in 2005 is another exciting, productive convention, AHAA's tenth, in Tempe, Ariz, February 9-12. Record attendance is again expected.
At the convention, AHAA will officially launch its "Strategic Solutions" array of services for Associates. The package provides them strategic and hands-on support in developing growth initiatives, expansion plans, and exit strategies.
Also planned in 2005 are a number of new training classes for Associates, including ones in human resources and insurance reimbursement. AHAA also plans to keep expanding its highly praised sales force, which now numbers 29, across the country.
For more information on the dynamic network of more than 2,000 AHAA Associates, and how to join them, call 800-984-3272 or visit www.ahaabizlink.com.
American Hearing Aid Associates (AHAA)
West Chester, Pa
www.ahaabizlink.com; (800) 984-3272