PRODUCT CATEGORIES
ASSISTIVE DEVICES
TV Listener J2 Headphones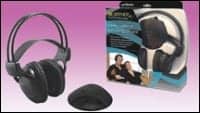 Precision Laboratories Inc, Orlando, Fla, offers the wireless TV Listener J2 deluxe cushioned stereo headphones. Its infrared signal works interference free, in stereo or mono mode, and offers crisp, clean sound. The rechargeable headset can last more than 15 hours, is hearing aid-compatible, and can be expanded to work with multiple headsets. Comes with a 6-month limited manufacturer's warranty.
(800) 327-4792
www.shop.precisionweb.com
EARMOLDS, EARPLUGS, AND IMPRESSION MATERIALS

Thin-Tube/Open-Ear Fittings
Mid-States Laboratories, Wichita, Kan, offers a variety of thin-tube/open-ear fittings. Choose from a selection of styles to custom fit each client's hearing needs. When possible, Mid-States prefers to use its Apollo or Marveltex/vinyl materials, which allow for friction fit, an advantage when considering the need to retube.
(800) 247-3669
www.mid-stateslabs.com
---

Puretone Introduces New i-Monitor
Puretone, Kent, United Kingdom, has announced the release of its new i-Monitor in-ear monitors that bring together the sound of the company's micro monitors with hands-free communication as an accessory for a smartphone or mp3 player. Made from soft silicone, the custom-made earmolds fit precisely to the user's ear contours, helping to maximize the low-frequency response (bass boost), while the silicone helps ensure comfort with high-quality noise attenuation. The inline headset cable features a small microphone and push button that allow the monitors to be used as a hands-free kit. Pressing the button answers an incoming call (even during music playback), so users can carry on with current tasks. Each ear piece is fitted with a user-replicable wax guard system to help ensure long life and high-quality sound reproduction.
+44 (0)1634 719427
www.cens.puretone.net
---

Custom Earmolds, Earplugs
Hocks Hearing Healthcare Products, Portland, Ore, manufactures a wide variety of earplugs and custom earmolds for swimming, sleeping, and hearing protection, including the Hocks Noise Braker and Pikaso Plugs.
(800) 654-6257
www.noisebrakers.com
---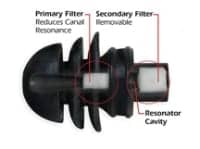 Breakthrough Protection Technology
Boulder, Colo-based EAR Inc's HearPlugz-DF multifunctional dual-filtered hearing protectors offer breathable, moisture-resistant, dual acoustical filters that improve sound quality when the ear is overloaded with excess noise (continuous or impact). Dual filters provide the user with a choice of two levels of noise reduction. HearPlugz-DF are available in a choice of colors, three sizes, and with a removable cord. The exterior filter can be easily removed if less attenuation is desired or to connect radio communications.
(800) 525-2690
www.hearplugz.com
---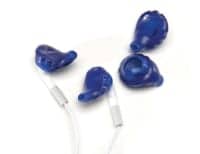 Earbud Enhancers
Selected by Forbes as the 9th Most Promising Company in 2009, Yurtopia, St Louis, makes Yurbuds Earbud Enhancers out of soft medical-grade silicone that slip directly over standard headphones, some in-canal headphones, and many Bluetooth headsets. Utilizing ergonomics, patent-pending design, and audiology to eliminate the pain and instability of in-ear headphones, Yurtopia offers sound-enhancing Yurbuds in a variety of sizes tailored to an individual's concha and ear canal for a precise fit so they will stay in place during rigorous activity.
888) 987-2831
www.yurbuds.com
HEARING INSTRUMENTS COMPONENTS AND PRODUCTION/REPAIR SUPPLIES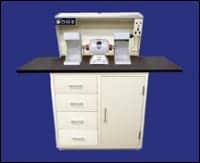 Hearing Aid Workstation
With its all steel construction and attractive powder coated cabinet, the Audio Repair Bench from Lightning Enterprises, Limington, Me, includes a two speed Model 26A Red Wing Lathe with Mod Tool Kit, Dual-Lite UV Cure Unit, VAC-1B Hearing Aid Cleaning System, VAC-1D Desiccator Chamber for hearing aid drying, two Model 550 dust collectors with splash hoods, and CM-3 Control Module, as well as extended sides to give the technician plenty of working room. The table top is designed to resist scratching and wear, and under-shelf fluorescent light illuminates the work area.
(877) 546-1797
www.l-ent.com
---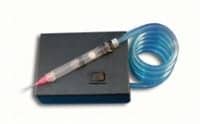 Jodi-Consumer Vacuum
Jodi-vac LLC, Portland, Ore, is now offering its first vacuum system for consumers to help them protect their hearing aid investment. Jodi-Consumer is a compact, portable, and affordable hearing aid cleaning solution for home use that takes just a few minutes each night to ensure against wax build-up and reduce the need for professional cleanings. Jodi-Consumer comes with a 1-year warranty for personal use; 3-month warranty for professional use. The unit measures 4.5″ x 7.25″ x 3″, and operates via a 12V DC power supply.
(866) 856-5634
www.jodivac.com
---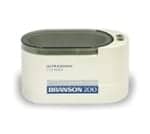 Ultrasonic Cleaner
Westone Laboratories, Colorado Springs, Colo, offers the Branson 200 Ultrasonic Cleaner. Ultrasonic energy (40kHz) creates millions of bubbles in the cleaning solution that work their way into the small crevices of clinical equipment and earmolds to loosen dirt debris. The compact (8.75″ length x 4.5″ width x 5″ depth) cleaner weighs only 3 pounds and features a 15-ounce steel tank.
(800) 525-5071
www.westone.com
---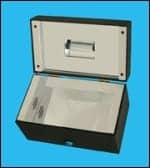 Universal Sanitizer Dryer
Hearing Technologies International Inc, Pinellas Park, Fla, now has available its brand-new Universal Sanitizer Dryer, designed to sanitize and remove harmful moisture from hearing aids. With US and international patents pending, the Universal Sanitizer Dryer's drying compartment can accommodate all types of hearing instruments, including body-worn, implants, microphones, headpieces, and speech processors, and operates anywhere in the world with a simple plug change. Weighing less than two pounds and measuring a compact 7.4″ x 4.25″ x 4.57″, the unit has a drying cycle of about 8 hours, first utilizing a germicidal lamp that automatically shuts off after about the first 8 minutes. Then a fan circulates warm air through the drying compartment for the remainder of the cycle. The life of the UV-C lamp is at least 10,000 hours.
(800) 553-6003
www.hearingtech.com
TESTING AND FITTING EQUIPMENT
Otovation Releases OTOPod M2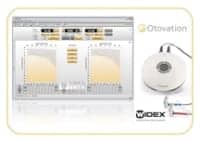 Otovation, King of Prussia, Pa, has released the OTOPod M2 diagnostic audiometer and hearing instrument programmer. Similar in form to the company's patented OTOPod M1 audiometer, the M2 adds capabilities to program a variety of Widex hearing aids, including the mind440, mind330, Passion, Inteo, AIKIA, Flash, REAL, Senso, Bravo, and Bravissimo product families. Support for the OTOPod M2 has been added to Widex's upcoming Compass 5.0 software, which is used in conjunction with Otovation's Symphony NOAH Module software to provide a complete diagnostic testing and instrument fitting system with the uniquely portable M2 device, according to the company. Concurrent with release of the M2, Otovation is now shipping an updated version of its Symphony and Symphony NOAH Module software, which offers a number of new features. The new Symphony will now be included with all new OTOPod M1 and M2 devices, as well as Amplitude T-Series models.
---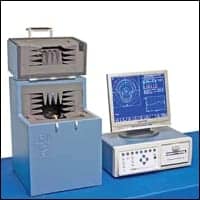 Frye Introduces FONIX 8000
Frye Electronics Inc, Tigard, Ore, has introduced the FONIX 8000 Hearing Aid Test System, which helps clinicians verify a hearing aid's directional response pattern (its polar plot)—a measurement that has not typically been available in a clinical environment, according to the company. The technology, which has reportedly been in development for the past 3 years, may be a useful tool for hearing health professionals in light of the growing popularity of directional hearing aids. In the polar plot sound chamber, the hearing aid is mounted on a rotating spindle in front of the sound chamber speaker. During the test, the 8000 automatically rotates the hearing aid in a 360 degree circle, taking measurements at angles specified by the user. A special damping configuration is used within the sound chamber to minimize acoustic reflections and provide as much accuracy as possible within the small confines of the desktop chamber. Results are displayed in polar plot format on a screen, and can be printed and saved electronically for future reference.
(800) 547-8209
www.frye.com
---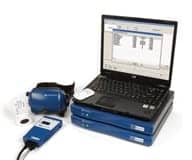 Integrated Testing Solution
The ICS Chartr EP 200 is a new system for evoked potential (EP) testing from GN Otometrics, Schaumburg, Ill. The system builds on Otometrics' ICS Chartr line offering comprehensive EP testing. The Chartr EP 200 can be combined with Otometrics' VNG/ENG system, the ICS Chartr 200, creating a state-of-the-art solution. Install both Chartr EP and Chartr VNG/ENG software on the same computer and benefit from a complete test battery and a shared database.
(800) 289-2150
www.otometrics.com/chartrep
---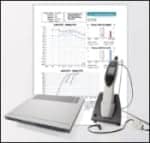 Equinox 2.0, Titan from Interacoustics
The Equinox 2.0 and Titan, from Assens, Denmark-based Interacoustics, offer ease of use and speed without compromising flexibility and reliability. With them, clinicians can now combine middle ear test data with audiometric results for a more comprehensive report. Reports can be individually customized to align to local requirements with regard to content and graphical layout. Data is automatically retrieved from OtoAccess or NOAH for a particular patient and sessions and placed in the associated template. Reports can be either printed or saved as a PDF document.
(800) 947-6334
www.interacoustics.com
---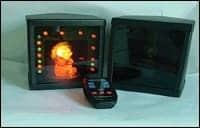 Visual Reinforcement Audiometry System
Pehratek Products, Chaska, Minn, offers the Wireless XM-1000 Visual Reinforcement Audiometry (VRA) system that combines motion with attention-getting multiple light patterns to successfully perform pediatric assessments. Each smoked Plexiglas box features a friendly cartoon character that lights up and quietly moves back and forth to attract attention. Additionally, 20 brightly colored LED lights flash in a wave or in a marquee pattern to create an ever-changing attractive display for reinforcing responses. This user-installable system features a RF remote control to activate the system from inside or outside the test booth to over 50 feet.
(866) 470-3532
www.pehratek.com
---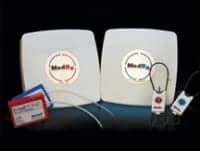 MedRx Offers AVANT REM Speech+ and A2D+
MedRx Inc, Largo, Fla, offers two new systems: The AVANT REM Speech+ Real Ear and Live Speech Mapping System, and the AVANT A2D+ diagnostic audiometer, both featuring an advanced ergonomic design. New features of the REM Speech+ include the Sure Probe microphone system with lighted visual cues and an adjustable loop design that will fit any ear. Also new is a selectable dual probe measurement option that allows the user to do live speech mapping on both ears simultaneously. The AVANT A2D+ is a two-channel, air, bone, and speech audiometer with a new integrated Quick SIN testing feature. The A2D+ audiometer comes standard with insert ear phones and custom carrying case. Both systems weigh less than a half pound each, connect to a USB port, and are NOAH System 3 and TIMS compatible. .
(888) 392-1234
www.medrx-usa.com